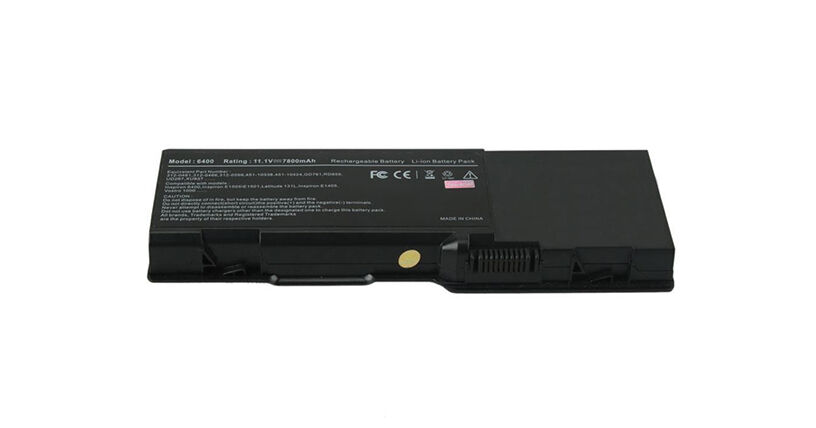 If you have noticed your laptop battery running out of juice quicker than usual, it may be time for a new battery. Most laptop batteries do not last as long as the computer itself, and have to be replaced long before the computer does. Each laptop battery has a set number of times that it can be recharged and used. A standard number for a laptop battery is 500 cycles, but could be much higher or lower depending on the quality of the battery. Once the set number of cycles runs out, the battery no longer holds a charge, making it impossible to use unless the device is plugged in. Replacing the laptop battery extends the computer's battery life and keeps the computer running longer, without needing to be recharged.
Laptop batteries are purchased directly from the manufacturer, from a third-party vendor, or online using eBay. The large selection on eBay makes it easy to find a compatible battery at a competitive price. Before purchasing a compatible laptop battery, it is important to understand the differences between OEM batteries and compatible batteries, as well as what to look for when purchasing a compatible laptop battery.
OEM Batteries vs. Compatible Batteries
OEM batteries, which stands for 'original equipment manufacturer', are the original manufacturer's battery that is branded by the same manufacturer that made the laptop. Compatible batteries are batteries made by third party companies, and are a much more affordable option for replacing a laptop battery. Both types of batteries are made to fit with specific models of computers, and there are advantages and disadvantages to each option that are important to note. Understanding the differences between OEM batteries and compatible batteries helps the buyer come to an informed purchase decision.
OEM Laptop Batteries
The original laptop battery that comes with the computer is an OEM battery. OEM batteries are usually produced by a third party company, and branded by the computer manufacturer. For example, a Dell computer may use an OEM battery produced by an electronics company such as Panasonic. OEM batteries are often high quality, and are often backed by the computer manufacturer. OEM batteries are usually purchased directly from the manufacturer, and many come with a warranty to ensure the battery continues to work properly. Because the battery is made for a specific laptop model, OEM have very little selection in the type of OEM battery that is compatible with each laptop model.
Compatible Laptop Batteries
Compatible laptop batteries are generic branded laptop batteries that are classified as 'compatible' or 'OEM compatible' batteries. Compatible laptop batteries have the same power cells as OEM batteries, and are usually found at a fraction of the cost. In addition, there are many more options for compatible batteries, such as the type of battery or the battery's capacity. Not all compatible laptop batteries come with a warranty, and they are not covered by the original manufacturer either. When choosing a compatible laptop battery, choosing one with a warranty ensures that the battery is guaranteed for the length of the warranty. It is recommended to choose a battery that has a warranty of at least one year.
What to Look for When Purchasing Compatible Laptop Batteries
Since all computer models require a different battery, it is important to choose a battery that is compatible with your specific laptop model. Batteries that are not compatible with a laptop do not work properly, and could harm the laptop. Knowing what to look for when choosing a compatible battery makes it easy to find the right battery for your computer and budget. eBay makes it easy to shop for compatible batteries for your specific brand of laptop, such as chargers compatible with Dell computers .
Laptop Battery Capacity
The battery's capacity refers to how long it takes for the battery to drain. Battery capacity is generally measured in milliamp hours (mAh), or watt-hours. The higher the milliamp or watt hours, the longer the battery life. One of the most common battery capacities is 5,000 mAh . If you do a lot of multitasking on your computer, or have a large screen that pulls a lot of energy, a high capacity battery is a must have. Before choosing a replacement battery, it is helpful to compare your old computer battery's mAh, to understand the approximate battery capacity. When choosing a battery, it is recommended to choose the battery with the highest mAh, or watt hours, even though it may be one of the more expensive options. When choosing the voltage, the voltage of the new battery should be matched to the original battery's voltage.
Type of Laptop Battery
Laptop batteries are made with different materials and are constantly improving to become more energy efficient, lighter in weight, and more environmentally friendly. When choosing an OEM battery, there is usually only one choice for the type of battery. Most OEM batteries are made from lithium-ion material. If you are choosing a compatible battery, there are different types of batteries to choose from.
Type of Battery

Description

Lithium-Ion (Li-ion)

The most energy efficient, lightweight, and environmentally friendly option.

Provide superior performance and rapid charging compared to other battery options.

Nickel-Cadmium (NiCad)

The most affordable type of laptop battery.

Have a high energy output, and rapid charging option.

Not totally recyclable and contains some toxic materials.

May suffer from the memory effect.

Nickel-Metal Hydride (NiMH)

Higher energy capacity and less toxic than Nickel-Cadmium batteries, but a shorter life span.

Heaviest type of laptop battery. May suffer from the memory effect.

Nanotechnology

Lithium ion batteries made with nanotechnology have ten times the electricity of lithium ion batteries.

Allows for greater battery life.
Batteries that suffer from the memory effect are susceptible to 'remembering' an old charge and not fully charging the battery. Once the memory effect has occurred, the battery is no longer able to hold a full charge. The easiest way to avoid the memory effect is to let the battery fully drain before recharging the battery, and unplugging the charger when the battery is fully charged.
Laptop Battery Price
Laptop batteries vary in price depending on their capacity, material, and brand. The highest quality laptop batteries are oftentimes the most expensive, but are the most energy efficient, have the longest life span, and are typically environmentally friendly. Many people choose to go with OEM batteries, which are often the most expensive, because many consumers think that they are the highest quality. However, by choosing a compatible laptop battery with high quality materials and high capacity, you are able to get an efficient battery that is much more affordable. Choosing a compatible battery with a warranty is one way to save money while making sure you are buying a quality product.
How to Purchase a Compatible Laptop Battery for Your Laptop on eBay
After understanding the different options for compatible laptop batteries, and what to look for when making a purchase, you are ready to begin your search for a laptop battery that is compatible with your specific computer. eBay offers a large selection of both OEM and compatible laptop batteries, which are often found for under retail price. To begin your search on eBay, you can start with the use of keywords in the keyword search bar. If you are searching for a specific type of battery, you can use a specific keyword term, such as 'Apple Macbook Pro battery.' To browse different laptop batteries and the different prices of each, use a broader search such as 'laptop battery'.
Many batteries sold on eBay come with warranties to ensure the product functions properly for the length of the warranty. Another way to shop with confidence on eBay is by purchasing a laptop battery from an eBay Top-rated seller. eBay Top-rated sellers are the sellers with the highest number of positive business transactions and customer ratings. Purchasing from a Top-rated seller usually ensures for a quality product and easy transaction. Another benefit of shopping on eBay is being able to shop for a compatible battery from the comfort of your own home.
Conclusion
Although replacing a laptop battery may be costly, knowing what to look for when purchasing and shopping on eBay helps you stay within your budget. When choosing a new battery, it is important to compare your old battery and also to determine the battery capacity, battery material, and lifespan as well. It is also important to determine the number of power cells in the original battery. You should even know the computer model and brand, to make sure the battery is compatible with your specific computer. Purchasing an OEM battery is one way to ensure the battery is compatible with the laptop, but is not necessary. Compatible batteries are just as efficient as OEM batteries, and often have more options for features and price.
Not only does eBay offer low prices and a large selection, eBay makes it easy for users to stay within their budget by entering their price maximum. By setting their price maximum, shoppers do not have to waste time searching through laptop batteries that are outside of their price range. eBay also makes it easy to narrow compatible batteries by computer make and models, to ensure the type of battery you choose is compatible with your laptop. With the help of eBay, choosing a compatible laptop battery is made both easy and affordable.