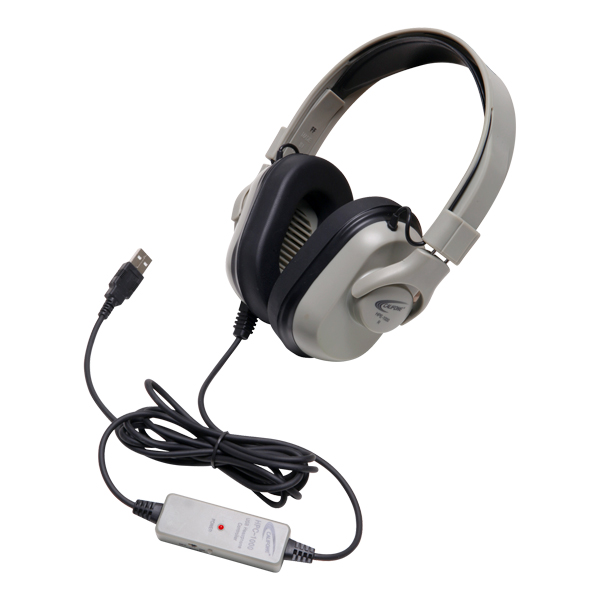 Headphones can be used with many devices from small MP3 players and smartphones to desktop computers and TVs. Headphones are useful devices and some models can block ambient noise so that a favourite music track, film, or TV programme can be enjoyed. Headphones can be used when out and about or at home without annoying other people. The most common type of headphones are corded models, which have a cable that connects them to the source device. Corded headphones are available in many variations depending how they are worn: they can fit inside the ear or over the ear. Corded headphones also vary in the audio quality that they deliver. Headphones can be bought from many high street electronics shops and basic models are also stocked in supermarkets. Online auction sites, such as eBay, offer a wide selection of corded headphones and allow the buyer to shop conveniently without leaving home.
Types of Corded Headphones
The main variation for corded headphones is the way that the headphones are worn. Smaller models are lightweight and fit just inside the ear, while larger ones are worn over the head and cup the ear. The size not only determines how portable the headphones are, but it can have some effect on the sound quality.
Full Size Corded Headphones
Full size corded headphones come with large cups that enclose the ear and block external noise for the best sound performance. This design also places little pressure on the ear, as it does not fit tightly. Therefore, full size corded headphones are great for enjoying music or films for long hours, although some models can overheat. They are not very mobile because of their large size, but they are the preferred choice for home use and for DJs. These full size models are also known as earcup, closed back, circumaural, and over the head headphones.
In-Ear Corded Headphones
In-ear corded headphones, also known as earbud headphones, are probably the most popular choice for those that wear headphones out and about because of their light weight. Many portable players come with these included in the package. In-ear corded headphones are inserted directly into the ear canal and they can provide moderate to excellent isolation from external sounds. As they are worn inside the ear, they do not interfere with earrings, hats, or hairstyles. However, these headphones have some disadvantages. The bass response and sound quality rarely match those of full size headphones and over long periods of use they may cause discomfort. For best results, in-ear headphones should be quite soft and easy to insert, so that they do not hurt the ear.
On-Ear Corded Headphones
On-ear corded headphones rest lightly on the ears and are connected by a band that goes over the head. The pads on these corded headphones are generally flat and they do not cup the ears completely, allowing for some awareness of the surroundings. Therefore, they are great for office environments where some communication with other people is necessary. Models with microphones are also available that are useful for headphones that are used for phone calls. Some models can be folded to make them easy to transport. Their main disadvantage is that they do not block much external noise.
Around-Ear Clip Corded Headphones
Around-ear headphones clip securely around the back of the ear and stay fixed even when performing vigorous sporting activities. The clips fit in a similar way to glasses. These headphones are close to the ear, but not inside it. They are lightweight and portable, but do not offer the same bass response or sound quality as full size headphones.
Summary of Types of Corded Headphones
Each type of corded headphones is characterised by the way that it is worn and this also determines the advantages and disadvantages of each type. The following table summarises the headphone types and their main features as discussed above to make it easy for the buyer to compare the different types.
Type of Headphones

Where They Are Worn

Advantages

Disadvantages

Full size

Fits over the ears with a head band

Ears are cupped

Great sound isolation and quality

Comfortable to wear

Not easily mobile due to size

Can overheat with extended use

In-ear

Fits inside the ear canal

Portable

Lightweight

Can be worn with all hairstyles, hats, and earrings

Can cause discomfort

Not the best sound quality and bass response

On-ear

Fits on the ear, with a band on top of the head

Good for office environments

Used by DJs

Do not block much external noise

Around-ear clip

Clips at the back of the ear

Stays in place during sports

Sound quality and bass response do not equal full size headphones
The way that headphones are worn comes down to personal taste. However, the pros and cons of each type may also influence the final buying decision. There is a style to suit everyone, so it should be easy to find a pair that is comfortable and matches the buyers requirements for sound quality.
Sound Quality for Corded Headphones
Great sound quality can be obtained with all types of corded headphones, although there are some differences. The sound quality depends on noise cancelling, isolation of external noise, and generating a good bass response.
Noise Cancelling for Corded Headphones
Some corded headphones are specifically designed to cancel any external noise. Noise cancelling headphones are equipped with small microphones that generate noise to cancel external sounds by reversing them. These models are especially good when travelling because they are able to cancel even low engine hums often experienced on airline flights. However, some people perceive sounds played from noise cancelling headphones as unnatural.
Sound Isolation for Corded Headphones
Headphones with good sound isolation trap the sound waves and prevent them from disturbing others who are nearby. They allows the listener to turn the volume down because a great listening experience can be achieved with a lower volume. This protects the hearing of the listener. Sound isolation is best provided by small earbuds with flexible rubber tips or large over the head cups that seal the ears.
Bass Response for Corded Headphones
The bass sound from corded headphones cannot be compared to the bass from subwoofers and large speakers. However, some advanced headphones models can provide enjoyable bass response and this is especially true for large ear cup headphones. Some expensive models are specifically designed to emphasise lower frequencies.
Cables for Corded Headphones
Most corded headphones feature a single long cable that is usually attached to the left earpiece. This type of cable is also known as a single sided cable. In-ear headphones and some other models have a Y-cable, which has a single cable that splits into two and attaches to each ear bud.
Jack Plugs for Corded Headphones
At the other end of corded headphones is a jack plug that is inserted into the socket of the sound source. When choosing headphones, it is essential to pay attention to the size of the jack plug in order to find a compatible model. Professional corded headphones have a 6.3 mm jack plug, while most headphones have a 3.5 mm jack. Headsets designed for mobile phones have a 2.5 mm jack. However, if the headphones do not fit, it is possible to buy an adaptor in order to convert them. Using headphones is relatively easy, as they only need to be plugged in and they are ready to use instantly once the sound source is switched on and playing. Some headphones come with volume adjustment on the cord for added convenience.
Buying Corded Headphones on eBay
If you start your search by typing "corded headphones" into the search box on the eBay main page, you may yield fewer results than expected because many sellers do not list the headphones as corded because it is such a common feature. Therefore, it is better to start your search by considering the type of headphones that you would like to wear, for example, "in-ear headphones". You can easily identify corded headphones by reading the item listing and browsing the photos. After performing the search, you can sort the results by the price if you have a particular budget in mind.
Read the item listing in order to find out the cable length of the headphones and what kind of jack plug is used. You can then check the media players or TVs that you want to use with the headphones and decide whether or not you need an adaptor. In case of any queries, address them to the seller.
Conclusion
Corded headphones can be connected to an array of devices in order to enjoy music and videos without disturbing others. Corded headphones are divided into types according to their appearance. The types influence how they are worn and also have a role to play in the sound quality. Corded headphones can be small and fit into the ear or have large cups that seal the ears completely. Lightweight headphones are known for their portability, while larger ones often have superior sound quality. However, special designs can provide great sound even with smaller models. The choice of the type comes down to the requirements of wearers and which style they find comfortable.
Corded headphones have jack plug types that are compatible with many devices, but sometimes an adaptor is required. Corded headphones are easy to use, as they simply plug into the source device and require no special configuration. The volume can be adjusted either from the source, or for some models, with the volume adjustment button on the cord. There are a range of corded headphones in all price ranges available on eBay, so everyone can find the ideal pair.