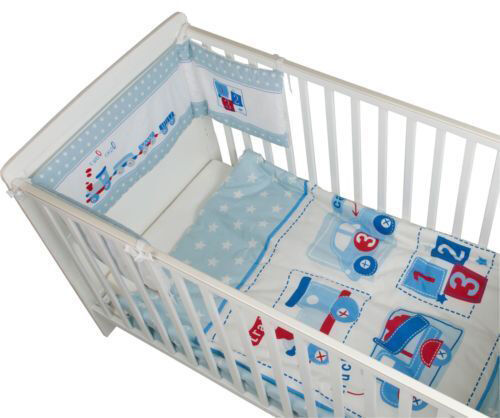 Cotbed bumpers are a great way to make baby's bed more comfortable, while adding a decorative element to baby's room. These bumpers can go all the way around the perimeter of the bed or just pad the bars that surround baby's head while he sleeps. With so many options to choose from, it can be hard to find the right cotbed bumpers if parents do not know where to start.
A shopper can start by looking at the other décor in the room and try to match the cotbed bumpers to the rest of the room. From there, shoppers can search for patterns and designs based on the gender of the baby, desired colours or styles, and materials used to make the bumpers. Parents can save money by looking for bedding sets that include bumpers or buying used items. No matter if a parent is looking for new or used cotbed bumpers, they can find a wide range of styles and designs on eBay.
What is a Cot Bed?
A cotbed is a small bed that is meant for a baby or a toddler. It is a bit longer than a standard cot, and unlike cots, the sides of a cotbed are in a fixed position. The sides of a cotbed can be removed to convert it into a junior or toddler bed for older children. Several designs and styles of cotbeds exist, and because of their construction and size, the lifespan of a cotbed is considerably longer than that of a standard cot.
Cotbeds vs. Cots
Parents may wonder if they should purchase a cot or cotbed for their child. It is really a matter of personal preference. Cotbeds are about the same price as a standard cot, but they do not have drop sides. This makes it hard to get babies in and out of the cot, especially if the parent is short or the baby is heavy. The dimensions of cots versus cotbeds are listed in the table below.
Bed Type

Length

Width

Height

130 cm

69 cm

65-70 cm (with drop sides)

Cot Bed

146 cm

77 cm

90-105 cm (head)

84-90 cm (sides)
Because cotbeds are slightly longer and wider than cots, parents must purchase different bedding sets for the mattress. These sets can sometimes includes bumpers, but some can be adjusted to fit the larger perimeter of a cotbed.
Purpose of Cotbed Bumpers
Cotbed bumpers provide a comfortable cushion between the baby and the hard slats of the cotbed. The bumpers may go around the entire perimeter of the bed, or, the bumpers may just go around the top section of the cotbed to protect baby's head. Most parents choose cotbed bumpers to keep baby from bumping his head or just to add a decorative element to the cotbed.
Choose the Right Cotbed Bumpers
Once a parent has decided to buy cotbed bumpers for their baby, the first step is to begin looking at different patterns and designs to find the right set. With so many colours and styles to choose from, this can quickly become a daunting task. Fortunately, many baby shops and websites, like eBay, have the selections categorised in a way that is easier to sort through. Parents can find the right cotbed bumpers based on the gender of the baby, material, colour, and design or theme.
Gender
Sorting through cotbed bumpers based on the child's gender often makes it easier to narrow down the results. Many manufacturers choose colours and themes specifically for boys and for girls. Boys tend to have blue and green colours, while bumpers for girls are often pink and purple. Unisex or gender neutral bumpers are also available. These use a variety of colours and can work for either a boy or a girl. Parents who want to save the cotbed bumpers to use for future children would do best to choose cotbed bumpers based on gender neutral themes.
Material
Cotbed bumpers are typically made from cotton or cotton poly blend fabrics. These are soft and comfortable for baby. Parents may find cotbed bumpers made from smooth satin materials, as well. The material that a parent chooses is really a matter of personal preference. Parents should be sure that the fabric meets all safety standards for bedding for babies before installing the bumpers in the cotbed.
Colour
Choosing a colour is important when trying to tie in the cotbed bumpers with the rest of the décor of a room. Parents who do not have a particular theme or design in mind can sort through cotbed bumpers by their colours. While most incorporate pink and blue colours, parents can find a wide range of colours to match just about any theme or colour scheme.
Design
If parents have decorated the baby's room in a jungle, princess, sports, or other theme, they may want to find cotbed bumpers that tie into the same theme. Fortunately, the designs on cotbed bumpers are numerous.
Consider Cotbed Bedding Sets
While some parents choose to buy cotbed bumpers by themselves, they are often included in cotbed bedding sets, as well. These sets include everything needed to dress and decorate the bed. This includes sheets, comforters, pillows, and cotbed bumpers. The advantage of buying cotbed bumpers as part of a set is that all of the elements of the bed match. Additionally, it is easier to find bedroom elements that match when everything is purchased together in a set. Because it is a package deal, shoppers often save money by purchasing everything at once, rather than as individual pieces. Sets are available in a wide range of colours and designs, as well.
Consider Used Cotbed Bumpers
Shoppers who want to save money on their cotbed bumpers should consider buying used items. Cot bed bumpers are more for decoration than anything else, so they do not wear out as quickly as other items for children. This means that parents can find great deals on previously used cotbed bumpers that are still in good condition. When considering used items, shoppers need to take the cost and the condition into account before making a purchase.
Cost
Parents should shop around to see what the average prices for new cotbed bumpers are when they are brand new. This gives them a good idea of how much they should spend. Used cotbed bumpers should be priced lower than new ones. By knowing how much bumpers cost when brand new, shoppers are better able to spot a good deal. Parents should expect to pay more for used cotbed bumpers that are in excellent condition than those that show slight signs of wear and tear.
Condition
Shoppers should not sacrifice quality to save a bit of money on cotbed bumpers. Parents need to take the time to carefully inspect the bumpers or any tears and stains. Additionally, they need to ensure that the bumpers can be washed thoroughly prior to installing them in the baby's cotbed. If the bumpers show signs of wear and tear, then the price should reflect its condition. Shoppers should not be afraid to negotiate a lower price for used bumpers if they feel that the price is too high.
How to Find Cotbed Bumpers on eBay
No matter what design, colour, or condition you are looking for in cotbed bumpers, you are sure to find it on eBay. This large online marketplace allows people from all over the U.K. to buy and sell cotbed bumpers as well as other baby gear. Because the listings are posted by private sellers rather than retail shops, you can find better deals on eBay than anywhere else. Search the site and sort through the listings to find cotbed bumpers that can complete baby's room.
Searching for Cotbed Bumpers
Begin your eBay search for cotbed bumpers by performing a basic keyword search. Avoid being too detailed with the initial search, or you may miss out on some good deals. Instead, start with a general search, like 'cotbed bumpers', and narrow down the listings from there. After you have performed the initial search, begin refining the listings by selecting the colour, material, design, price range, and more. Once you have a reasonable amount of listings, begin reading product descriptions to find bumpers that meet your needs.
Conclusion
A cotbed is a larger bed for babies. Cotbeds are slightly longer and wider to accommodate older children and have slats that go all around the perimeter to ensure baby does not fall or climb out. To make the cotbed more comfortable for baby and to tie the bed into the rest of the room, many parents place cotbed bumpers around the perimeter. These are pillow-like bumpers that cover the slats so that baby cannot bump their head or hurt themselves on the slats. These bumpers are available in any style, colour, or design a parent can think of. The hardest part of buying cotbed bumpers is deciding which style to choose.
Fortunately, knowing how to sort through the many options makes it easier to narrow down the choices and make a selection. To save money on this purchase, some parents opt to buy a complete bedding set or to look for used bumpers. No matter what kind of cotbed bumpers parents desire, they can find variety of cotbed bumpers on eBay.