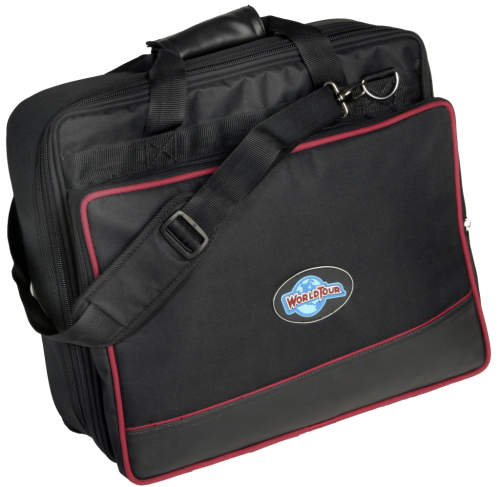 A DJ's primary job is to play music and entertain the crowd, and even though it is not in the official job description, most of them are responsible for their own set-up and breakdown. Since equipment is often both expensive and fragile, it is imperative to transport it all with great care. DJs can purchase soft cases and bags for some of the gear like headphones, cables, or stands. Turntables, mixers, and other pieces with a lot of working parts should be stored away in hard cases padded with foam.
Many DJs play at multiple venues, and therefore, when it comes to moving equipment, mobility is key. Carrying cases and bags should be durable, lightweight, and offer sufficient protection. Some models are designed with wheels on the bottom for maximum portability. DJs can find an assortment of new and used bags and carrying cases for their various types of equipment on eBay. Before buying any type of case, shoppers should know which gear they want to protect.
Types of DJ Bags and Carry Cases
DJs in search of new carrying cases must choose between hard or soft cases. While hard cases typically offer more protection, they are often accompanied with a hefty price tag. Soft cases best used to transport non-breakables although some DJs use bags for turntables and mixers.
Hard Cases
Serious DJs know the best way to protect their equipment is with a hard case. Although hard cases typically are more expensive, DJs should think of their carrying cases like insurance. It is better to spend the money upfront to protect the gear than to wait until something gets broken due to negligence. The best hard cases and made of strong, lightweight metal, such as aluminium, and have durable snaps to keep the case close.
Hard cases made of plastic are often less expensive, but it only takes one good drop to crack or break the case. No matter if the DJ chooses plastic or metal, all hard cases should come with foam padding to cradle the equipment. Shoppers should ensure foam completely surrounds the turntables, mixer, or amps, and even the lid should be covered for maximum support. Some larger hard cases have wheels built into the bottom to make it even easier to move.
Soft Cases and Bags
DJs often use soft cases, typically made of canvas, to transport cables, stands, and other items that are not as fragile. Instead of snaps and locking mechanisms, many soft cases close with zippers. While some DJs may not have an issue with putting their headphones in a soft case, others strongly advise against anything other than a hard one.
eBay has many soft case options available for disco lights that hold the fixture and has additional compartments for cables, colour filters, and other accessories. Like hard cases, soft options should be adequately padded to protect gear when being transported. Because soft cases are carried, most often, they have straps, but ones without are more awkward to carry than metal cases. Soft cases are more accommodating with equipment of various shapes and sizes and can fit everything from a large collection of CDs to deck stands. Before acquiring a soft case, DJs should measure their equipment and compare it to the bag's dimensions to ensure everything can fit.
Choosing DJ Bags and Cases for Equipment
No matter which type of carrying case DJs prefer, there are a few factors that should help one make the right decision. DJ equipment is heavy enough, which is why it is important to choose materials that are both lightweight and durable. All bags should offer sufficient padding to cushion fragile equipment. Soft bags may have padding sewn directly into them. Many hard cases come with special foam or egg crates that can soften the blow should the case be dropped or kicked.
DJs who have to haul their equipment long distances favour hard cases. They only need one large hard case with wheels and can stack the rest to move their equipment with ease. The sections below recommend certain types of bags or cases based on what equipment needs to be transported.
Turntables
DJs who spin vinyl cannot operate without their turntables, so it is vital to transport them in a hard case. These types of cases are sometimes referred to as "coffins". Metal hard cases are ideal although eBay also has plastic turntable cases. Regardless of which option they choose, DJs need a case that has padding or foam on all sides. Deluxe models often have locking mechanisms for added security. Some hard cases are designed to hold both turntables and the mixer.
Mixers
Mixers, like turntables, have lots of small, intricate parts that are used in conjunction with one another. Similarly, DJs should invest in a hard case for their mixer with foam. Some case manufacturers, such as Rane, boast their cases are waterproof. Buyers should look on eBay for a mixer and turntable hard case combo to reduce the overall cost. DJs are advised to shy away from using soft cases with breakable equipment, and mixers are fragile devices.
Amplifiers
DJs who use amplifiers to boost sound and power also need to find a convenient, safe way to transport and store their amps. Amp hard cases are made similarly to turntable and mixer cases with durable materials, lots of foam padding, and high-end models have locking mechanisms.
Deck Stands
In addition to turntables, mixers, and other equipments, many DJs also have to set up and break down their deck stands for performances. Rhino and other quality deck stands often come with a soft bag for easy transport. DJs can also use duffle bags to transport portable racks.
Vinyl
Vinyl DJs must take extra care of their records to keep them from getting damaged or warped. eBay has several different vinyl hard cases to choose from to store and transport records. DJs need separate cases to store their 12 inch and 7 inch records. Vintage vinyl cases are often made of wood covered leather or vinyl. More contemporary models are made of metals, such as aluminium, and are often more durable.
CDs
DJs who use CDs need a safe and easy way to transport their music. While a soft case or CD book is sufficient for most people to transport their CDs, DJs have to treat their music with extreme caution. They should opt for a hard case that stores both the CD and the jewel casing. Some high-end hard cases that hold turntables and mixers, such as Citronic, even have room for CD storage on either side.
Laptop
Digital DJs who use laptops to play media do not need to purchase any special bags. The laptop bag should accommodate the size of the laptop and the cables needed to connect it to the rest of the equipment. Most laptop bags have some sort of padding, but if DJs are hauling their laptop bag and other equipment outside, water resistant bags offer even more protection.
Headphones
Many DJs have their own opinion when it comes to choosing a carrying case for headphones. While some throw them in with cables and other gear, others consider doing so highly negligent. Many high-end headphones are sold with a nice carrying case, but eBay has plenty of cases available. Before purchasing a headphone case, DJs should know the dimensions to find the best fitting one.
Finding DJ Bags and Cases on eBay
Type in "DJ carrying case" or "DJ equipment bag" to see everything eBay has to offer. Since cases are designed for specific types of equipment, it is best to use keywords to narrow the focus on your search. For example "DJ turntable case" is a good search, but "aluminium DJ turntable case" is even more specific. Check out eBay's Search Tips page for even more help optimising your results.
eBay allows shoppers to custom sort results by several different ways. Bargain hunters can arrange their results from lowest to highest price. Because some cases are bulky, shipping may be extra; eBay has several options to add in shipping costs to get a better idea of how much the total purchase price is. Shoppers can also list items from distance from seller, time left in auction, and condition of item.
It is advisable to read the listing's terms and conditions to understand what you are purchasing. Find out if the seller has a money back guarantee if the cases arrive damaged. Should any part of the listing seem unclear, let the seller know and ask any questions you may have. Finally, take a moment to look at the seller's eBay user history to see how past transaction were conducted. Only buy from sellers with a high approval rating and positive feedback comments.
Conclusion
Rebuying DJ equipment is no fun, so it is best and easiest to spend the money to protect the initial investment with carrying cases. Turntables are vital to a DJ's set-up, so hard cases, particularly those made of metal, typically offer superior protection. Mixers and amplifiers have fragile components and should be transported in hard cases with dense foam. Many of these hard cases come with locking mechanisms for added security.
Cables and stands are less likely to be damaged if dropped, and soft bags are sufficient for transporting these items. While some DJs may be tempted to choose a soft case or CD book, those who use CDs should consider storing their music in hard cases to keep them from warping and damage. Moreover, vinyl should always be transported in a hard case. There are so many options to choose, from metal hard cases to soft canvas bags, and DJs can find nearly any type of carrying cases on eBay.