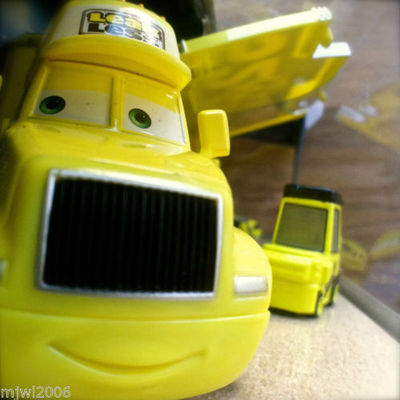 Starting Out
If the special little (or big) someone in your life has recently discovered the joy (and pain) of collecting Disney Cars, you might be asking yourself a few questions: like where do I get the ______ they are asking for? Let us help you!
What IS all This?!
There are literally thousands of different Disney Cars characters available in several series and sizes, from the tiny plastic Micro Drifters which run on a ball-bearing to the 1:55-scale (slightly larger than your standard diecast Hot Wheels) diecasts by Mattel found in select retailers in single blister cards and two-packs, sometimes boxed sets as well to the oversized diecast 1:43 scale models available exclusively from the Disney Store. Also plastic Wheelies and larger Shake-and-Gos and Stunt Racers (discontinued)) and the teeny Mini Adventures (also discontinued) diecast Lights and Sounds (discontinued) Synthetic Rubber Tire (exclusive to Kmart USA and now discontinued) to the Precision series (high detail and collectibility for adult collectors) to, well, the list goes on but that's most of them.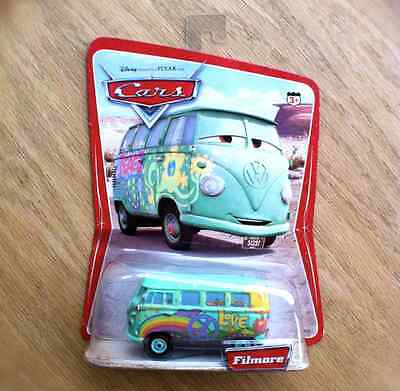 It Began in the Desert
If you are new to the world of Cars, it can seem intimidating at first. When we first began to collect, these were some of our top Frequently Asked Questions. I'm collecting 1:55 scale diecast by Mattel. So why do these packages (blister cardbacks) all look so different? Cars began with a handful of main characters to coincide with the release of the first movie in 2006. They are pictured on a desert scene and are called the Desert series. In it, are a few exciting ones like a very rare Lizzie and the super fun Filmore Fillmore error.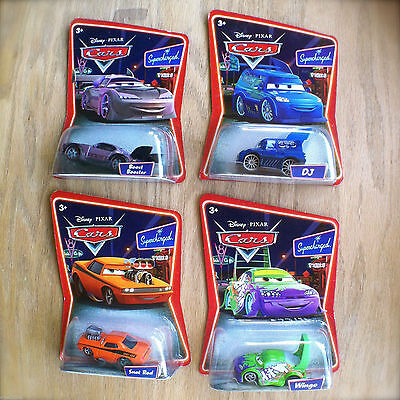 Add a caption
The Delinquent Road Hazards on the Supercharged card
Then it Went Supercharged
Then came the Supercharged series and then World of Cars and then Nightskyline and then Cars 2 then Cars 2013 where, for the first time characters from both movies were released side-by-side, followed by Cars 2015 and beyond.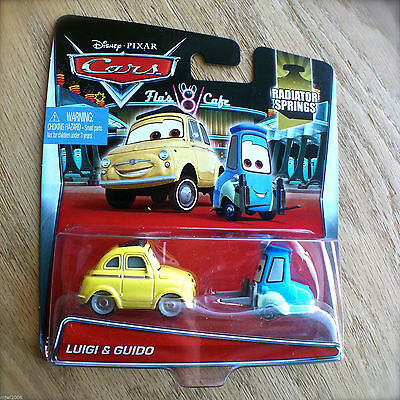 Cars Today and Tomorrow
But then there is also the Cars Expanded Universe featuring fun versions of favourite and new characters from hits like the limited-run Storytellers series and the popular animated shorts from Mater's Tall Tales , the Take Flight diecasts and then also Planes plus Planes 2: Fire and Rescue and also Cars 3 which is slated for release in 2017. Plus the Special Deco series like Silver and Neon and Ice Racers.
How Can I Tell What Scale or Series This is?
My child got this as a gift and he wants more: how can I tell what series it is so that I collect the right size for him or her? Good question. How big is your diecast? Is it a little bit bigger than your standard Matchbox car or Hot Wheels? That's 1:55 scale. Or did it come in a clear, acrylic case like diecasts from the Disney Store? That's 1:43 scale.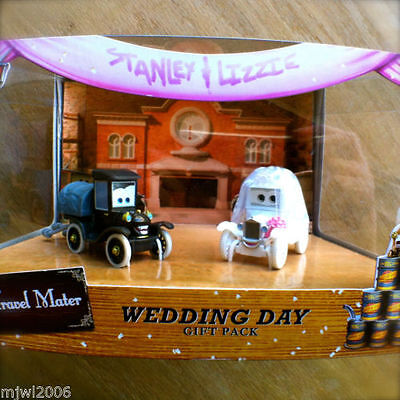 Can Girls Collect too?
Are Cars toys only for boys? Not to our mind. We know plenty of girls who also like cars, and there are many fine fun female characters to collect like Sally, Lizzie and Flo to name merely a few. While you might find them firmly planted in Boystown when you go to a brick-and-mortar store, we believe in allowing our children to decide themselves what they like to play with.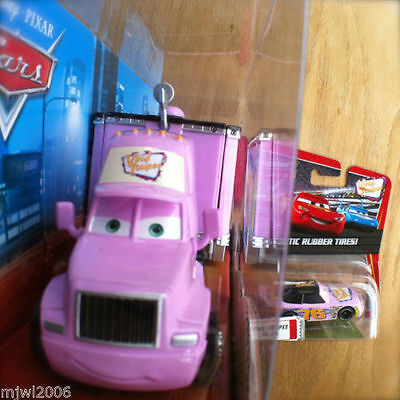 Recognizing Counterfeits
How do I tell the difference between a real, authorized toy and a counterfeit knock-off? Factory-sealed in package and new is your first line of defence. Diecast cars sold as 'new but loose' stand a greater chance of being unauthorized reproductions. Ditto for unboxed. Look at the seller for other clues like item location and quantities. If the seller has 5000 diecasts listed in a country where most toys are manufactured then you may correctly be suspicious it's a backdoor item. Less so if it appears obvious they are a one-time collector parting out their collection. Some sellers are even upfront about their merchandise being tributes as opposed to licensed and/or branded but then some are not. And some sellers, if their area of speciality isn't Disney PIXAR Cars, may not even understand what they're dealing in unauthorized reproductions.

This is especially true in the field of Cars haulers. In high demand and limited supply, unauthorized manufacturers saw their opportunity and took it. There are more knockoff haulers for sale than authorized ones. Here is a hint to help made a quick assessment on whether a hauler is legitimately made by Mattel or not: if you are looking at a Piston Cup or World Grand Prix hauler with Mack's square face on it and it ISN'T Mack, it's not made by Mattel. Piston Cup diecast haulers (the ones that partner with the racers) are all based on a Kentworth design. Kentworth cabs have sideview mirors that protrude and a satellites dish on top. The highway truckers (like Jerry's Recycled Batteries, Paul Valdez and Gil) are built with Peterbilt faces, and only Mack looks like a Mack truck.

Other questions to ask yourself might be: (a) Does it come factory-sealed in the box? (b) Who is selling it? (c) Is this price for real? Cost is obviously a consideration but if it seems like too good a deal to be true, it is. (Although that applies only if it matters to you who made it and from what. It's not my place to cast aspersions.) All that we can tell you for certain is that McQueen and Mo Mater sells only the real deal. And that you're paying for the quality assurance of a name brand and everything that brand stands for in production standards. We don't work for Mattel and we never will -- we are simply lowercase-c collectors with a desire to share our stuff, knowledge and affection for a particular line of toys -- but we'd like you to know what you need to know to make the best purchasing decision for yourself and/or your children. Most Piston Cup haulers have not been manufactured by Mattel since well before Cars 2 hit theatres. The only exception to that rule was Mack, briefly, in a box that had the London skyline as a background, and that is no doubt the reason all recent Piston Cup and World Grand Prix unauthorized tribute haulers are wearing his face. There has also been a very recent re-release of Gray (both as a hauler and as a cab minus the trailer) and Mack with a exclusive-to-Walmart hauler on the 2014 card. Also Chick Hicks hauler in 2015. Not to be confused with the knock-off Chicks Hick hauler. But we digress....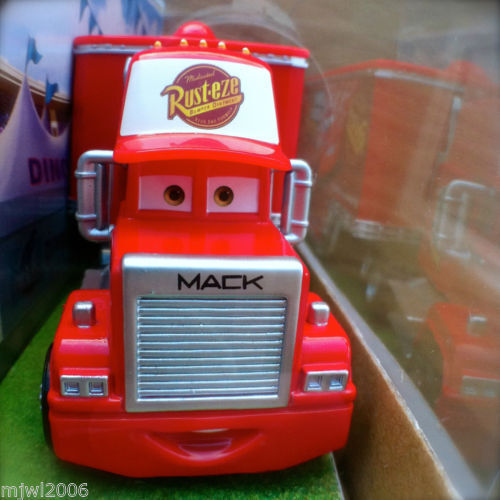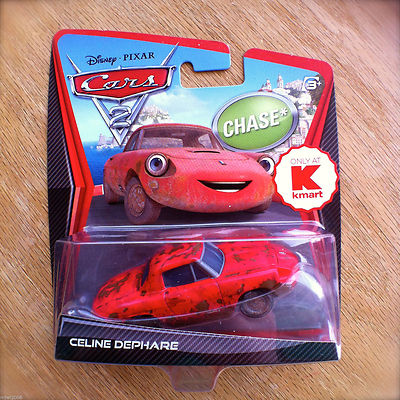 Add a caption
Celine is the only Cars characters with headlight eyes
This Costs That?!
Why do some characters cost so much more than others? Supply and demand. For reasons unknown, some characters are produced by Mattel in limited quantities, distributed to only select locations, and then to only select retailers. McQueen and Mo Mater imports their merchandise from authorized dealers and collectors worldwide, meaning we have done the leg-work so you don't have to.

Will my collection retain its value? This depends on how thorough you have been in assembling a collection of which characters and the condition they are in when you consider parting with them. Unopened are the most valuable. Card condition matters. Open and used is okay providing they have seen gentle play but paint chips and bent axels will deteriorate value.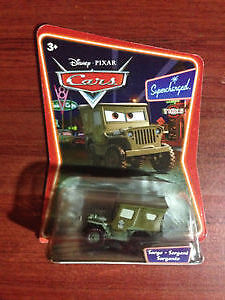 NEVER BUY THIS CAR!
Believe it or not, there is one Cars car that you should never, ever buy. He is lead-paint Sarge. About ten years ago, Mattel issued a voluntary recall on the character Sarge as part of the Supercharged series because testing showed surface paint on certain Sarges sold in retail stores across North America from May 2007 to August 2007 contained lead in excess of permissible levels. The affected toys were produced by one specific contract manufacturer during a narrow timeframe.

You will find Supercharged Sarge for sale on e-commerce sites but they are not to be bought. If you have an old loose Sarge that says Made in China with a code with the last three characters reading " 7 E A" you need to get rid of it as soon as possible. Lead is toxic if ingested by young children and can cause adverse health effects.

Poor old Supercharged Sarge. He never knew what hit him.

Anyway, it was merely a blip in an otherwise healthy thriving industry but it reinforces the importance of ensuring you're buying toys that have passed quality assurance, not the ones hustled out a backdoor in the middle of the night.
What Can I Look Forward To?
More characters, more animated shorts, more movies! With fun-loving shorts like the recently-released Radiator Springs 5001/2 and Tales From Radiator Springs, and now Cars 3 confirmed for release in 2017, you know that you can continue to enjoy collecting Cars for many years to come. Diecast cars have been toy favourites for young and old since almost as soon as the first full-size cars hit the streets.
It's All About Having Fun
But the most important aspect to collecting Disney PIXAR Cars is to enjoy it! Whether you collect Cars for play or display, your collection increases in value when it's something that has served as a pleasant distraction from the more tedious aspects of day-to-day life.

Have fun! Happy hunting.