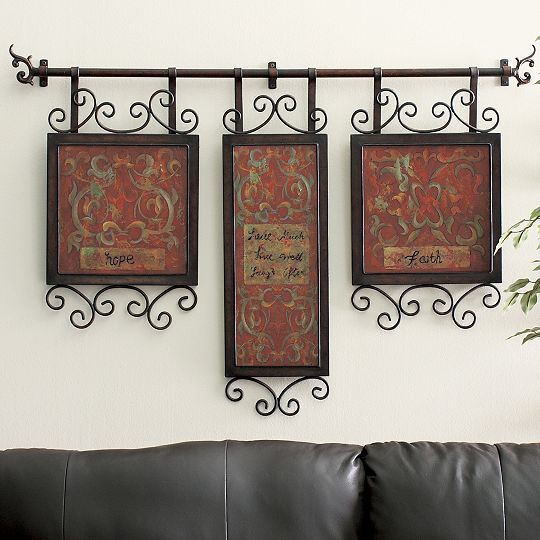 The art of creating decorative wall hangings is centuries old and thought to originate with the ancient Greeks. These works of art usually depicted historical events relative to a particular people. They also proclaimed loyalty to a monarch, a tribal leader, or one of the many gods worshipped in ancient times. These were transcribed onto woven fabrics, clay, glass, and certain types of rock as a public record of the affiliations and cultural practices of a tribe or nation. This form of art decorated the walls of homes, public forum buildings and legislative offices. The art continues today and the purchase of ethnic wall hangings brings a piece of cultural history or diversity into a home or public building. The table below details the various characteristics that identify particular ethnic wall hangings.




Types of Wall Hangings
| | |
| --- | --- |
| Indian wall hangings | Indian wall hangings are kaleidoscopic in colour and multi-faceted in pattern. Elaborate beading and sequins feature strongly on fabrics and depictions of gods, animals, (particularly the elephant), and the general fauna and flora indigenous to India are found in exquisite paintings on canvas and on wall plates; cultural dances also appear regularly. |
| Egyptian wall hangings | Egyptian wall hangings are possibly among the most instantly recognised of all. Hieroglyphic styles of paintings done on a range of fabrics including papyrus are both colourful and distinctive. Hieroglyphics are used to spell out names as well as narrate a historical tale. Gods and pharaohs dominate Egyptian art. |
| Polynesian wall hangings | Hawaiian or Polynesian wall hangings have bold prints with subtle depictions of the ocean and indigenous marine life. Hand quilting is often practised; colours are reminiscent of tropical fauna and flora. Metal traditional weaponry and wall plates are available. |
| African wall hangings | African wall hangings are culturally diverse. Tribal insignias and mythical creatures are almost always evident. Wooden masks as well as carvings on stone or clay are prevalent. Beading is used to relate spiritual messages, ancestral ties, and tribal affiliations. Depictions of the African landscape and the indigenous animals also appear on most wall hangings. |
Home Decor and Wall Hangings
Purchasing ethnic wall hangings will probably be with the intent of transforming a room in the home to reflect a particular ethnic group or culture. Many of the fabrics used in these wall hangings give them a versatility that enables them to be used as bed covers or sofa throws and doing this together with a further hanging on the wall can draw a room together harmoniously. If not, then some form of furnishings or accessories that complement the selection should be considered as in the example below.
Indian Wall Hangings
Indian wall hangings are very bold both in colour and patterning. The heaviness of the beading and the profusion of sequins that typically appear make the dimensions of a room crucial when these are considered for purchase. The larger tapestry should not be displayed on a wall in a small bedroom as the effect could be stifling. If the large wall hanging is used as a bedcover, then a much smaller version can be hung on the wall. One or two ethnic cushions can also be interspersed with other, solid colour, throw cushions on the bed or a chair to create a harmonious feel. Large tapestries are suited to large dining or living rooms that carry the ethnic theme throughout by the use of figurines, masks etc. A small tapestry in a larger room can cause a feeling of isolation unless this is grouped with ethnic face masks, wall plates or other wall art. Ethnic wall hangings are as effective in outdoor settings as they are indoors. They are popular as patio decorations and outdoor entertainment areas. Stone or metal wall hangings look particularly good in an outdoor setting and many Judaic homes make use of Judaic wall hangings to bestow blessings, ward off evil or depict a specific Jewish tribe. African rock paintings are amongst the earliest recorded examples of art. African wall hangings are particularly diverse and utilise a variety of natural materials on which to display this art form. Africans insist that their art capture a sense of morality and most African art work depicts humanity in many guises, but always in a positive light. Spirituality and tribal ancestors play an enormous role in everyday African life and this too is emphasised in their art. Wood or clay tribal masks were used to ward off evil and to intimidate enemies. Many fine examples of these hand-carved pieces are available on the market today and are among the most popular sellers. They are perfect for display on patio walls along with metal reproductions of tribal weaponry if the theme is carried throughout a garden; perhaps lush foliage and an animal figurine or two. Peruvian wall hangings are usually minutely detailed accounts of Inca traditions, folklore, and history. The human figure is portrayed in a manner much like that of the Egyptians. Egyptian wall hangings are very popular. Examples of the hieroglyphic art or depictions of pharaohs on papyrus wall hangings are both beautiful and vividly colourful. These hangings are usually protected by a glass frame due to the possibility of wear if handled too frequently. This type of wall hanging is obviously not suitable for an outdoor environment. Hieroglyphics are known for the amazing combinations of vibrant and lasting colours used by the ancient Egyptians and they are as striking today. These wall hangings are perfect for hanging in a study or to demarcate particular sections of a library. As wall art in living or dining rooms they add colour and an air of un-deciphered meaning to a room that is certain to promote discussion on social occasions. A beautifully coloured pharaonic wall hanging can transform a formal living room into an enthusiastic conversation area. Again, the dimensions of the room must be taken into account. This type of ethnic wall hanging requires space and partnership with a few ethnic Egyptian items to draw a room together.
Conclusion
Ethnic wall hangings are a means of bringing a small piece of a dream or memory related to a specific location in the world into a home. For those destined to be armchair travellers creating the illusion of far distant places, within their own home, can be a wonderful and lasting alternative. Ethnic wall hangings can also proudly proclaim a family's heritage and allow a family living abroad to recreate a tiny part of its homeland on foreign soil. Transforming a home in this manner can be a great aid to banishing home-sickness. It can also allow for new friends and neighbours to develop an interest in a culture previously little known to them. The historical tribal narratives and cultural traditions depicted in most ethnic wall hangings can be a wonderful tool for educating outsiders in the culture and traditions associated with a particular group or nation thus promoting a healthier understanding of differences. Ethnic wall hangings make wonderful and meaningful gifts to friends who share a culture, and perhaps a mutual longing for familiar landscapes, and friends who do not. Purchasing an ethnic wall hanging as a gift to anyone newly arrived in a foreign country, to ease their transition, is perhaps the most meaningful of all.