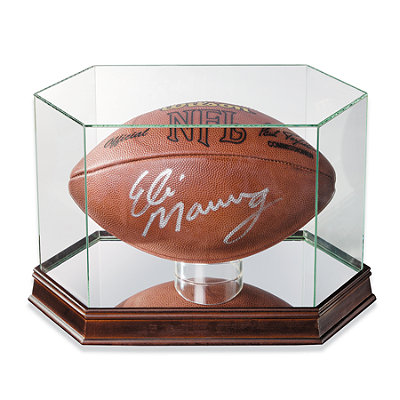 Sports bring families and friends together, allowing them to enjoy the thrill of the game and the excitement of competition. Throughout Europe and the United Kingdom, football is a popular sport, featuring some famous athletes with amazing records. For many fans, owning a piece of football equipment or a photograph signed by their favourite football star is a dream come true. With eBay's low prices and buyer-friendly features, this dream can become a reality.
eBay is one of the UK's largest online shopping destinations, with countless products available in different categories. eBay also boasts a large selection of autographed items, including football memorabilia. If buyers have never experienced the eBay shopping process before, they should do a little advance research before going online to buy football autographs on eBay. With eBay's fast search engine, search filters, seller options, and shipping choices, buyers should be able to find items that they want within their target price range.
How to Search for Football Autographs on eBay
Shoppers who have never visited eBay before are set at ease by the website's attractive design and easy-to-use layout. The search bar appears on the home page as well as on every other eBay web page. This makes it simple for shoppers to tweak a search term or even start over with a new search. Instead of having to return to the home page, they can adjust the search from any page they are currently viewing.
To start a search, buyers who are interested in football autographs may enter a relevant term, such as "football autographs," "autographed footballs," or any other related query. eBay's powerful search engine returns results within a few seconds, populating pages of listings.
How to Filter an eBay Search for Football Autographs
eBay hosts thousands of sellers and millions of product listings at any given time. When one enters a general search term, expect to see hundreds or thousands of results. A more specific term often reveals a shorter list of results, but this also means that the listings are more tailored to what the buyer wants.
If a shopper enters a term and gets far too many results, eBay has a convenient solution. Every results page includes a list of search filters. Some common filters include condition, seller, price, location, shipping, and similar options. Depending on the search, shoppers may see filters for object, options, certifications, and other features.
To apply a search filter, buyers choose their preferences from the available options. Once the selection is made, eBay eliminates listings that do not line up with the choices. The results are easier for buyers to handle and more closely matching their needs.
Using the Object Filter
When shoppers search for "football autographs," they may encounter a results page with an "Object" filter. This particular type of filter allows users to choose the types of autographed items they are interested in. Options typically include signed shirts, signed cards, signed books, or signed photos. Other choices may be signed footballs or signed prints.
Using the Options Filter
The "Options" filter allows collectors to further specify the types of football autographs for which they are searching. They can choose to see listings of autographed pieces from European players and clubs or from Scottish players and clubs. They may also opt to view listings from Lower Division players, Premiership players, or retired players.
Using the Certification Filter
Authenticity is important for autographed items. The certification filter allows buyers to choose the type of certification that is important to them. Options are discussed in the chart below.
| Type of Certification | Meaning |
| --- | --- |
| Certified: Obtained Personally | Certified as authentic, signature obtained personally by the seller |
| Certified: Private Signings | Signature obtained at a private signing, with the authenticity certification included |
| Certified: Public Signings | Signature received at a public signing, with certification included |
| Pre-Printed | Not an authentic handwritten signature, but a printed signature |
| Uncertified | No certification available |
An uncertified piece may be as genuine as any of the certified items. However, without the paperwork to back up the owner's claim, it is risky for buyers to purchase such a piece.
Using the Price Filter
Price is typically very important to an eBay shopper. Autographed pieces can be very costly, so collectors and fans are usually looking for bargains on high-value signed items. One who has a specific budget in mind may use the price range filter to choose the minimum and maximum number of pounds for football autographs. This ensures that anything outside those limits does not show up in search results. If users want to broaden a search, they can simply raise the maximum limit on the price filter or clear that filter altogether to restore all the search results.
Using the Condition Filter
The "Condition" filter applies to most types of eBay products. However, for football autographs, it may not be a significant issue. The real value of the item being sold lies in the signature, not in the condition of the piece. The "Used" condition may not refer to the fact that an item was used or worn by the famous football player that signed it. Instead, it may very well be that the autographed piece has been previously owned by another collector.
Using the Seller Filter
Shoppers can choose to see only the listings available from specific sellers. However, to choose this option, they must know the eBay IDs of the sellers whose listings they wish to view. Buyers can opt to view listings from the sellers in their "My Saved Sellers" list, which usually features their favourite go-to merchants on eBay.
Another option is to view only listings from sellers who have eBay Shops. This is a section of the website where sellers with many products can open an online retail space to display their wares. Searches conducted through eBay Shops display results as shop links rather than links to specific products.
Under the "Seller" filter, shoppers can choose to see only the listings from eBay's Top-rated sellers. These sellers have a special seal that is posted on each of their product pages. The sellers are known for swift delivery, professional service, and quality products, as attested by their high feedback ratings.
Using the Item Location Filter
Under the "Item Location" filter, users have several options. They can choose to view listings from sellers in the UK only, sellers in the European Union, or sellers anywhere in the world. If buyers prefer to shop close to home, they can enter a postcode and specify a particular distance radius. eBay automatically removes listings that fall beyond that specified perimeter.
Some shoppers like to purchase from nearby sellers because it allows them to collect the autographed pieces in person rather than paying for shipping. However, shoppers must ensure that the seller is comfortable with an in-person pickup.
Using the Shipping Options Filter
Many eBay buyers prefer free postage and packing, usually designated as "free P&P." If this is their choice, users can check the box next to "free P&P," and eBay shows only the listings that offer this service. Users who need autographed items quickly can opt for express delivery for an additional fee.
How to Use the "Save a Search" Feature on eBay
Many users find the items they want shortly after their first search. However, others may not see the exact items they want right away. For instance, collectors may be searching for a particular autographed football which is not readily available. In this case, they may want to use the "save a search" feature. Saving a search permits eBay to email the buyer each time a new listing is posted for an item that matches the original search. If a seller places a new listing for an autographed football jersey, the buyer that saved a search for "football autographs" is notified via email. The buyer can then go online to that new listing and initiate a purchase if the product meets the criteria.
How to Contact an eBay Seller
Autographed pieces are only valuable if their authenticity can be established. To confirm the authenticity and origins of football autographs, prospective buyers may need to contact eBay sellers. eBay recognises that its buyers and sellers value their privacy. In light of that fact, eBay offers a private messaging system that maintains the anonymity of both parties while allowing them to communicate effectively. Buyers can contact sellers through the "Contact Member" links on all seller profile pages. They can also use the "Ask a Question" link found on each product listing.
Conclusion
Many football fans spend hours watching athletes kick the black-and-white ball across green fields. They share food, laugh, and enjoy the thrill of anticipation before each goal. An autographed piece allows fans to capture these memories and preserve their love of the sport for the next generation. Fans with a smaller budget may choose a signed print or photograph by a lesser known player, while others may be able to score a football or a jersey autographed by one of the top UK players.
As buyers shop for football autographs on eBay, they should remember the importance of certification. They can use the price range filter to stay on budget, while the free P&P option allows them to save even more money on shipping costs. With these savings and other useful eBay features, buyers should be able to purchase autographed football memorabilia that they and their families can treasure for years.