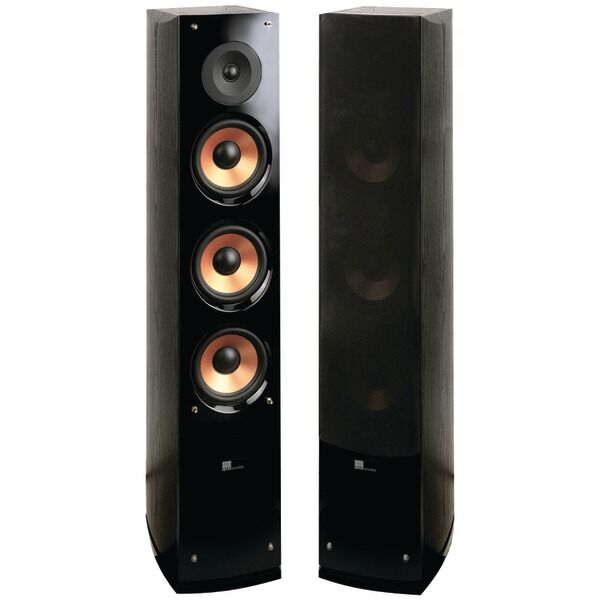 These days, many people opt to build a home theatre system in their houses. With both stunning audio and video delivery, these setups increase homeowners' enjoyment of their living areas, bringing professional music and theatre sound into a personal space. The selection of home audio equipment is an important one, involving numerous decisions that should not be hastened or overlooked. As speakers are arguably the most important part of any audio system, prospective buyers should carefully evaluate their options, including positioning, size, installation, brand, and price. By and large, the best sound is comes from a free-standing floor speaker; however, if the room's size does not allow for such large components, other options are available.
This guide will provide an overview of speaker components, with a particular focus on free-standing speakers. While speakers are available from a range of outlets, including music and audio stores, big-box electronics stores, and Internet sites, online merchant eBay offers a vast inventory at often bargain prices.
The Importance of Speakers in a Home Audio System
For optimal sound, speakers should be placed one-quarter to one-third of a metre apart. If free-standing floor, bookshelf, or mounted speakers are placed in the corners of the room, they should be pulled away from the walls. The sound is best when it is delivered level with the listener's ears when seated, rather than coming from above or below.
Obviously, the bigger the budget, the better the sound system will be. That said, skimping on free-standing floor speakers is not recommended, as lower-priced options will almost always deliver an inferior sound to a large room. When looking for a complete audio system, buyers should plan to spend half of their budget on front left and right stereo speakers.
Speakers present a wide variety of cabinet and driver materials, which means that an exponential number of sounds is available. Optimal sound is largely a matter of preference, meaning that what is preferred by one listener may not be as desirable to another. One common denominator, however, is the frequency range. As the human ear recognises sounds in the range of 20 to 20,000 Hz, speakers should deliver most of the sounds across this span. Above 20,000 Hz, frequencies deliver additional nuances; below 20 Hz, sounds are felt rather than heard.
Types of Speakers
This section describes a number of speaker types: free-standing floor, bookshelf, and wall-mounted, and the advantages and disadvantages of each.
Free-Standing Floor Speakers
In general, larger speakers deliver the widest range of frequencies in a bigger room—specifically, free-standing floor speakers.. Prior to making a purchase, however, the home audio enthusiast should first assess the room, identifying where the speakers will go: proper placement is crucial. Front speakers, or those placed in front of the listener, are a common favourite in large rooms, as they will deliver the highest quality of sound, including deep bass elements. Beyond providing crystal-clear transmission of music from digital, compact disc, and phonograph sources, speakers bring the movie theatre atmosphere home, delivering precision movie dialogue and musical soundtracks. When it comes to surround sound, free-standing floor speakers are unbeatable. For best sound, floor speakers should be at least 89 db.
Bookshelf Speakers
If floor space is at a premium or the budget is limited, next in the line of high-quality, high-precision audio delivery are bookshelf speakers. Of course, as with free-standing floor speakers, placement is of utmost concern. For bookshelf speakers to be fully effective there must be bookshelves, shelving, tables, or other options for properly situating the speakers; otherwise, mounting stands will be necessary.
This is not to say that bookshelf speakers deliver an inferior sound, by any means. In fact, bass sounds can still be very good with this type when paired with a powered subwoofer. Bookshelf speakers are only recommended for small- to medium-sized rooms, in part because they cannot deliver surround sound the way that floor models can.
Wall-Mounted or In-Wall Speakers
Similar to bookshelf speakers are those that are wall mounted. As previously noted, however, the direction of the sound may not be ideal, as it is generally delivered from above rather than even with the listener's ears. Depending on the amount of wall space to be found in a given room, the benefit wall-mounted speakers have over bookshelf models may be increased placement options. Ultimately, buyers will want to find the largest speakers with the greatest sound that fit their room layout and budget options.
Home Theatre System Speaker Components
When choosing components for a home audio system, the most important selection is the speakers. As such, there are four types to consider: centre channel speaker, front left and right speakers, surround speaker, and subwoofer. While not every piece needs to be from the same manufacturer and product line, it is essential that all of the speakers work together, creating what is essentially a single, surround sound presence.
Centre Channel Speaker
When building a home cinema system,, the centre channel is the most important part of audio delivery. Over half of a movie's soundtrack passes through this speaker, along with the better part of the dialogue. The centre channel speaker is responsible for matching audio with video, as well as for keeping the overall system in balance. Ideal positioning is immediately below the television or video screen; if the TV is wall-mounted, then an in-wall centre speaker may be in order. In terms of size, a smaller centre channel speaker is appropriate for systems with subwoofers, while a larger centre channel model should be paired with free-standing floor speakers.
Front Speakers
Front speakers bring the audio/video soundstage to life. Whereas the centre channel speaker primarily handles dialogue, the front left and right speakers transmit the musical score and special effects. When listening to music, these two speakers deliver the full stereo sound and effects. Although free-standing tower speakers offer the greatest low-frequency response, they also demand the greatest footprint. If bookshelf or wall-mounted speakers are implemented, a subwoofer may be a necessary addition to ensure full bass sounds.
Surround Speakers
Ambient and atmospheric audio is best delivered via surround speakers. Directional effects, in particular, are imparted via these components, whether in the form of a speeding bullet in a movie soundtrack or a moving guitar lick in a musical performance. Surround sound results are best if the surround speakers have the same performance capability as the front speakers. The 5.1-channel surround system is perhaps most prevalent these days; however, additional speakers can be added to 6.1- and 7.1-channel systems as "back surrounds."
Subwoofer
A powered subwoofer is an almost essential part of any home theatre system. Today's film soundtracks are generally delivered via Dolby Digital or DTS, which gives the bass a larger-than-life sound and near-palpable feel. Beyond movies, the subwoofer enriches music in genres ranging from rock to jazz to classical to R&B, with a greater range of bass sounds.
Other Speaker System Considerations
Beyond speaker type, there are a few additional considerations, including the subwoofer, cables, and room décor.
Subwoofer
If the audio enthusiast is building a relatively large system, a subwoofer is largely an unnecessary expense. With bookshelf or mounted speakers, however, the addition of a subwoofer will convey more mid- and upper bass levels. Boosting these bass levels may be preferable based on the genre of music to be played.
Cables
No matter the speaker, cables are an important consideration. While purchasing cheaper cables may seem like a better budgetary choice, in truth, these will degrade over time, resulting in the loss of dynamics and detail. Speaker wires should be carefully chosen, as well.
Flooring and Decor
If the room has hardwood, tile, or other non-carpeted flooring, speakers may be wobbly, resulting in unintended vibrations. When placed on carpeted surfaces, floor speakers or speaker stands should incorporate carpet spikes.
One final factor often overlooked is the décor. If the room contains a lot of glass, the sound will invariably be affected, often negatively. To modify these unwanted effects, listeners may wish to consider adding a rug, curtains, or other damping materials.
Strengths of Free-Standing Speakers
There are a number of benefits to free-standing speakers,, chief amongst them the perception of being on an actual soundstage. Proper positioning is significantly easier when using free-standing floor speakers.
Soundstage Perception
Once mounted, in-wall speakers are difficult to redirect. This means that redecorating and reorganising the furniture in a room will adversely affect the delivery of sound. If in-wall components must be used, they are best in the front of the room, not the rear. When possible, always position free-standing speakers behind the listener.
Proper Positioning
Speakers mounted high on the wall or on the ceiling often deliver the perception of the "voice of God" (in other words, sound booming down from above), thus ruining the proper projection of sound. Ideally, speakers should deliver audio on the same level as the listener's ears when seated.
Cost-to-Performance Ratio
Despite delivering better, clearer, more direct sound than their in-wall counterparts, free-standing floor speakers are up to four times more expensive than those models, in terms of both the initial price tag and the cost of installation.
Speaker Design
While the size, type, and positioning of speakers is a core consideration, design is yet another. Because speakers will have to fit in with the home and room décor, buyers often consider their purchase on the basis of appearance. Once the component's function has been established, its form comes into play. Luckily, free-standing speakers are available in a variety of designs, allowing for variations in personal taste.
How to Buy Free-Standing Speakers on eBay
As with any major purchase, you should take the time to research speaker options prior to spending any money. Thankfully, there is plentiful information to be obtained from a number of sources, including music stores, Internet sites, friends and acquaintances, and buying guides. Make sure to give careful consideration to other components in your home theatre or audio system, as building complementary systems is an essential part in achieving optimal sound.
Once you are ready to shop, eBay is the perfect place to take your wish list. You can begin with a simple navigation to audio and video, where you can obtain an overview of available options, including speaker type, position, and design. You can break your free-standing speaker search into two types: floor speakers and pole-mounted speakers. Searching for either term on eBay returns countless options from manufacturers such as Sharp, Polk, and Koda, amongst others. From the eBay results screen, you can readily review not just the purchase price, but shipping cost and terms, as well as the seller's return policy.
Conclusion
High-fidelity audio is best enjoyed through high-quality speakers; thus, the selection and purchase of these components is an essential part of assembling a home stereo or theatre system. Due to their great importance, speakers should account for over half of a buyer's audio system budget. While a range of speaker types is available from a variety of manufacturers, those generally regarded as delivering the best sound are the free-standing floor speakers. With smaller spaces, bookshelf speakers, especially those mounted on stands, are a suitable substitute for floor models.
Prior to making a major speaker purchase, buyers are advised to survey their options. Once they have obtained the best advice and identified the ideal components for their room, style, audio needs, and budget, buying free-standing speakers on eBay is a smart way to shop. In addition to eBay's convenient, shop-from-home quality, the site is home to a vast and ever-changing inventory of free-standing speaker options, along with other complementary components and cables.