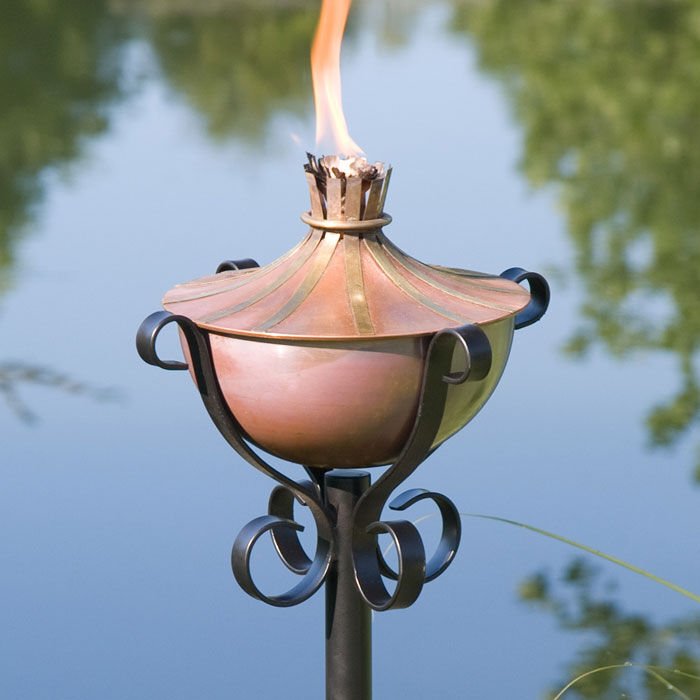 At the first sign of spring, the first thing on many people's minds is the anticipation of being able to enjoy the outdoors once again. For many homeowners and some flat renters, the opportunity to use a balcony, patio, deck, lawn, or garden becomes a renewed priority when the weather turns warm. Some homeowners use their deck or patio in cold weather as well if they have a Jacuzzi or hot tub. Furnishing an outdoor living area and decorating it with plants, garden lighting, and other accessories is a fun hobby. It also enables residents to expand their usable living space and take pride in their home.
Garden torches are a very popular choice for outdoor lighting because they do not require a power source and they make an urban abode feel like a tropical paradise. When picking out garden torches, consumers should first be aware that there are actually a few different types from which to choose. Then, buyers should review safety guidelines and be sure that they adhere to them before purchasing their torches.
Types of Garden Torches
The light source of a torch must come from somewhere, and with a traditional torch, that source is an open flame. Flame torches are quite common but require strict adherence to safety guidelines. In a situation where the users or the property itself may encounter safety concerns, then alternative torches, such as solar torches, are the best bet.
Solar Garden Torches
Solar garden lighting is popular because it is eco-friendly and safe. Solar tiki torches feature a solar panel that sends energy from sunlight to batteries. Then, when the sun goes down, the charge in the batteries is usually sufficient to illuminate the torches for several hours. Solar torches are virtually maintenance-free although they may not shine as brightly as flame torches, particularly if the batteries have not had a chance to charge fully on an overcast day.
Oil Garden Torches
The garden torches that take liquid fuel are among the least expensive kinds. There are two major choices when it comes to selecting oil for torches: citronella and paraffin. However, some people find recipes to make their own torch fuel, but again, extreme caution must be taken when doing this.
Citronella Oil
An added benefit of using fuel torches it that some torch fuel contains citronella oil for repelling mosquitoes. The torch oil is not 100 percent citronella but is a carrier oil, such as vegetable oil, blended with enough citronella to be effective. Citronella is an essential oil extracted from a grass, which means using it in pure form would be costly and unnecessary for this application. The addition of this insect repellent to torch fuel makes the garden torch a useful and relatively inexpensive two-in-one item. Consumers who find the lemony odour pleasant get the benefit of aromatherapy as well.
Paraffin Oil
Paraffin oil is also known as kerosene. This is another commonly used fuel for garden torches. Paraffin is generally an odourless fuel that burns clean. It may be a better choice for those who are easily irritated by fragrances or do not want citronella fragrance to clash with other scents, such as perfume, garden flowers, or even wine and food.
Garden Torches Specs
Buyers should know about the materials and sizes available in garden torches. With this knowledge, they are able to plan possible arrangements and make a good buying decision.
Garden Torch Materials
The traditional tiki torch is made of bamboo with a straw top, and metal torches are also available. They are durable, long-lasting, and impervious to rain, and it is most often made of an inexpensive, lightweight metal, such as aluminium or stainless steel.
Garden Torch Dimensions
The average tiki torch is just over 150 cm tall. Torches are often available in shorter heights, such as 90 and 120 cm.
Garden Torch Safety
Fuel and open flames should always be treated with caution. Setting up and using garden torches should be fun, but following some simple safety guidelines for fuel torches protects buyers and their family or guests.
Set-up and Clearance
Burning torches must be kept far apart from each other and other objects. This means not only horizontally but also vertically. An awning, balcony on the floor above, tree limb, or other item hanging down can scorch or catch on fire if the heat source is too close to it. Anything loose that might blow in the breeze, such as a flag or windsock, can be particularly hazardous. Always consider how far such an item might be able to reach when caught by the wind before placing torches. Also, consider what a torch might ignite if it were to fall over. As a general rule, keep torches approximately 6 to 8 feet apart from each other and all other objects.
When placing tiki torches into the ground, be sure to put them far down enough so that they are totally supported. A depth of 4 to 8 inches, depending on the height of the torch pole, is usually recommended. The ground should be checked daily to see if shifting has occurred; this is particularly common after precipitation has fallen and the ground is wet. In an urban environment or on a hard surface, torches can be set into containers of sand.
Garden torches should not be left unattended, even for a short period of time. It only takes a brief gust of wind to knock one over and set something on fire. Children and pets should not be allowed near the torches. Even when unlit, a torch can spill fuel, which could be extremely dangerous.
Fuel Use and Storage
Take care when filling torches not to drip fuel, especially if lighting them immediately afterward. The average fuel container of a torch holds about 500 mL total. To fill a torch, unscrew the cap and pour the fuel into the container, often a plastic bottle or metal reservoir, until it is about 2/3 to 3/4 of the way full. Some torches have a fill line clearly marked. Replace the cap and wait a few minutes for the oil to saturate the wick. This makes the torch easier to light and, therefore, safer.
As far as storage goes, torches can be stored with some oil still in them; however, they should remain upright so as not to spill fuel. If the torches must be stored horizontally, then take care to empty them and wipe them dry before storing. Users should always dispose of oil-soaked rags according to the hazardous waste instructions for their local area. Moreover, torch oil freezes more easily than water, at temperatures of about 7 degrees Celsius or below. Lastly, it is best to store unlit torches and oil indoors during cool weather. Note that frozen oil is not ruined; it can be thawed at room temperature and used.
Extinguishing Torches Properly
Most torches come with snuffer caps. To extinguish the torch, simply cap the torch with the snuffer and leave it in place for a minute or two to be sure that the flame is completely out. Then, remove the cap so that the hot wick has a chance to cool off. Finally, replace the cap.
Where to Find Garden Torches
Garden torches are sold at a variety of home and garden retailers. Examples of such retailers include
Home improvement stores
Hardware stores
Home decor boutiques and shops
Department stores
Discount stores
Drugstores
Dollar stores
Import stores
Inexpensive torches might also be found at various shops in beach towns and in stores that carry party supplies since torches are often part of a luau. If you prefer to shop online, you can find online storefronts for most of the aforementioned retailers. You may want to look into online sites as well.
How to Buy Garden Torches on eBay
To shop for garden torches on eBay, you can do so in one of two ways. If you are interested in looking at several different types of garden and patio items, you may want to navigate through relevant categories and continue narrowing them down to see what is available.
Another way to go about your browsing for garden torches is to start with a keyword search. Return to the homepage and locate the search field, and then type in "garden torch" and click on search or press Enter. Doing this enables you to find results in several different categories. Categories are selected at the discretion of the sellers, so the logic they use when listing their products may vary. This makes keyword searches a useful technique particularly in cases where you are not finding what you want in the most obvious category. You can also vary your keywords to get different results; for example, entering an alternative search for "solar torches" or "lanterns" may show you a whole set of different options at any given time.
Conclusion
Garden torches create a lovely atmosphere for warm-weather entertaining, cool-weather hot tub parties, or simply private relaxation and enjoyment of an outdoor living space. The light emitted torches emit is softer and more romantic than most electric lights. Additionally, torches do not require an electrical hook-up or batteries for illumination. Another benefit of garden torches is the use of citronella oil to repel mosquitoes and midges.
Buyers have a few choices when it comes to tiki torches. The primary buying decision is the source of illumination. Torches may be solar-powered or lit by a fuel-soaked wick. This is an important consideration because there are many safety guidelines for fuel torches. If the buyer is unable to adhere to these guidelines for whatever reason, the solar variety may be the best bet. When shopping for torches, the other choice is the material used for the torch construction. Metal torches have a much more modern look in urban settings, whereas the traditional bamboo type is nice for coastal and rural atmospheres. Regardless of type, garden torches are a relatively inexpensive and beautiful way to enhance a home.