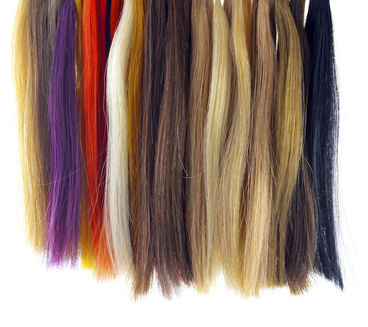 Hair extensions are a popular way to create the appearance of longer, fuller hair without having to wait for hair to grow or wear a wig. A hair extension is simply a portion of false hair attached to existing hair. Hair extensions are popular because they can create dramatic looks. However, it is sometimes difficult for people with thick hair to achieve natural-looking results with hair extensions. Wearers can avoid hair extensions that fall short of expectations by learning the benefits and limitations of the different types available. It is not difficult to become familiar with the many types of hair extensions, their application methods, and other factors that influence their appearance. Wearers can achieve beautiful results that look and feel natural. Wearers should gain a minimum understanding of the major characteristics of each type of hair extension and learn some of the terms commonly used before they start a search for the perfect extensions for their thick hair.
Hair Extension Terminology and Categories
When shopping for hair extensions, consumers may encounter new terms. Knowing what these terms mean and how these factors affect results is the first step to buying hair extensions for thick hair. For example, extensions are constructed from several different types of hair, and there are a variety of attachment methods. The type of extensions chosen determines ease of application and removal, and also how well they hold up to various types of styling. Moreover, it also affects how well the extensions blend with the wearer's natural hair.
Types of Hair Used in Extensions
Hair extensions come in virtually every hair colour, from natural shades to more vibrant colours not normally seen in natural hair. Hair extensions are made from both natural human hair and synthetic hair. Wearers should decide on the type and colour before considering other factors.
Human Hair Extensions
Human hair extensions tend to be the most expensive because they are made from real human hair. Quality varies, and is usually reflected in the price of the extensions. "Virgin" hair refers to human hair that has never been dyed or otherwise chemically altered. Virgin hair is undamaged and retains its natural colour and texture.
Synthetic Hair Extensions
Synthetic Hair Extensions are created using man-made materials that mimic actual strands of hair. Synthetic extensions usually cost quite a bit less than those made from human hair. They are easy to heat-style, and they tend to hold both curly and straight styles very well. Unlike human hair extensions, however, they cannot be dyed.
Hair Extension Colours
Hair extensions come in all shades. Many people seek professional advice when attempting to match hair extensions to their natural hair colour, but this is not always necessary. Colour should match the middle to ends of the wearer's hair rather than the outgrowth, as outgrowth is always darker. Sometimes hair extensions are added for a dramatic or fun effect, in which case wearers opt for bright pinks, purples, greens, or other bold, unexpected colours.
Methods of Attachment
Hair extensions are classified by several different factors, such as by the type of hair used and by how the extension is attached. The time it takes to attach extensions and the amount one must pay for the service varies widely, depending on the type of extensions. Before shopping for hair extensions, buyers should learn about the different types, and should understand their methods of attachment.
Remy Hair Extensions
Remy hair extensions are the highest grade of human hair extensions. They are characterised by intact cuticles, and are carefully placed so that each strand runs the same direction. This results in extensions that are smooth and resistant to tangling. When properly applied, remy extensions retain their look the longest and appear the most natural of all the hair extension types. Remy hair can be both styled and dyed, but is most often left alone because of its attractive natural appearance.
Clip In Hair Extensions
Clip in extensions come equipped with small clips that can be instantly attached to the natural hair, and can be removed just as quickly. They are inexpensive and versatile, since they can be changed out at a moment's notice. Clip in ponytails are very popular, and it is often very difficult to distinguish one from a natural ponytail. Clip in extensions are a good way to try out different false hair types before committing to a more permanent style. This type of extension does not hold up to extreme conditions or vigorous activity as well as others do, so clip ins are often used for special occasions and other short-term applications.
Micro Loop Hair Extensions
Micro tube or micro loop extensions (sometimes called "linkies" or "micro rings") do not require the use of any adhesive product. The natural hair is threaded through a ring on the end of the extensions. The loop is then clamped down with pliers to keep it in place. This type of extension can be worn for up to three months, depending on how it is cared for and how well it is applied. When it is time to remove a micro loop extension, the rings are opened up again with pliers, and the hair is gently pulled free.
Weft Hair Extensions
Weft hair extensions typically come in wide, curtain-like sections that have tracks (or wefts) running along the top edge. These seams are used as anchor points, which are then fused into the natural hair using heat-activated tape at the root. This kind of extension tends to lay flatter than others, but is more difficult to pull into a high ponytail or other upstyle without looking unnatural.
Pre-Bonded Hair Extensions
Pre-bonded extensions come coated at one end with a bonding agent, typically keratin glue. Nail tip and stick tip are the two most common types of pre-bonded extensions, and both adhere directly to the natural hair. Nail tip, also called U-tip, extensions have straight ends that secure to the existing hair. Stick tip hair extensions, or I-tip, use micro loops in addition to the heat-activated glue. The process of using heat to attach extensions is called fusion. Fusion requires the use of a special heat connector clamp or fusion gun, as well as a hair shield, which protects the scalp from burns during the process.
Understand Hair Extension Classifications
Hair extensions are classified by characteristics like weight, length, and texture. Thick hair requires careful consideration in a few of these areas. Understanding how these characteristics influence appearance and performance makes buying hair extensions for thick hair easier.
Common Hair Extension Lengths
Hair extensions are available in several different lengths, and should be purchased in a length that is the same or longer than the wearer's natural hair. Broad descriptions, such as short, medium, or long, provide a general idea of length. However, these terms are relative, and can be misleading. An actual length measurement is preferable.
In the online marketplace, many international sellers list lengths in inches, which some shoppers are unfamiliar with. The table below shows the most common lengths of hair extensions and their conversion from inches to centimetres.
| Description | Length in Inches | Length in Centimetres |
| --- | --- | --- |
| Short | 10 | 25 |
| Short | 12 | 30 |
| Medium | 14 | 36 |
| Medium | 16 | 41 |
| Medium | 18 | 46 |
| Long | 20 | 51 |
| Long | 22 | 56 |
| Long | 24 | 61 |
Keep in mind that hair extensions are designed to add length to natural hair, so hair extensions classified as "short" will be roughly shoulder length, once attached. Typically, hair extensions are cut after they are attached to give them a more natural look, so be sure to purchase extensions that allow room for trimming and shaping.
Hair Extension Weights
Hair extensions are sold by weight, and the total weight needed depends on both the thickness of the wearer's natural hair and the look desired. Individual extensions weigh between 0.5 and 1 gramme, and extensions are bundled and sold together into packs weighing between 80 and 160 grams total. Some salons sell heavier weight extensions, but most experts advise against anything heavier than 160 grammes, since the added weight puts stress on the existing hair.
Use the chart below as a guide to decide the best weight extension to achieve the desired look for thick hair.
| Weight of Extensions | Recommended Use |
| --- | --- |
| 80 grammes | Best for thin hair, or to add length to shoulder length hair; also recommended for adding volume to long hair |
| 100 grammes | Recommended for increasing thin hair fullness |
| 120 grammes | Suits the vast majority of wearers with average hair; adds volume and length; gives more dramatic results if used in thin hair |
| 160 grammes | Ideal for those with thick hair |
| 180 grammes | Not commonly used; best suited to those with extremely thick hair; creates a dramatic effect |
Some manufacturers and salons sell extensions in other weights, but the weights listed above are the most common. Extensions should be selected based on the thickness of existing hair. When in doubt, consult a professional.
Choose Hair Extensions by Texture
Many people choose hair extensions of the same texture as their natural hair. Others use extensions to add texture and body to straight hair, or to enhance their naturally curly hair after it has been straightened. Whether one's hair is wavy, straight, or curly, choosing the texture of a hair extension is often simply a matter figuring out what style best flatters one's existing hair. In other cases, wearers must decide which texture best helps achieve a desired look.
Straight Hair Extensions
Straight extensions usually have a soft, smooth texture. They are sometimes referred to as European hair extensions. Individuals whose natural hair is straight and thick may use multiple layers of straight extensions to create more volume and to closely match their real hair. Straight extensions made from natural human hair can be curled and styled using heat, but synthetic hair extensions are easily damaged by heat. To curl synthetic extensions, water and rollers are required. Wearers who straighten their naturally wavy or curly hair should consider purchasing straight extensions to avoid damage from excess styling.
Wavy Hair Extensions
Wavy hair extensions are considered the most versatile. They are easily straightened or curled, and they blend well with both straight and wavy natural hair.
Curly Hair Extensions
Curly hair extensions look best in naturally curly or wavy hair, but can be used in straight hair as well, provided the wearer takes the time to style her existing hair to complement the extensions. Curly extensions made from natural hair can be straightened, but synthetic curly hair extensions cannot.
Yaki extensions are textured to looks and feel like African hair. Yaki comes in four types, silky, regular, kinky, and coarse. Silky (or straight) yaki is the flattest, smoothest of the four types. Regular yaki is coarser and curlier, and mimics African-type hair that has been relaxed but not flat-ironed. Kinky yaki is fuller, and resembles blow-dried African hair. Coarse yaki is the fullest yaki style, and consists of many tight waves or curls. It is the style that most closely resembles natural, untreated African hair.
Buying Extensions for Thick Hair on eBay
eBay has many reputable sellers offering a variety of extensions. The site provides an opportunity to view several different types of hair extensions at once before deciding which ones to purchase. Start by searching from eBay's home page.. Enter specific, descriptive terms to yield the most relevant results. For instance, typing in "weft hair&" returns all of the weft-style extensions, so the buyer can browse through them to find the colour, weight, length and style that complements their existing hair. Buyers have the option to send any seller a message directly through the site if there are questions not answered on the product information page. There are also user reviews available for most of the products on the site. Looking at reviews can provide insight into other people's experience with using a particular brand or type of hair extension.
Conclusion
Finding the right hair extensions for thick hair can be an arduous task. Choosing the type and colour of the hair, the method of attachment, and the correct weight and texture can be challenging for shoppers unfamiliar with the various categories and terminology of hair extensions. Once buyers determine the pros and cons of each type, and understand how each is applied and removed, then they can make a much more well-informed buying decision. Choosing colour and texture is partly a matter of preference, although individuals desiring a natural look should try to closely match existing hair. Weight is one of the most important considerations, as using extensions that are too heavy can result in permanent damage to both hair and scalp. Clip in extensions allow individuals a less expensive, temporary way to try out hair extensions before making the commitment to more permanent fused extensions. Whatever type buyers choose, they can find a wide selection on eBay.