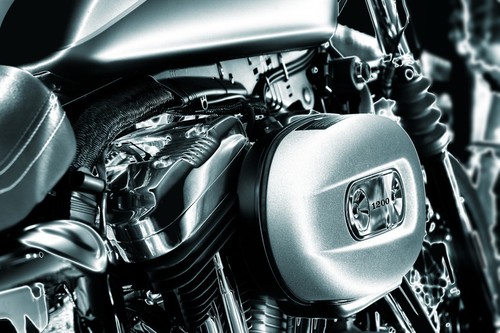 Whether upgrading a Harley Davidson motorcycle or searching for replacement parts, eBay is an excellent resource for buyers. With its wide user base, it is often possible to find both standard and rare parts, new or used, and all at competitive prices. What's more, there are new listings every day, and comparing items is easy. It is also possible to search specifically for Harley Davidson-brand parts, of which there is also a wealth of options.
eBay can help motorcycle owners with all projects, large and small: the range of products available runs the gamut from new engines to used dipsticks, and everything in between. The buying process should be approached with knowledge about the part in question, including what to look for if buying used, and whether the product is road-legal for one's specific bike. Following these basic steps helps consumers find the best Harley Davidson part for their needs.
Common Parts for Harley Davidson Motorcycles
With thousands of listings for Harley Davidson parts,, it is impossible to list every part available. However, there are several types of parts that are most commonly sought after. These include engine parts, filters, seats, brake parts, lamps, wheels, tyres, handlebars, and foot rests.
Engine Parts
Most motorcycle engines are internal combustion engines; however, some newer models feature fuel-injection systems. An engine's displacement, also commonly thought of as its size, expresses the volume of the air-fuel mixture that it draws during one complete cycle. This can range from 50 cc (cubic centimetres) to over 5000 cc. Engines are constructed from between one and four cylinders, in a variety of layouts. The more cylinders an engine has for a given displacement, the smoother it rides. On the other hand, the fewer cylinders, the lighter the bike is and the easier to maintain.
On eBay buyers can find everything from complete engines to individual parts, such as clutch and transmission parts, camshafts, valves, piston kits and rings, cylinders and cylinder heads, crankshafts, tappet covers and plugs and more.
Filters
There are two main types of Harley Davidson filters essential for optimal performance: air filters and oil filters. Air filters clean the air that flows to the engine, protecting it from dirt and dust and allowing for improved acceleration. Oil filters catch small particles in the oil so that they do not pass through to the engine, where they could cause damage to parts like pistons and bearings, whose clearance is extremely fine.
Seats
Seats for Harleys are divided into two basic types, according to how many people they are designed to seat. Solo seats are commonly saddle-style, but there are options with backrests. Two-up or dual seats are designed to seat two. Reduced-reach seats, available as either solo or two-up, are for riders who need to be slightly closer to hand and foot controls. Seat covers and hardware like springs are also available on eBay.
Brakes
All the essential parts of motorcycle brakes can be found on eBay. When the rider clutches the brake lever, fluid is sent to the brakes via brake hoses and brake lines. In disc-braking systems, discs are attached to the wheels and covered by calipers, whose function it is to squeeze brake pads against the disc, thereby slowing and stopping both disc and wheel.
Lights
Buyers can find many different kinds of Harley Davidson lights on eBay. These include headlights, indicators, and rear lights. Full parts are available, as are individual components such as bulbs, reflectors, lenses, and more. Buyers can choose from a wide range of types of bulbs, including incandescent, halogen, LED, and xenon HID. Consumers should be aware, however, that aftermarket HID bulbs may not be retrofitted to vehicles unless the full fitting meets ECE standards. This is because traditional headlamps not designed for HID bulbs do not level the beam properly, which can result in blinding oncoming drivers.
Wheels
There are many options when it comes to choosing wheels for a Harley-Davidson, and they differ in performance as well as style. The following chart outlines some different wheel options.
| Wheel Option | Description |
| --- | --- |
| Spoke Wheels | Can have anywhere from three to 28 spokes; spokes can be staggered for an edgy appearance, or straight for a more classic look |
| Wire Wheels | Similar in appearance to bicycle wheels |
| Solid Wheels | Bold look and maximum strength |
| Slotted Disc Wheels | Design is in between spoke and disc, for added strength and unique style |
| Mirror Chrome | Traditional finish with polished, reflective shine |
| Contrast Chrome | Slightly more matt than mirror chrome; buffed, understated look |
| Black Cast | Black-on-black finish for sleek, serious style |
| Textured | Rougher finish; available in either chrome or black |
When making a selection, buyers should consider how they want their bike to look, but also what kind of characteristics fit their riding needs.
Tyres and Tubes
Depending on the size of the motorcycle, 16- to 19-inch (40.6- to 48.3-cm) tyres are required. They can be tube or tubeless tyres; older models are designed for tube, but newer ones most often feature tubeless. Tubeless tyres are generally considered safer and more economical.
There are three tyre manufacturers who are most well known in connection with Harley Davidson bikes: Dunlop, Michelin, and Bridgestone. Both Dunlop and Michelin have partnered with Harley Davidson to produce specialty tyres. However, plenty of other manufacturers work equally well, including Pirelli, Metzeler, Avon, Continental, Kenda, Duro, and IRC.
Harley Davidson "Screamin' Eagle" tyres feature a conspicuous eagle logo on the sidewall, for a tough, aggressive style. The manufacturer claims they have improved grip in dry and wet conditions.
Handlebars and Foot Rests
Shoppers can find a vast assortment of Harley Davidson parts for repairing or customising handlebars and foot rests. Handlebar grips, foot pegs, foot rests, switches, and handlebar accessories are amongst the most common items.
Additional Parts
In addition to the aforementioned parts, there are still many more listings for parts for the motorcycle's exhaust system, batteries, electrical system, and body and frame.
Know What is Road Legal
As selecting parts for any motor vehicle can affect its safety level, buyers must take responsibility for finding parts that are road-legal in the UK, or wherever they plan to ride. Products sold on eBay may not always be legal under all conditions, therefore it is imperative that consumers check the latest safety regulations. Verifying what is required to pass an MOT test is a good way to do this. Internet users should remember that outdated information often lingers on the Web, so they should make sure their research is up-to-date.
Choosing Between New and Used Parts
On eBay, users can find listings for both new and used motorcycle parts. Buying used parts can be an excellent way to save money, as long as the part is in good condition and does not require costly repairs itself. Parts that generally undergo a lot of strain, such as gaskets and bolts, should not be bought used. Buyers should use extra caution when looking at used items like petrol tanks, jugs, carburetors, front ends, lower ends, and transmissions.
In general, the seller should post to what extent an item was used and under what conditions, as well as the reason for selling. They should include a detailed description of its present condition, and provide multiple photographs for inspection. The photos should be of the part for sale, not a stock image. If the potential buyer has any questions, they can contact the seller through eBay. Rust, stains, dents, cracks, chipping, and other signs of damage should raise red flags when shopping for used parts.
Finally, if planning to have a mechanic service their motorcycle, buyers may want to verify ahead of time that the mechanic agrees to install a used part that the buyer has purchased. They may also provide good guidance about what to look for and what to avoid.
Searching on eBay
When looking for a Harley Davidson part on eBay, the process is simple and convenient. Begin from the website's home page, and type keywords like "Harley Davidson fender" into the search bar. Then, you can narrow your search results by selecting limited factors, including price range, seller location, and manufacturer. eBay's Search Tips page has additional information on searching efficiently.
Read the Listing Thoroughly
Once you've found an item that appeals to you, be sure to read the full listing thoroughly. The item description should include vital product specifications and a detailed account of the item condition if used. Be sure you understand the seller's return policy, and what the postage conditions and fees, if any, are, since these are additional. As mentioned above, you can ask the seller a question through eBay if you require more information.
Local pickup is an option, and sometimes a requirement, with some sellers. This can save on postage for large items, but should always be approached prudently for the safety and comfort of both parties. Arrange to meet in daylight in a neutral, public area that is frequented by others.
Check the Seller's Credentials
When buying parts for a motorcycle, it is important to have confidence in the person you're buying them from. eBay's feedback system is a convenient way to assess a seller's reliability and expertise. You can do this by looking at their feedback score, and reading through comments left by previous customers who purchased motorcycle parts from them. Top-rated sellers earn their status by completing a high volume of successful transactions; however, there are plenty of dependable sellers who work on a smaller scale as well.
Leaving Feedback
Once you've completed your transaction and received the item, you can leave your own feedback for the seller. This helps them understand whether there are any aspects of their business they can improve upon, and also gives recognition to quality service.
Conclusion
eBay's online auction website is an excellent source for Harley Davidson motorcycle parts. eBay allows users to browse parts for Harley-Davidson motorcycles, as well as parts that are specifically Harley-Davidson branded. Whether looking to upgrade their bike or make repairs, consumers can take advantage of eBay's wide selection and competitive prices to find exactly what they are looking for.
Some of the most common listings are for engine parts, filters, seats, brakes, lamps, wheels, tyres, handlebars, and foot rests; there are also parts for the exhaust system, electrical system, the body and frame, batteries, and more. Users can find everything from complete, new parts, such as a headlamp or an engine, to separate components like gaskets, bolts, and caps. This makes eBay useful for all jobs, large and small.
When shopping on eBay, buyers assume responsibility for understanding the part they are looking for, including what is safe and legal for their bike. This knowledge, combined with a few simple steps in the buying process, helps them find quality Harley Davidson parts.