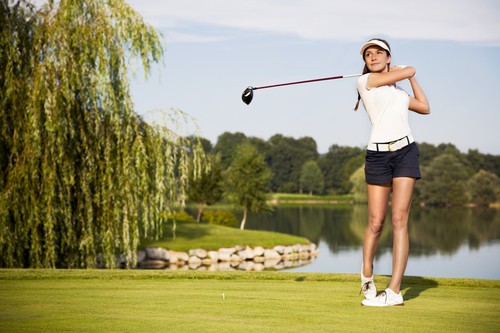 Spoilt for Choice
There's a ladies golf club for almost every eventuality. This guide takes you through the essentials; these are the 'must haves' to get you started.
First, a couple of words of caution:
Not all ladies need ladies golf clubs. Some taller ladies will do just as well with clubs made for men.
Colour is an important aesthetic but no amount of colour will help your game of golf; you must select clubs of a weight that matches your swing speed.
Most manufacturers help ladies by making golf clubs with:
more flexible shafts, giving extra power
more angle of the loft face of the club head so that the ball travels higher
narrower grips for smaller hands.
Ladies golf clubs must:
lie absolutely flat on the ground as they address the ball
fit your body and swing style
have a grip that fits your hands.
There are six distinct groups of golf clubs, most of which come in a range of weights which adjust the distance that the ball will travel:
This is the first club that you will use. It's designed to propel your golf ball from the tee to the fairway or on a short hole all the way to the green. The range of drivers is huge.
These are generally an alternative to the sort of irons you use for longer shots (long irons) or short drivers. Some players use woods as drivers or to deal with shots coming out of the rough.
These golf clubs are designed to help you to move your ball from the fairway to the green.
Hybrids are starting to replace the heavier (1 to 5) weight irons, which were always quite hard to control. The head of a hybrid is somewhere between an iron and a wood but the shaft is the same length as an iron. This makes hitting the ball easier when it is lying either on the fairway or in the rough.
Wedges are for shots from within 120 metres of the green, where accuracy and height are favoured over speed and distance.
The most common is the Pitching Wedge, for your final approach shot; a full shot onto the green.
A Sand Wedge helps you out of a bunker.
It's more severe variant, the Lob Wedge, gives your shot more height to help with pitching and chipping.
The fourth type of wedge, the Gap Wedge, is somewhere in between the Pitching Wedge and the Sand Wedge.
This is the final club in your bag; it moves the ball across the green to the hole. Make no mistake; putting is difficult and about half of all shots on a golf course are putts on the green.
A Basic Set of Ladies Golf Clubs
The rules of golf limit you to a maximum of 14 golf clubs in your bag at any one time.
At the very least, you must have:
a couple of woods, or one wood and one driver
a 7 iron, a pitching wedge and a putter
you might add a hybrid.
Once you develop your game, you can begin to grow your range of clubs.
Buying Ladies Golf Clubs
If you strip away all technical stuff, golf is the art of moving an object from A to B. You have to treat your body as a machine. The club is an extension of the machine; so the club must be matched to the machine.
Try lots of different clubs. Talk to your friends, talk to professionals, borrow clubs and find out what works for you.
You will find that the ladies clubs that work best lie completely flat as you address the ball. This is especially important in ladies golf as ladies often lack the height advantage of men.
The technical measurements have nothing to do with your height; it's all about the distance between your wrist and the ball.
The main differences between golf clubs for men and ladies are the length of the shaft, the weight of the club head and the grip size. The point to note here is that you can easily adjust your grip by moving your hands up or down the handle so that the club lies at the correct height for your swing. Nevertheless, although most clubs come in a standard length which is about right for nearly all ladies, different shaft lengths are available.
What to Look Out For
Watch how the ball travels according to your swing with different clubs. The angle of the face of the club, measured in degrees from the vertical plane, is worth noting. Broadly, the higher the angle, the higher the ball will fly, causing it travel a shorter distance.
Your swing style may change the actual angle when your club connects with the ball because everybody's grip is fractionally different. This means that your grip could have a positive or negative effect on the measurement of the angle in degrees. This factor helps explain how one golfer can hit the ball further than another using the same club.
You will find all sorts of tables which give an indication of what the loft angle is for each type of club. You can safely ignore these because there is no consistent rule and manufacturers are free to make clubs of any angle. The angle ultimately affects the distance the ball travels. Your particular swing also affects this distance but as a very rough guide, have a look at the table below.
Ladies Golf Clubs Yardage Table
| Club | Yards |
| --- | --- |
| Driver | 150 to 200 |
| 3 Wood | 125 to 180 |
| 5 Wood | 105 to 170 |
| 2 Iron | 105 to 170 |
| 2 Hybrid | 120 to 195 |
| 3 Iron | 100 to 160 |
| 3 Hybrid | 125 to 180 |
| 4 Iron | 90 to 150 |
| 4 Iron | 120 to 170 |
| 5 Iron | 80 to 140 |
| 5 Hybrid | 115 to 160 |
| 6 Iron | 70 to 130 |
| 6 Hybrid | 110 to 150 |
| 7 Iron | 65 to 120 |
| 8 Iron | 60 to 110 |
| 9 Iron | 55 to 95 |
| Pitching wedge | 50 to 80 |
| Sand wedge | 40 to 60 |
| Lob wedge | 35 to 50 |
Pre-owned or Old Golf Clubs
There is nothing 'wrong' with an old golf club. As with all sports, the technology advances all the time. The materials change, which affects the weight of club heads, the flexibility of the shaft and the wind-resistance of the club as a whole.
Some people like to have the very latest equipment. This is great news for people who don't mind buying pre-owned; there's always plenty of choice in the market.
The club is an extension of the body and all our bodies are different. Find clubs that you are comfortable using and aim to buy exactly the same one at a price that suits you.
Technical Information
This short guide helps you understand what the abbreviations used on eBay stand for:
| | |
| --- | --- |
| LH | Left hand |
| RH | Right hand |
| 22* | 22O or 22 degrees, the loft angle of the face of the club |
| Flex | Regular or Reg., Firm, Stiff, |
| Weight | 1 to 5 Wood, 1 to 9 Iron, 1 being the heaviest, making the ball travel farthest |
| PW | Pitching wedge |
| SW | Sand wedge |
| 5-PW | 5, 6, 7, 8, 9 Irons + Pitching Wedge |
| 3-PW | 3, 4, 5, 6, 7, 8, 9 + Pitching Wedge |
| 31" | 31 inch shaft length – most often given for putters |
| ATV | All-terrain versatility – as good in the rough as on the fairway |
| 80 | A number on its own like this usually refers to weight in grams |
Huge range of options
The key brands for beginners to look out for are Nike, Wilson, Mizuno, Benross and Taylor Made. Ping, Titleist, Callaway and Cleveland also have great reputations. The key point is that a particular brand will not make your time on the golf course more enjoyable. You have to select clubs that you are comfortable using in order to do that.
Find Ladies Golf Clubs on eBay
Now that you've worked out which clubs you want, find them quickly on eBay. While you shop, don't forget balls, tees, shoes, and appropriate clothing for the course. To start shopping, go to the Sports and Leisure category. Click the Sporting Goods portal and click Golf.
Categories: The Categories list on the left side of each page will help you narrow down your listings by item type. You'll find links for Accessories , Apparel , Bags , Balls, Books , Videos , Golf Club Components, Footwear, Golf Carts, Cars, Schools, Lessons, Experiences, Tee Times, Green Fees, Training Aids, Vintage, and Other Items. As you refine your search you'll be able to narrow down your choice by subcategory.
Product Finder: Use the Golf Clubs Finder to quickly narrow down item listings by type of club, brand, model, condition (new or used), and shaft material.
Keyword search: Search eBay listing titles for specific words. For example, if you want to find new right-handed golf clubs for ladies, type the keywords "rh ladies new" (without quotation marks) into the Search box. Click "Search title and description" to expand your results. Visit eBay's Search Tips ppage for more tips on searching with keywords.
If you can't find exactly what you want, try browsing eBay Stores or tell the eBay Community what you're looking for by creating a post on Want It Now, or save a search on My eBay and eBay will email you when a matching item becomes available.
Buy Golf Clubs with Confidence
Make sure that you know exactly what you're buying and understand how eBay and PayPal protect you.
Know your item
Read the details in the item listing carefully.
Remember to add delivery costs to your final price. If you're buying a high value item, check that the seller will insure it until it is delivered to you.
If you want more information, click the "Ask seller a question" button on the seller's profile or the "Ask a question" link at the bottom of the item listing page.
Always complete your transaction on eBay (with a bid, Buy it Now or Best Offer) otherwise you will not be covered by eBay Buyer Protection.
Never pay for your eBay item using an instant cash wire transfer service like Western Union or MoneyGram. These are not safe ways of paying someone you do not know.
Know your seller
Research your seller so that you feel safe and positive about every transaction.
What is the seller's Feedback rating?
How many transactions have they completed?
How many positive responses do they have?
What do buyers say in their Feedback?
Are they positive about the seller?
Most top eBay sellers operate like retail shops and have a returns policy.
Do they offer a money-back guarantee?
What are their terms and conditions?
Buyer protection
In the very unlikely event that you do not receive your item or it is not as described, eBay Buyer Protection your purchase price plus original delivery cost.