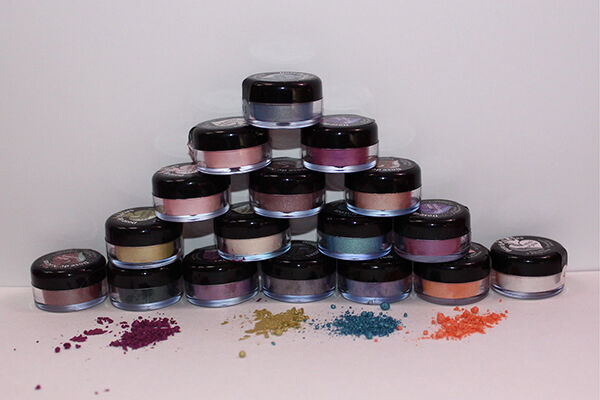 The rise of loose powder eyeshadow is no surprise to anyone who loves the makeup's versatility, brightness and eye-catching effect. However, the types, colours and brands available can be bewildering to those just starting to use loose powder.
This guide will help buyers understand the types and brands of eyeshadow available, identify the type ideal for them and search for the perfect price on eBay - the site with the widest online market available.
Buying Loose Powder Eyeshadow
Before even beginning to search for loose powder eyeshadow, buyers should be made aware of the various factors that will affect their choice of item, such as:
* Price - cost is an important aspect of choosing any kind of makeup, and it will vary depending on type, brand and condition.
* Type - there are several 'types' of loose powder eyeshadow, with different prices and brands for each.
* Brand - there are many brands that manufacture loose powder eyeshadow, and prices and types of eyeshadow will vary with each.
* Condition - with items available as both new and used, prices are vary, depending on these factors. Buyers should consider what condition they would prefer before purchase.
Buyers should be aware that some loose powder eyeshadows are labelled as 'mineral', made with natural pigments that give the makeup a very strong colour. When searching, it is a good idea to bear this alternative in mind and even search for items under this name to discover more suitable items.
Types of Loose Powder Eyeshadow
Although loose powder eyeshadow is one of the least easily controlled kinds of makeup, its powdered form allows for a great deal of flexibility and variation in the type, colour and effect. The main types of loose powder eyeshadow are:
Type

Advantage

Disadvantage

The most common form that loose powder eyeshadow is available in; pots of powder are designed for use in the home.

* A large amount of powder is included, and allows for a great deal of experimentation.

* These are not very portable due to size.

* Loose powder in tubs is prone to spillage.

Tubes of powder with applicator wands are highly favoured by those wishing to touch up eyeshadow whilst on the move.

* The tubes are small and easily portable.

* Tubes come with an applicator wand, reducing mess and need for spare brushes.

* Only a small amount is included in tubes, as a larger size would be ungainly.

Compacts of powder carry small amounts of eyeshadow.

* Loose powder compacts are more portable than tubs.

* Much like tubs, compacts are messier than tubes.

* Compacts require applicator brushes.
What type of loose powder eyeshadow is best is purely up to the buyer, who should consider where they will use the eyeshadow and how they would like to use it - the wand and compact powders are more convenient when travelling or away from home, whereas the pots offer more eyeshadow. The buyer should make the choice based on what is most preferable to them.
Additional Loose Powder Eyeshadow Items
Once the buyer has settled on the ideal eyeshadow type for them, they should consider the necessary accompanying items. Makeup often requires a collection of many small parts, and whilst these are optional, it may be difficult to create a stunning effect without them.
Primer
This is used to 'prime' the eyelids and create a surface to work on with eyeshadow, as loose powder does not attach to skin very well without an adhesive. Primer is available in a variety of forms, though most often it is a cream much like foundation.
Brushes
A brush is used rather than a sponge for loose powder eyeshadow, as sponges may cause clumping. Brushes are available in a variety of sizes to create different effects, though smaller brushes are generally used for eyeshadow.
Brands
There are many large makeup companies that offer loose powder eyeshadow, and come in many forms, with colours, effects and types varying from brand to brand. The main manufacturers of loose powder eyeshadow are:
Maybelline
Maybelline is one of the most prominent and famous makeup brands, producing popular items of all types. Their loose powder eyeshadow comes in tubes with applicator wands, and is available in many colours, from neutral shades to bright greens and violets. Their Eyecolour Express range is one the popular ranges.
Barry M
A company well known for producing colourful and affordable makeup, Barry M produces many loose powder eyeshadow in a variety of bright and glittering colours.
Collection 2000
A bright and affordable U.K. based brand, Collection 2000 creates many colourful loose powder eyeshadows. They are available in both tubs and tubes with wands, and their Dazzle Me range is particularly popular.
Cruelty-Free Loose Powder Eyeshadow and Items
An important part of buying makeup for many people is the assurance that the items they purchase are humane and have not been produced by means of animal testing. For those buyers for whom it is an important part of their ethical viewpoint, it is vital for them to check brands against the Humane Cosmetic Standard's (HCS) lists.
Buyers should also check the press statements and websites of companies, who will have been awarded the Leaping Bunny logo by the internal coalition of animal protection groups if they have been confirmed as cruelty-free.
Though the EU has banned the sale of all new products developed through animal testing, this does not apply to other worldwide countries. There are also many items, such as brushes, which contain animal hair - and many eBay sellers indicate on the description whether the bristles are animal or synthetic fibres.
If in doubt, there are many makeup-focused online blogs and communities who will be able to provide up to date answers and facts on companies.
Loose Powder Eyeshadow and Item Sets
Many items on eBay are available as bundles or sets, the advantage to the buyer being that they can buy a large range of colours or brushes quickly and easily at a fraction of the price they would be in a brick and mortar store. When buying bundles or sets, buyers should check:
* Bundle - although what is included in the bundle or set should be clear in the description and photograph, it may be that the buyer needs to check with the seller what is actually on offer.
* Type - it is always a good idea to double-check what is being purchased, whether it is eyeshadow, brushes or primer. The set may contain a mix of types.
A particularly common feature in makeup is palettes, which contain a variety of types and colours of makeup and are a good way to get a makeup collection built up quickly. Loose powder eyeshadow sets are a great way to begin a powder eyeshadow collection, and with a variety of colours and brands available it can be as exciting and affordable as the buyer wants.
It is also common for brushes to be available in large sets, allowing the buyer to be able to create a variety of styles and effects - with some sets being eyeshadow focused.
Buying Loose Powder Eyeshadow on eBay
With all the types, brands and ranges available to the buyer, it is only once they have settled on what would suit them that they can begin searching. eBay is an ideal place to buy makeup, with a wide range available and with search results easily tailored to what the buyer desires.
* Price - cost is an important factor when purchasing makeup, and prices will vary due to item, type, brand, range and also if it is particularly sought-after or out of production. Buyers can adjust search results to suit their budget by using the search preferences bar. With eyeshadow available at both 'Auction'' and 'Buy It Now'', there is a great deal of flexibility available to buyers in however they wish to purchase.
* Type - buyers should consider what type of loose powder eyeshadow - pot, wand or compact - would suit them with how and where they wish to use it. Buyers can use the search bar to narrow results down to their personal preference.
* Additional Items - it is also important to consider if any other items are needed in conjunction with the eyeshadow, so as to achieve the desired effect.
* Brands - there are many brands represented on eBay, and search results can be tailored for a particular brand by using the preferences or search bar.
If the buyer is in need of more advice on how to search for loose powder eyeshadows, then they should make sure to consult the buying tips page for further guidance on how to adjust their searching technique. If they have any questions about the makeup they see listed on eBay, they should not hesitate to ask the seller
Conclusion
Loose powder eyeshadows are becoming an ever more popular form of makeup due to their flexibility and the good range of bright colours on offer. With the aid of this guide, buyers will be able to identify the perfect eyeshadow for them in terms of type and brand, at the most competitive price available.
When searching for loose powder eyeshadows on eBay, buyers should be aware of the benefits of paying through PayPal, eBay's recommended way to purchase, with its added security and eBay Buyer Protection..