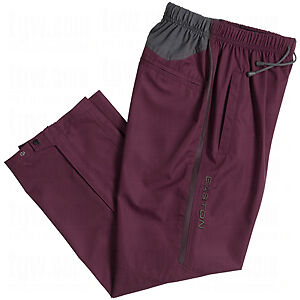 Men who love to work out, play sports, go for a jog, or just look on-trend on an average day benefit from purchasing men's activewear pants. These comfortable, performance-oriented pants can give a man the range of mobility he needs to excel at physical challenges, while also providing side benefits such as warmth, support, and relaxation. The world of men's activewear pants has come a long way from the days of basic grey jogging bottoms. In fact, men's activewear is a rapidly expanding area of fashion with more and more options appearing on the marketplace all the time. If a man is interested in buying new activewear pants, it can help him to understand more about the range of options available to him and to also be armed with a few tips on how to best approach the marketplace. Knowing how to use the features in an online auction site such as eBay can be another big advantage to a man as he sets out to find activewear pants to add to his wardrobe.
Look for Sports-Specific Options in Men's Activewear Pants
Many men tend to be low-maintenance about clothing and assume that one pair of pants is the same as the next. The truth is, however, that activewear pants that have been specially designed for a specific sport or activity can bring enormous performance enhancements and advantages to men. Men on the lookout for activewear pants should keep an eye open for pants that relate directly to their sport to get the appropriate use out of a pair of activewear pants.
Consider Weather and Conditions
When purchasing activewear pants, it can be helpful for men to carefully consider the conditions in which they work out. A runner who logs several miles outdoors daily in the winter needs thicker fleece pants or thermal tights, while a runner who logs his miles on a treadmill might want to wear lightweight pants designed to wick away sweat. Simply addressing a certain sport's needs does not take into account the mitigating factors of weather and other factors.
Look for Added Touches in Men's Activewear Pants
Many activewear pants can have small details added in which make them much easier to wear and engage in an activity. For example, a pair of running pants might have a small key pocket sewn into the waistband, giving men a convenient way to store a car key during a run, say. Many athletic pants also have cargo-style pockets on the outside, providing men with a way to store keys and wallets close at hand as they exercise at the gym. Small features such as these can add to the value of a pair of pants and enhance their applicability to an active lifestyle.
Know the Options Available in Men's Activewear Pants
Men's activewear is an increasingly diverse area of clothing with new items and designs coming on to the market regularly. Some men might not be aware of all of the options available to them in terms of activewear pants. Many popular types of activewear pants are available, each type with details that might be specifically applicable to a sport or activity.
Running Pants
Running pants are typically designed to be durable yet lightweight. These pants are often made from specialised fabric that draws moisture off the skin, keeping a man dry and warm during long distance runs. Some running pants can have stirrups integrated into the bottom of the pants which prevent the pants from riding up during a run. Running tights are a subset of running pants.
Tracksuit Pants
Tracksuit pants are actually quite different from running pants or the traditional jogging bottoms, even though they are sometimes conflated with either category. Tracksuit pants are typically worn as warm-up pants in track and field sports or in football. They are usually constructed of an aerated microfibre and are sewn in a baggy, wide-legged silhouette, giving men the option of wearing other shorts or pants underneath. Tracksuit pants are often sold in tandem with a matching tracksuit jacket, delivering complete coverage to athletes during a warm-up session or when travelling to an event, game, or competition.
Compression Pants or Tights
Compression pants, sometimes referred to as compression tights, are skin-tight pants that fit like spandex and hug the muscles of a man's legs securely. These pants are designed to keep muscles warm and stable during a workout. Many men wear these pants as a layered item underneath other athletic pants. Some sport-specific compression pants can have padding in certain areas to protect an athlete; baseball compression pants, for example, might have padding at the hip to buffer a man's leg when he slides into base. Compression pants, like running pants, are sometimes made from moisture-wicking fabric that keeps excess sweat off the skin and can prevent chaffing.
Fleece Pants
Fleece pants are constructed from a fluffy, light synthetic blend that delivers warmth and softness when worn. Fleece pants are ideal for outdoor activities in the colder months. They do tend to keep a lot of moisture in, so men who wear them for endurance sports may want to wear them with a compression layer underneath so that their muscles do not get cold and tired.
Jogging Bottoms or Sweat Pants
The tried and true jogging bottoms, sometimes referred to as sweat pants, are cotton jersey pants that hang loosely and are excellent at keeping a man's legs vented and cool during activity. Jogging bottoms could be considered the original activewear pants and have been a staple of many men's activewear wardrobes. Jogging bottoms typically feature a drawstring waist with an elastic waistband.
Understanding Sizing in Men's Activewear Pants
Activewear pants are often listed as small, medium, large and extra-large when it comes to sizing. The following chart marks out the typical waist circumference measurements for each of these size categories.
| Size | Small | Medium | Large | Extra-Large |
| --- | --- | --- | --- | --- |
| Waist (cm) | 69 - 76 | 79 - 84 | 86 - 91 | 94 - 102 |
| Waist (inches) | 27-30 | 31-33 | 34-36 | 37-40 |
The above chart provides men with a useful, general idea of sizing which they can use as reference. It is important to keep in mind that sizes can vary greatly from one manufacturer or brand to another. It is recommended that one verify the sizing of a pair of pants with a vendor before purchasing it. A simple enquiry as to whether a pair of pants run large or small can solve a fit issue quickly.
Shopping for Men's Activewear Pants
There are a variety of options before a man when he is looking for activewear pants, including traditional and non-traditional vendors. As far as the mainstream vendors go, local shops and sportswear stores in a neighborhood may have some selection of activewear pants. However, these types of shops are typically limited by trends and weather and do not always carry specialty pants, such as running pants, for example.
A much more comprehensive catalogue of men's activewear pants can be found at online auction sites such as eBay. As a fashion aggregator, eBay brings together all types of vendors to create all-encompassing offerings of men's activewear.
Buying Men's Activewear Pants on eBay
To begin a search for men's activewear pants on eBay, you can start by running a search utilising the search bar found at any page on the site. This search bar can be used to run a general search with a term such as "men's activewear pants" or a specific term, such as "red jogging bottoms". The former gives you an overall sense of the options available, while the latter may bring up listings that are highly relevant to your purchasing goals. The site also makes useful suggestions when you run a search, so consider accessing these "related search suggestions" to expand or refine your search.
When buying men's activewear pants on eBay, take the time to communicate with or get to know your seller. You should feel free to message your seller with any questions you have about a pair of pants. You can also choose to look through the seller's past auctions and even review the feedback sent in by other customers. These proactive steps can help ensure that you get the ideal pair of activewear pants you are looking for.
Conclusion
Men on the lookout for activewear pants have an enormous number of options available to them. This diverse and growing category offers everything from sport-specific, specially engineered pants to the traditional, stylish, go-anywhere jogging bottom. While some men may be overwhelmed by the process, buying activewear pants is a simple matter of learning a bit about the styles available, zeroing in on a style, and making sure one has an adequate understanding of fit. In fact, shopping for men's activewear pants is hardly shopping these days. With the advent of the online auction site, as epitomised by eBay, a man may quickly scan a number of relevant listings in multiple style categories on the website and find the pants they want. By taking the time to determine the details of an item and even communicate with a seller and review a seller's feedback, a man can find the activewear pants he is looking for, thanks to eBay.