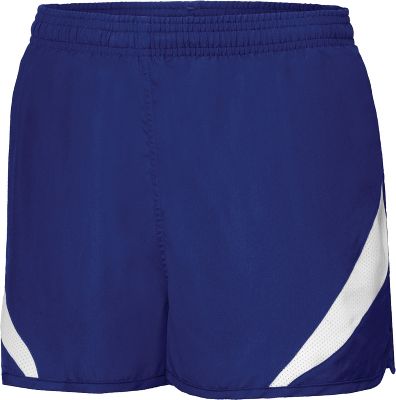 There once was a time when activewear included only hooded sweatshirts, sweatpants, and an accessory called a sweatband. Fortunately, for today's runners, joggers, recreational climbers, weight lifters and just generally active people, that time is in the past. Today, there are a plethora of attire choices for the active person, including one of the most common pieces, the activewear shorts. Activewear shorts, which can be called by dozens of names, provide a light and comfortable fit, while at the same time, providing the freedom of motion that is absolutely necessary for sports, or any vigorous exercise activity. Because of their utility and comfort, activewear shorts have become one of the most commonly purchased articles of clothing, whether in a large department store, an athletic supply shop, or even from online retailers, like eBay . There are several factors men should consider when purchasing activewear shorts, such as the style or shape of the shorts, the material from which the shorts are made, and finally, the sizing.
Activewear Shorts of All Types
There are primarily two varieties of activewear shorts: the short and the long. Both varieties are known by a slew of different names, and are also called basketball shorts, running shorts, rugby shorts, football shorts, gym shorts, as well as athletic shorts, and a number of other sports-specific titles. All activewear shorts are designed to be worn while an individual is at his most physically active, and require a few common features to make them effective and comfortable. The main feature of the loose-fit activewear shorts is, as one might expect, the exceptionally loose fit. Because the material hangs, rather than clings to the wearer, they provide exceptional air circulation, moisture resistance, and are well-suited to hotter, more humid environments and seasons. Almost all of the loose-fit activewear shorts feature a band of elastic around the waist, as well as a drawstring to keep them securely in place during the course of normal exercise and play; although in some cases the drawstring is omitted, in favour of a simpler pattern.
Even within the category of loose activewear shorts there are different varieties, running shorts are cut higher, and usually end above the knee. These are the shorts that are typically seen worn by runners and some footballers, and are designed to be as unrestrictive as possible, due to the highly active nature of the sports and competitions with which they are associated. While they are loose, meaning they should not be skin tight or adhere to the skin, they can be relatively closer to their wearer than the more flowing and longer type outlined below.
Then there are the modern basketball shorts; these shorts typically fall to the knee, or even below. This type of shorts more commonly features brand or team logos, and because of their additional length, they can be more acceptable in most social environments, despite being primarily athletic wear. The longer shorts also afford their wearer the opportunity to be slightly fashionable while remaining active, as these shorts are usually found displaying prominent cosmetic additions, like stripes or patterns. While functionally similar to the shorter cuts, they may have too much fabric to merit extended runs or jogs.
All of these varieties of activewear shorts can sport additional features, which can affect the quality, utility, or price of the activewear shorts. One of the more common additions is an inner liner, sometimes comprised of a discrete fabric for added comfort or support. Pockets are another frequent feature, useful for holding keys, billfolds, wallets, or any miscellany available, and many of today's activewear shorts have side pockets, rear pockets, or even pockets sewn into the inner lining.
Most other variations in activewear shorts features, such as notches at the termination of the leg, stripes sewn down the leg, across the band, or along seams, are largely cosmetic and rarely affect the performance or longevity of the shorts.
One other type of activewear shorts exists: the tight or form-fitting shorts, which are usually worn as an undergarment. These garments are radically different from what most consumers refer to as activewear shorts, and should be considered on their own merit, rather than the merits previously outlined.
Men's Activewear Shorts Materials
There are a plethora of fabrics that activewear shorts are made of, including fibres both synthetic and natural. Both synthetic and natural fibres carry certain advantages and disadvantages, but there are a few broad characteristics which are common among certain types, and are regularly encountered in men's activewear shorts.
Polyester
One of the most commonly found materials in the world today is polyester . The fabric it produces is lightweight, low-maintenance, and usually inexpensive. In addition, because many activewear shorts are constructed in a mesh pattern, polyester breathes easily, an important quality when running or playing a sport. Polyester activewear shorts also tend to dry quickly, and resist staining from sweat and normal dirt and grime. Visually, polyester activewear shorts are usually sheen, possessing an almost satin-like appearance, and come in a wide variety of colours and patterns, allowing the wearer to customise his appearance down to the inner lining of his shorts. All of these qualities make polyester an exceptional fabric for activewear shorts, and appropriately, most of the shorts made today are 100 per cent polyester.
Cotton
Cotton, because of its durability and comfort, is still used in activewear shorts. While a pair of cotton activewear shorts retains water more than its polyester counterpart, it can provide more warmth, where such warmth is a consideration. Cotton shorts tend to possess fewer of the reflective properties than polyester shorts, and are usually found in more neutral colours, such as grey and black. Special care should also be paid to maintenance of cotton shorts, as the cotton fabric may stain or warp with excessive washing.
Fabric Blends
As with any garment, manufacturers are still developing new and interesting combinations of fabrics to achieve specific qualities. Because of the wide variety of blends, usually combining polyester with another synthetic fibre, it would be overly complex to exhaust the merits, flaws, and miscellaneous attributes of every fabric blend. However, there are a few common fabric blends to be considered. Polyester and cotton blends usually marry the comfort of cotton with the lighter weight of polyester. Blends that combine polyester and another synthetic fibre build on the polyester's ability to resist moisture, or its durability. Polyester blends are typically offered with a catchy brand name, but can be valuable for their improvement on an already impressive fabric for a pair of activewear shorts. Because of their synthetic nature, activewear shorts that are made from blended fabrics are usually available in the same spectrum of colours for which polyester activewear shorts are prized.
Sizing Activewear Shorts
Sizing for activewear shorts is one of the simpler processes associated with buying activewear shorts. Because of their elastic band and drawstring, the consumer needs only to find the circumference of his waist, then compare it to the manufacturer's sizing chart. Additionally, the elastic and the drawstring allow the buyer to be a bit more carefree in his selection of activewear shorts; smaller sizes may stretch, and larger sizes can be drawn tighter. The chart below can be used for reference, however, because of the wide variety and disparity in manufacturers, a wise consumer should always check the manufacturer's chart before making a purchase.
| Size | Small | Medium | Large | X-Large | XX-Large |
| --- | --- | --- | --- | --- | --- |
| Waist (cm) | 28-31 | 32-34 | 35-37 | 38-40 | 41-43 |
If a consumer is in doubt about either the size of his waist, or the specific size of activewear shorts, he can purchase the next largest size, effectively allowing him the luxury of wearing slightly baggier clothing. Because of the casual nature of activewear shorts, the extra material is not abnormal.
How to Find Men's Activewear Shorts on eBay
Because of the prevalence of activewear clothing, and the inclusion of search terms into related items, finding the pair of activewear shorts that you want can be tricky. However, there are several steps you can take to streamline your purchasing experience. The first step is to specify one of the other titles to which activewear shorts are referred. "Men's basketball shorts" returns far more specific results than a generic search for "men 's activewear shorts". If you are unsure which type of shorts you intend to purchase, you can prefix your search with the sport or activity you intend to play. The chances are good that the shorts you are looking for are listed. Many shorts are marketed with a specific clubhouse or team in mind, adding the name of a clubhouse or team further simplifies your search. As with any purchase, consider the listed condition of the item, the seller's rating, and the post terms.
Conclusion
The comfort and ease afforded by activewear shorts makes them one of the most popular garments amongst athletes today for virtually any sport or exercise. Whether a man plays competitive sports, recreationally exercises, or just has a need for a simple and comfortable pair of shorts, activewear shorts can be a wise and rewarding choice. Despite the variety of types in which activewear shorts are available, and the great amount of other activewear equipment, like shirts, shoes, and even thermal underwear, which can bog down a consumer's search, finding the appropriate pair of activewear shorts does not have to be a hassle. Once a consumer chooses which type of activewear short he wants, narrows down his choice with specific features, and is comfortable with the fabrics present, he can then size his waist appropriately and purchase with confidence in person, or at online retail shops and auction sites, such as eBay.