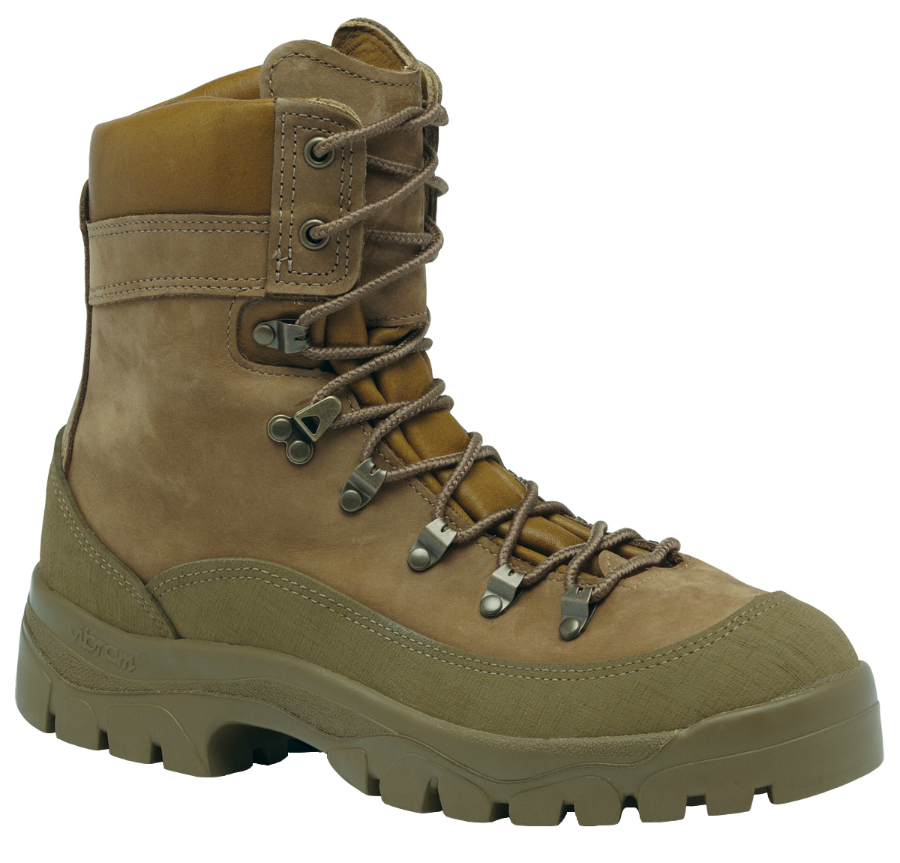 For a private soldier, if not for the officer class, the military life is a life spent outdoors, and so it goes without saying that the type of boot suited to military wear is going to be a rugged and durable item. Although on the surface a standard combat boot has much in common with a hiking boot, the latter is a more specialised item and quite likely constructed with lighter materials.
The military boot has not always had a glorious history. During a period in the American Civil War that was branded "the age of shoddy", it was not uncommon for boots to fail to survive first contact with the wearer's foot, never mind the ground, and still less the enemy. There are stories about shipments that arrived during the two world wars with all left boots or all right.
After the Second World War and after conscription ended in 1963 in the UK, military surplus stores were an invaluable source of cheap and rugged clothing. Combat boots became a favourite among young working class men. With the arrival of punk in the mid-1970s, they became widely fashionable, a status that has remained in place ever since.
Variations
The British Ministry of Defence lists five types of boot currently in use by the services: Desert Combat, worn in desert environments exceeding 40 degrees Celsius; Desert Patrol, worn by troops conducting lower levels of activity in desert environments exceeding 40 degrees Celsius; Temperate Combat; Patrol, worn in temperate climates; Cold Wet Weather, worn in temperatures down to minus 20 degrees Celsius.
Other boots that might appear in a search for combat boots on eBay include two varieties of jackboot. One is a cavalry boot, most often worn on parade and seldom seen on civilians; the other is a European infantry boot, most often German or Russian, which resembles a biker's boot. Another category is the police or riot boot, which tend to be sold by dealers in military surplus. Heavy duty work boots are also likely to show up in the search results as well as boots styled to resemble combat boots in lighter or cheaper materials.
Brands
Since combat boots became fashionable, the major brands have styles that are either explicitly designated as combat boots or are modelled on the look of a combat boot. The classic Doc Martens 1460, for example, is not a combat boot per se, nor are the familiar Caterpillar and Timberland lines, although several models closely resemble them in style and function.
Materials
When considering the material used in a combat boot's manufacture, there are four aspects to look for. These are the sole, the upper, the lining, and the type of fastener.
Soles
The distinctive feature of a combat boot is its rugged sole. Traditional thick leather soles can be reinforced with hobnails and steel quarter heels. Contemporary designs seldom use leather, preferring either rubber or synthetic materials. Often, soles are designed to resist hazardous substances and conditions, being either heat- and flame-proof, or acid-proof.
Uppers
Uppers are more likely to be either mainly or exclusively leather although there are many synthetic and fabric alternatives. Some of these are used because they are cheaper and result in a cheaper boot. Some meet specialised needs and command a premium in their own right. As with soles, uppers may be treated to be resistant to hazardous conditions, the most common form being a reinforced toecap. Sometimes steel is used for this, but there are altern materials that have the advantage of not triggering metal detectors.
Lining
For continuing comfort, the inside of a boot might be as important as the outside. Depending on the climate the boot is designed for, it may or may not include a lining. In a hot climate, a lining is not only unnecessary but likely to make the boot positively uncomfortable. In cold conditions, on the other hand, a fleece lining will be most welcome. Underfoot comfort is a concern in all climates. While manufacturers often include less detail about this aspect, it is possible to buy and fit insoles if discomfort is experienced.
Fasteners
Finally, with the exception of the jackboot, the defining feature of a combat boot is its lace fastening. Since the style normally laces to the lower shin, boot laces need to be long.
Accessories
Boot laces are one of the common accessories that can easily be found in a variety of lengths on eBay. An alternative that buyers sometimes look for is a lace-in boot zip although they are hard to pin down with precise search terms. Another thing to consider is boot socks. Generally speaking, a heavier sock is desirable when wearing boots. Thermal materials are popular and so is wool. A few outlets on eBay sell knee-length Russian military surplus socks.
Care and Maintenance
Other accessories fit under the heading of care and maintenance. Before looking at specific products, here is some general advice, particularly with leather in mind. As a natural material, leather requires looking after in order to prolong the boot's life. It is a good idea to rinse off dirt and mud with water and a brush. Avoid using detergents because they may cause damage over time. Allow boots to dry naturally. Heat will undoubtedly harm leather and may damage synthetic materials too. From time to time, apply waterproofing treatments. The frequency depends on use, but keeping boots in prime condition will extend their life even if they are worn often. Some leather-making processes leave the material resistant to oils and creams when new, but after a period of wear, the boots become more absorbent.
The traditional treatment for leather of all kinds is neatsfoot oil, which is worked into the material with a soft cloth. Similar products, notably leather balm, are creams rather than oils, but the results are equally satisfactory, An alternative, especially for the military effect, is boot polish, applied and finished with a pair of boot brushes.
Sizes
For a buyer who does not already know his foot size, getting the right number can be tricky. It is not easy to do at home although some vendors include advice about how to measure feet in their advertising copy. Another option, which is especially useful if you buy a lot of shoes or have a growing family, is to look for a size gauge on eBay. They appear from time to time although the precise terms used might vary. The safest bet is to go to a shoe shop and get measured by a sales professional.
NATO uses the ISO Mondopoint standard for boot sizes, so military surplus boots from a member nation may carry this numbering. A typical Mondopoint sizing will be displayed as 300/100 where the longer figure represents the length of the foot in millimetres and the shorter figure represents the width.
| Mondopoint | Europe | U.K. & Australia | U.S. & Canada | Inches | Centimetres |
| --- | --- | --- | --- | --- | --- |
| 228 | 35 | 3 | 3½ | 9 | 22.8 |
| 231 | 35½ | 3½ | 4 | 9⅛ | 23.1 |
| 235 | 36 | 4 | 4½ | 9¼ | 23.5 |
| 238 | 37 | 4½ | 5 | 9⅜ | 23.8 |
| 241 | 37½ | 5 | 5½ | 9½ | 24.1 |
| 245 | 38 | 5½ | 6 | 9⅝ | 24.5 |
| 248 | 38½ | 6 | 6½ | 9¾ | 24.8 |
| 251 | 39 | 6½ | 7 | 9⅞ | 25.1 |
| 254 | 40 | 7 | 7½ | 10 | 25.4 |
| 257 | 41 | 7½ | 8 | 10⅛ | 25.7 |
| 260 | 42 | 8 | 8½ | 10¼ | 26 |
| 267 | 43 | 8½ | 9 | 10½ | 26.7 |
| 273 | 44 | 10 | 10½ | 10¾ | 27.3 |
| 279 | 45 | 11 | 11½ | 11 | 27.9 |
| 286 | 46½ | 12 | 12½ | 11¼ | 28.6 |
| 292 | 48½ | 13½ | 14 | 11½ | 29.2 |
With this chart for a guide, it should be possible to buy combat boots from eBay's international marketplace, provided that all relevant criteria have been met. With such a lively international market in military surplus, an overseas purchase is definitely an option. Remember shipping costs are higher for oversea purchases, and that in the event of a dispute, the cost of returning the item may exceed the sum to be received in compensation.
Buying Men's Combat Boots on eBay
Among the factors to consider when planning a purchase are your foot size, the style and finish you are looking for, where you intend to wear them, and whether you are looking for a bargain on a tight budget, or at the other end of the spectrum, a top-quality pair from a leading designer.
To start looking for combat boots on eBay, the quickest way is to type keywords into the search bar on the eBay home page.. The more general the search terms are, like "men's combat boots&", the more results will be generated. Some searches will bring up several pages of boots, and you can filter these results by using the context sensitive criteria that appear with the search results.
As well as filtering, you can vary the way in which your results are sorted. You might be an inveterate bargain hunter, in which case sorting by listing time will be your preferred option, while on the other hand, you might want to get a feel for the range of prices in the marketplace. If so, then, sorting by price and alternating between low and high prices will quickly resolve the question. The search window is always available, and you can use it to make further searches as you progressively refine your initial results.
Conclusion
Combat boots are a valuable and frequently economical addition to a man's wardrobe, whether the aim is simply to adopt a fashionable look, or to protect the wearer in dirty or hazardous work and leisure environments. They are versatile and durable, and they can be adapted to a wide variety of climatic conditions. In an urban environment, they make an assertive statement about their wearer; in the workplace they can protect and support the foot against injury and fatigue; in the wilderness, out on the sand, or in the mud of the countryside, they might combine all these attributes all at a bargain price.
With its vast marketplace, eBay is a great place to shop for combat boots. Its search and tracking tools make researching a breeze, and when the time comes to make a purchase, there is a variety of flexible payment options backed up by a range of customer care resources in the event that difficulties arise.