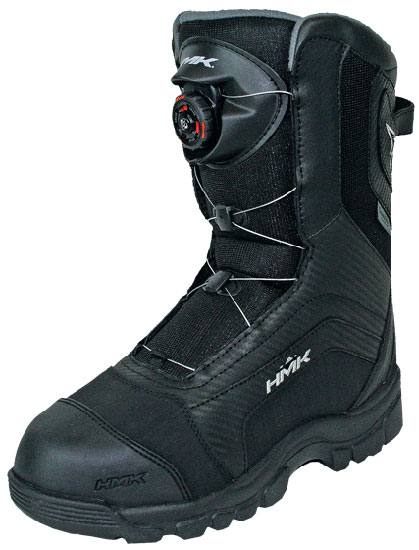 Archaeologists have deduced that snow boots originated with the Otzi, a nomadic band of icemen that wandered the Alps over fifty centuries ago. Native Americans created the first rendition of snow boots on the North American continent out of animal hides and thick layers of grass. Since then, snow boots have undergone many changes that include the high sides found on most contemporary boots. Contemporary snow boots are a type of boot that feature water-resistant properties. The boots allow users to walk in saturated areas that typically contain muddy surfaces. The continued advancement in boot construction technology has caused snow boots to become popular footwear. Buyers can find snow boots in most shoe departments of large big box retailers, outdoor equipment and apparel stores, and on eBay. Before shopping for snow boots, consumers should learn about the differences between snow boots and winter boots, the key features of snow boots, tips for buying snow boots, and the most popular snow boot brands.
Snow Boots vs. Winter Boots
Many consumers interchangeably use the terms snow boots and winter boots. While manufacturers design both types of boots to keep feet warm, snow boots possess additional properties that make them the better choice for winter wear, especially in extreme winter weather environments. Snow boots contain heavier materials and the construction of the boots is premised on keeping feet both dry and warm. This is just one of the differences between snow and winter boots.
| Snow Boots | Winter Boots |
| --- | --- |
| Highly waterproof | Not constructed with water-resistant materials |
| Used in snowy and muddy conditions | Better for well-maintained concrete surfaces |
| Easy-to-clean | Materials not conducive to easy cleaning |
| Boot extends part of the way up the leg to prevent snow and ice from impacting ankles and feet | Low-cut means soggy feet |
| Heavily insulated | Heavily insulated with non-waterproof materials |
| Made for functionality, although some brands produce designer snow boots | Usually stylish |
Key Features of a High-Quality Snow Boot
Snow boot users cannot afford to skimp on snow boot features. The result of buying discounted, low-quality snow boots can be as harsh as coming down with hypothermia in a remote environment. Consumers should look for the following features in high-quality snow boots.
100 Per Cent Waterproof
Snow boots must be 100 per cent waterproof. Anything less than complete waterproofing capabilities means consumers are buying a type of winter boots, which are characterised by water-resistant levels. Water-resistant boots perform admirably in moderately wet weather, but consumers need a fully waterproof boot to navigate through deep ice and snow.
Snow Gaiter
A snow gaiter prevents snow from becoming wedged between the foot and boot. Snow gaiters are available in two forms. The first form is a built-in gaiter that comprises furry insulation. This form of snow gaiter works well in most cases, but it may not completely protect the feet from moisture melts from deep snow. Pull-up snow gaiters consist of waterproof materials that are snugly pulled up using a drawstring. This type of snow gaiter not only keeps feet dry, but the areas around the ankle and lower leg as well.
Extended Boot Height
Since snow boots are constructed for users to walk in deep snow, it makes sense that one of the boot's key features is extended boot height. Snow boots typically extend at least above the ankle, although many snow boot manufacturers now produce boots that extend halfway between the knee and ankle. The height of a consumer's snow boot depends upon individual comfort levels, although snow boots must extend above the ankles.
Rubber Bottom
Not every type of snow boot possesses the rubber bottom feature. This feature is for users that spend lengthy periods in deep water or mud. Road construction workers often wear snow boots that possess rubber bottoms. Not only does a rubber bottom provide additional waterproofing capability, it also makes for easier cleaning of mud and debris.
Tips for Buying Men's Snow Boots
Buying the right pair of snow boot entails more than just ensuring that the boots possess superior waterproofing qualities. Consumers need to look for other factors that help them determine which pair of snow boots performs the best in snowy and muddy environments.
Evaluate Needs
Manufacturers construct snow boots to work in different types of winter weather environments. Therefore, the first step in the snow boot buying process is to determine the primary use for a pair of snow boots. Consumers that plan to snowshoe or hike in snowy climes should consider snow hiking boots that come with a heavily treaded sole. Skiers usually want a pair of boots that possess above average extended height on the legs. Some consumers may even want a pair of snow boots that exude style for their grocery store visits.
Waterproofing Capability
The most important snow boot function is to protect users from moisture. Consumers may find that some snow boots do not have the level of waterproofing materials required to keep their feet and legs dry. Treated leather is perhaps the best waterproofing material and it provides even more protection from moisture when it is insulated with synthetic fibres.
Warmth Rating
The warmer a pair of snow boots, the more comfortable they are for users who walk through deep ice and snow. Most manufacturers provide consumers with temperature ratings that range from 30 F to -94 F. The ratings measure at what temperature a pair of boots begins to lose its warming properties. Fleece and fur-lined snow boots provide the most warmth.
Traction
Traction is often a feature that some consumers ignore during their snow boot buying process. However, high-traction snow boots prevent users from slipping on hazardous ice and snow. Winter hikers look for heavy tread snow boots that have rubber soles to protect them from slipping, especially on steep uphill climbs. Flexible rubber soles are the best traction option for long distance winter hikers.
Weight
The combination of waterproofing materials, insulation, and treaded rubber soles can produce a heavy snow boot. Winter backpackers should look for snow boots that are constructed with lighter synthetic materials. Heavy is not always bad, since most users do not traverse hilly, snowy terrain. For instance, a heavy pair of snow boots do not negatively affect someone who is shovelling a driveway.
Popular Snow Boot Brands
Consumers who are new, or relatively new, to buying snow boots should be aware of the popular brands. The following popular men's snow boot brands have earned strong reputations of consistently producing highly waterproof boots that have rugged durability. The brands have received positive reviews from both consumers and third-party product testers.
Zamberlan
Online consumer product reviewers praise Zamberlan snow boots for their waterproofing properties and the breathable material used to make the boots. Sometimes, waterproof and breathable materials do not go hand in hand. Reviewers also like the strong support the boots provide users around the ankle area. Zamberlan snow boots also receive praise for sole traction. The company's boots are typically recommended for snow hikers and backpackers.
L.L. Bean
L.L. Bean snow boots provide users with all of the qualities they need to traverse through deep snow: waterproof materials, strong traction, insulation for warmth, and solid sole support. Reviewers note that L.L. Bean snow boots provide more padding than other brands that possess similar designs. Above all, the company receives high praise for constructing some of the best boots at prices that provide the most value.
Timberland
This brand receives high marks for constructing snow boots that keep feet dry and comfortable, without adding cumbersome extra weight to the boots. Timberland differentiates the company's boots by applying abrasion-resistant treatment to boot exteriors. Thus, Timberland snow boots are considered the most durable snow boots by a number of industry reviewers.
Buying Snow Boots on eBay
eBay offer consumers an easy way to find the pair of snow boots that fulfills their criteria. Type keywords into eBay's search engine and then navigate through search results pages to find the right eBay seller. Typing "snow boots" returns several search results pages that take time to navigate. Instead, specify your search by typing keywords, such as "size 12 men's snow boots&" or "men's snow boots&". Once you find a seller that piques your interest, click on the seller's product page to review the enlarged product photograph, delivery terms, and return policy.
A seller's return policy is important because you may need some time to work out a pair of snow boots. eBay buyers find generous return policies by purchasing snow boots from eBay's Top-Rated Sellers. These sellers have established a reputation of offering high-quality products and eBay rewards the top-rated sellers with a ribbon icon that is placed on the seller page. Buyers should also review the customer feedback that appears on seller product pages. Look for snow boot sellers who have earned positive feedback for over a year and preferably have experience selling footwear.
Conclusion
When the weather turns cold and wet, consumers flock to department and outdoor apparel stores to buy a pair of snow boots. Unfortunately, many consumers buy winters boots that provide warmth, but do not protect users from winter moisture. The first item on any snow boot buyer list is to understand the difference between snow boots and winter boots. The key difference is that snow boots provide protection against moisture building inside of the boot. Waterproof protection is particularly important for winter hikers and backpackers that trudge through deep snow.
Snow boot buyers should consider some other factors beside waterproof properties before they buy a pair of snow boots. They should look for heavily treaded rubber soles that provide traction on icy surfaces. Fleece-lined insulation adds warmth and extended boot heights protect against snow from falling into a pair of snow boots. Snow boot buyers have numerous brands from which to choose, but L.L Bean, Timberland, and Zamberlan perennially receive the highest ratings from consumers and third-party snow boot experts. Consumers can conveniently buy any of the popular brands by using the leading online auction site, eBay.