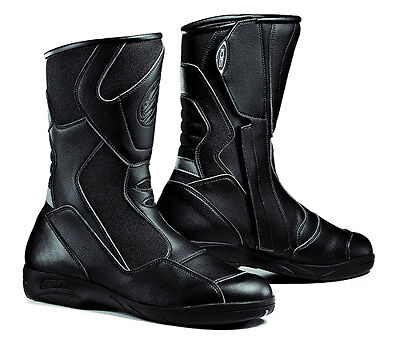 Whatever one's fancy, trembling round a race circuit at a Trackday, trailing in Carl Fogarty's rubber-burning inspiration, or simply riding scenic routes over the weekends, there is a pair of motorbike boots that is just right for them and their bike. These tough and sleek leather boots, essential safety equipment for motorbike riding, are as handy as they are fetching. British motorbike riders need a pair that can withstand Britain's unpredictable weather, boots that can hold their own for a long time against the harshest of elements. Sturdy, comfortable boots that offer a high level of protection for the knee and foot, with good traction as well as good performance are a model pair.
The online marketplace and auction site eBay is profuse with motorbike boots for men, women, and children in all sizes, styles, and even colours, such as black, white, and blue, with a slew of extras for a rewarding shopping experience. To make an informed purchase, riders in the know educate themselves on the different types of motorbike boots and how each is specialised, as well as how to buy on eBay.
Size
Motorbike boots must fit snugly, holding the feet comfortably. Too tight and they interfere with the flow of blood, especially around the ankles; too loose and they may slip off at the most inopportune time. Since almost all motorbike boots are leather, the material ages with time, allowing a little more room. Shoppers should try on motorbike boots with their regular leather riding trousers, and socks if they wear any, in order to ensure a good fit over both. Riders who wear uncomfortable boots usually regret it after riding the motorbike more than a few kilometres. While sizes may vary according to the manufacturer, foot measurements do not; thus, the best way to buy boots that fit is to use one's foot measurement and set it against the seller's size chart for what fits.
Style
Depending on the type of activity a rider does, there are varied types of specialised boots to suit the demands of that particular activity. For example, racing boots need extra padding against abrasive elements, while touring and urban boots are softer than the rest because they are worn both on and off the bike. The four main types of motorbike boots are cruisers, racing and sport boots, touring and urban boots, and motocross boots.
Cruiser boots are stylish and comfortable boots that are easy to customise to suit each rider's individual taste and preferences. They are low-slung with limited performance and protection as they are not used for races or vigorous activities.
Racing and sport boots are synonymous with speed, twists, and falls on the hard pavement. They are the motorbike boots with the greatest armour against falls and injury, as well as heavy padding to ensure nothing breaks at high speeds. The heel and foot of the boot are smooth and, although the boots are available in all colours, most of the buyers choose black.
Touring and urban are boots for the commuter. These snug touring and urban types still have protection but are not heavy on the padding as they are worn both on and off the motorbike, even to work. They have small, smooth heels and feet areas but do not have lace closures. They are all black in colour.
The stiff motocross boots are designed specially for riding in difficult grounds off the road where the rider risks being hit by dust, debris, snow, and even rocks. Their high-tech construction offers the rider superior protection against the elements. The boots are almost knee-high, with steel toe guards to shield the front part of the boot's sole and a metal plate on the sole. Motorbike boots are intended to be worn only on the bike and come in an array of colours.
| Type of Motorbike Boots | Features |
| --- | --- |
| Cruiser | Stylish, comfortable, easy to customise, expresses individual taste, low-slung, limited performance and protection, mostly black |
| Racing and Sport | Most armour, heavy padding because of falls and scratches, smooth foot and heel, mostly black |
| Touring and Urban | Commuter boots, snug, not heavily protected, all black, small and smooth heel and foot, no lace closures |
| Motocross | Stiff, all-terrain, off-road, heavy protection, steel toe guards, high-tech design, knee high, worn on the motorbike only, variety of colours |
As the table above shows, motorbike boots are specially constructed for the different types of biking activities and terrains like races and touring. Shoppers need to know all this so that nobody ever finds themselves walking across the grass with the motocross boots.
Condition
The condition of the motorbike boots determines the price. Boots labelled 'new with tags' on eBay refer to those that come untouched and unworn in their original packaging while those marked as 'new without tags' are also new and untouched but missing the original packaging. Both of the above item conditions mean that buyers should expect that there be no signs of wear. Another label some boots have is 'new with defects' which refers to factory seconds or boots that have slight flaws such as a scratch or one part that is slightly askew. Motorbike boots in a 'used' condition have been worn before and might have signs of wear. Provided that the motorbike boots for sale are in good usable condition, perform the intended function, and do not jeopardise the safety of the rider, then it does not matter what condition they are in.
Construction
The constant wear and tear motorbike boots live through means that any pair without a solid construction is as good as disposable. The three most important features to consider besides the craftsmanship are the material used, the height of the boots, and the type of fastenings. Many manufacturers make motorbike boots from thick, 100 per cent quality leather. While some boots on the market use other, synthetic materials, nothing beats the high abrasion resistance of genuine leather. Sewn-in soles are stronger than the glued ones and offer excellent traction depending on the type of environment. The height of motorbike boots also determines the degree of protection a boot offers. Those that are at least 160 mm high from the inner sole of the boot are sufficient to protect the ankle from injury.
When it comes to fastenings, such as laces, Velcro, and buckles, motorbike boots should close securely enough that they do not slip off. Laces are inexpensive and popular but come undone easily and might slip into the gear shift; however, many take care of this by double-knotting the laces. Sturdy Velcro and buckles offer a strong tight grip, sufficient to keep the boots on in the toughest of weathers.
The eBay Buying Process
Consumers who plan to take advantage of all that eBay has to offer first register on the site because this opens up a host of benefits for them. With My eBay, they can save searches, their favourite sellers, and eBay stores as well as gather interesting listings into a favourite list for a future read-through. My eBay stores all the consumer's buying activities in a single location for easy access, and when the consumer keeps their contact details up to date, they can receive instant email notifications in their inboxes. The speed at which a shopper can buy items on eBay with the secure payment method PayPal means that the seller can ship items immediately upon receiving the payment, sometimes in a matter of minutes. Buying from local sellers filtered to within ten kilometres of the buyer's location offer shoppers a chance to pick up the item and save on shipping or buy it, then wait outside the door for the item to arrive.
Top-rated Sellers on eBay
Consumers who want to have it easy dash to purchase items from the eBay Top-rated sellers for service that is second to none on eBay. Top-rated sellers are those with a reputation for fast delivery, quality products as described in the listing, and excellent customer service skills through the feedback received from buyers to whom they sell, the world over. Many top-rated sellers have large stores on eBay where one can opt to browse items of interest instead of searching broadly on the homepage using keywords.
How to Buy Motorbike Boots on eBay
If you fancy the all-together look, you can buy bundle kits with matching motorbike boots, jacket, helmets, and gloves on eBay. Otherwise, a quick keyword search for 'motorbike boots' can be just as fruitful, with further options to narrow down the results through price, condition, gender, size, and style, or even eBay top-rated sellers. There is no need to be discouraged over items that are far beyond your budget, as careful browsing usually unearths a few surprising bargains. Zoom in on the photos for a closer look at the heels, soles, seams, and fastenings for signs of wear and carefully read through the item description, shipping information, and the seller's payment options. If any information is missing, ask the seller to clarify via the easy message system on eBay. PayPal is the recommended and most secure payment method and the majority of sellers on eBay insist upon it. You can also buy motorbike boots extras like shin plates and toe sliders as part of your purchase and save on shipping costs.
Conclusion
Yes, it is true. The tough, well-crafted leather motorbike boots, with their whispers of steel and self-assured air of coolness, are essential items for all bikers. Riders find excellent pickings in the array of cruisers, racing, sport, touring, urban, and motocross motorbike boots available on eBay.
Buying a proper pair of motorbike boots is not an exercise in futility if the consumer takes a long look at all the important features such as superior construction, sturdy fastenings, durable and waterproof material, and a snug fit, which together offer fantastic value with many years of enjoyment. It is important that owners take good care of their motorbike boots with frequent checks and polishing, fast retreading in case of cracked soles, and replacing fastenings at the first sign of a fray: in fact, their lives depend on it. Shoppers should always buy the best quality motorbike boots their budget allows, and these are easily found on eBay.