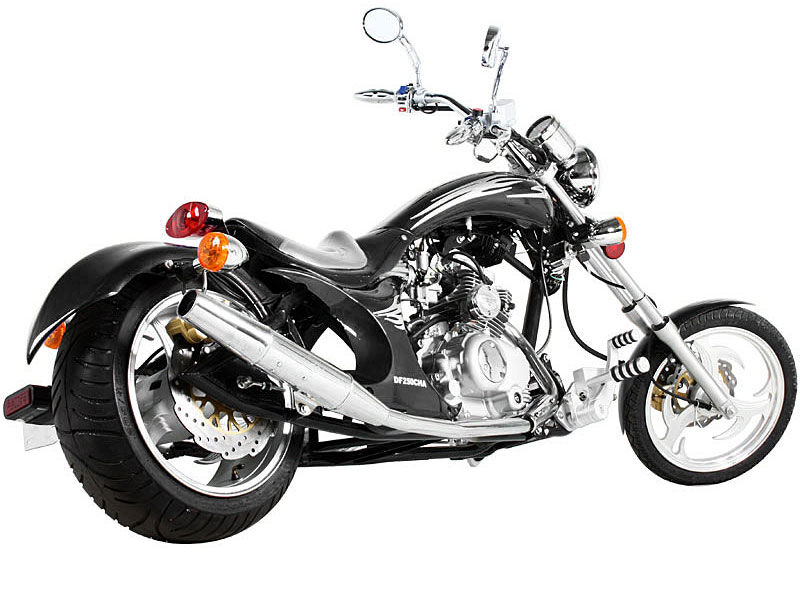 One of the most common upgrades that people make on their motorcycle is installing a new exhaust system. It may not be a change that the average person will notice when looking at the bike, but getting a new exhaust system can drastically change how the motorcycle runs. The exhaust pipes effect horsepower, fuel economy, heat distribution, and sound. Overall, they have a big impact on performance and appearance.
Some exhaust pipes also have the ability to add a custom, stylish look to the motorcycle. The appearance and shape of the bike is easily altered by swapping the old piping out for new, eye-catching exhaust pipes. Some of them come with designs on them or are shaped in a way that draws attention. Another motivation for getting a new exhaust set is to change the sound of the bike. The silencer is what dampens how loud the engine is, and by getting a new one, riders can enjoy the deep rumble of their ride.
The decision to get a new exhaust system on a motorcycle is not a small one, and should not be taken lightly. Since the piping can quite literally change how the bike drives, looks, and sounds, owners need to be sure that they are getting an upgrade that they will be happy with for years to come.
What a Motorcycle Exhaust System Does
Put simply, the exhaust system discards the contaminated air and gases that are produced by the engine's combustion system. In order for the motor to continue running, the gases must be removed before the engine cycles over again. Failure to remove the air fast enough causes the engine to run poorly due to pressure built-up.
Parts of a Motorcycle Exhaust System
A motorcycle exhaust system consists of headers, a collector, a catalytic converter, exhaust piping, and a silencer. The header is responsible for directing the exhaust from the engine and into the collector. Smaller headers restrict the flow of air as well as the engine's performance. When the gas reaches the collector, it is sent through the catalytic converter, which filters the air by turning the carbon monoxide into water vapour and carbon dioxide. After this transformation, the air flows into the silencer, which reduces the engine noise, and out through the tail pipes. Sometimes people try to save money by just replacing the silencer to make their engine sound more aggressive, but this does nothing to improve the performance of the motorcycle.
Why the Motorcycle Exhaust Pipe May Have to be Replaced
There are a number of reasons why an exhaust system may need to be replaced. The most common problem with exhaust systems is rust. Water corrodes metal, and every gallon of petrol that the engine burns creates a gallon of water that travels through the piping system. In addition to this, some of the water vapour gets stuck inside the system and remains there for a while. As the vapour stays there, it eats away at the metal and eventually creates holes no matter how well built the exhaust system is. Since there is no way to stop the rust, chances are that anyone who owns a motorcycle, or even an automobile, will end up having to buy new exhaust parts eventually.
Compatible Motorcycle Exhaust Pipe Systems
The first part of shopping for an exhaust system is figuring what is compatible with the motorcycle's particular make and model. Although this may seem elementary, there are more motorcycle models than people realise. Even a special edition model could require a different exhaust. Use the owner manual to verify the motorcycle information before shopping. It is also important to know whether or not the bike has a 4-stroke or 2-stroke engine because exhaust systems are set up for one or the other.
Next, check and make sure there are no local guidelines that restrict the emission levels or noise levels. In some places, motorcycles have to pass tests to make sure that they are producing clean enough exhaust, and there are also laws regulating how loud the motorcycle can be. Many areas consider noisy engines to be disturbing to the peace and penalties will be given to violators.
How to Choose New Motorcycle Exhaust Pipes
After figuring out the motorcycle specifications, shoppers have to decide which exhaust pipe system to get. There are easy solutions such as getting a simple replacement kit from the manufacturer, or going with something more custom.
Stock Replacement Exhaust Pipes
Stock replacements are always the easiest to find and install. They are exactly the same as the current ones so they bolt right into place with minimal risk. However, getting a stock system also means that there is not going to be an increase in performance or a change in the sound or look of the bike. Replacement pipes also are not considered to be an upgrade when it comes time to sell the motorcycle. Instead, replacing them with stock parts is usually considered to be a matter of maintenance.
Aftermarket Replacement Exhaust Pipe
Buyers who want to upgrade their ride can look into getting aftermarket parts. There is much more flexibility with these because multiple companies make them and there are all kinds of exhaust systems available to consider. Picking a system that looks appealing is easy, but be sure to read the product specifications to find out how loud it is rated and how much horsepower it will add to the bike. Too much can be dangerous and make the motorcycle difficult to drive. Also consider that it may not be as easy to install as a stock system, and the engine may have to be tuned after the new exhaust piping is on.
Types of Motorcycle Exhaust Pipes
Motorcycle enthusiasts do not necessarily have to purchase a whole new exhaust system. There is the option of getting a complete exhaust system, or a slip-on exhaust system.
| Type of Motorcycle Exhaust System | Description |
| --- | --- |
| | Replace the old system entirely with a new one; the new set comes with all the parts; some modifications may have to be made to the motorcycle in order to install the new system; the most expensive option, but since all of the parts are new, it helps guarantee that the whole system will last longer |
| | Much cheaper and easier to install than a full system; consists of new parts that fit onto the stock pipe; can increase performance, but only by limited amounts |
The slip-on exhaust system is limited in the increased amount of power it can deliver because the stock headers are still the same. However, those who have sport bikes may already have good headers, so a slip-on exhaust may be the perfect solution for them. If the pipe itself is rusted, through, then the slip-on system will only work if a new pipe is bought as well.
How to Find Motorcycle Exhaust Pipes on eBay
It is not very common for automobile shops to keep motorcycle exhaust pipes in stock. In most cases, the shop has to order in the parts. This means it often makes more sense for buyers to shop online where they can compare prices, read reviews, and view additional pictures. After deciding on the system to get, buyers can then go to eBay and find the sellers who have the system listed. Private sellers and companies both sell their products on eBay and they have to compete against each other in order to get your business. This means that there is a very good chance that you'll find a better deal on eBay than anywhere else.
To see what's available, type "motorcycle exhaust pipe" in the eBay search bar. If you already know exactly what you want, then enter the product name instead of the general search term. Once you have a list of items to browse through, you can choose to narrow down the options by entering your price range, sorting the listings by price or distance, and selecting whether you want new or used exhaust pipes.
Conclusion
Shopping for a new motorcycle exhaust system or exhaust parts may be necessary due to rust and corrosion, or it could be a fun way of accessorising the motorcycle and making it more customised. Since there are always a lot of the same exact stock motorcycles on the road, owners may find it exciting to personalise their ride by giving it a new look and improving its performance as well as making it sound more impressive. Even if the old pipes are rusted out due to moisture buildup and age, it could be used as an excuse to upgrade to a better exhaust system.
Whether owners want to or not, there is a big chance that they will end up having to replace their exhaust at some point in time, and learning about the options available as well as where to shop for the parts can help them get the project completed quickly and painlessly.