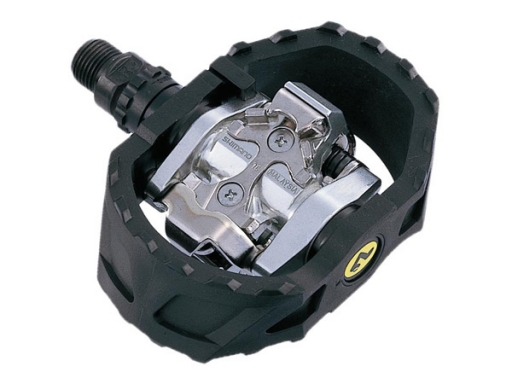 There are a number of different pedals that can be used with mountain bikes, and different forms of off road cycling require different pedals.. Depending on the size and style of the mountain bike, buyers will find one form of pedal more suitable for use with it than others. Different pedals are made to achieve different things, and some are used for speed and power transference whereas others are made to keep the cyclists foot in places regardless of the terrain.
There are plenty of cyclist stores and websites that sell mountain bike pedals, but all buyers are recommended to search for these bicycle parts on eBay. The site has a large selection of new and used pedals at lower prices than those found elsewhere. The following guide shall examine the various mountain bike pedals for sale on the site, and will detail how to obtain an apt pair.
Mountain Bike Pedals
The size, style, weight and function of mountain bike pedals vary greatly. The majority of pedals used on mountain bikes are the standard flat pedals, but others are clipless pedals aimed for use on cross-country cycling.
Types of Mountain Bike Pedal
Mountain bike pedals are available in three main styles. These are flat mountain bike pedals, cage mountain bike pedals and clipless pedals. Buyers should spend some time thinking about which style would suit them best, as the pedals they use will directly affect their performance, speed and comfort. The following are the most common pedals found on mountain bikes today, and the type of cycling they are most suitable with.
| | |
| --- | --- |
| Flat Pedals | As mentioned above, flat pedals are the standard design for the majority of mountain bicycles manufactured today. The benefit of using flat pedals is there is a large surface area to catch the foot, and these pedals do not require a special type of shoe to be worn for them to be used. As these pedals do not require shoes to be clipped into them to be operated, cyclists can quickly jump off their bike if they feel like they are about to have an accident. Flat pedals definitely are the safest to use, but they don't offer the same level of functionality in wet and muddy weather. If the pedals become wet, cyclists will find it is quite easy to slip off them, which in turn presents its own safety risks. However, flat pedals are definitely the most common of the three, and can be bought for very reasonable prices. |
| Clipless Pedals | Clipless pedals are an odd design, and can be very hard to use if the cyclist is not wearing the correct form of footwear. Cycling shoes made for use with clipless pedals slot into the cleats in the pedals, keeping the cyclists foot secure and eliminating the risk of ankle roll. These types of pedals are more common on bicycles made for cross country cycling, and are not recommended for use on very rough terrain or off road cycling. A benefit of using these pedals is they allow for the maximum amount of power transference from the cyclists leg to the pedal, which can help the cyclist maintain their stamina. Clipless pedals also allow cyclists much more technical precision on their bikes, and reduce the weight of the bike. These are ideal for use in wet weather, and as the pedal clips into the shoe cyclists do not have to worry about it sliding off. Clipless pedals are aimed more towards cyclists with a considerable amount of experience, and are often on the more expensive end of the price range. |
| Cage Pedals | Cage pedals are similar in their design to flat pedals, but have a small, ridged area or cage to keep the foot in place. These are more common on less expensive bicycle models, but are not very suitable for use when mountain biking. Buyers are advised to avoid using cages pedals if looking for an off road option. |
Mountain Bike Pedal Materials
Mountain bike pedals can be made from a number of different materials, and choosing one over the other can mean the difference in speed or comfort.
| | |
| --- | --- |
| Steel | One of the oldest materials used in the manufacturing of bicycle parts, steel remains popular among cyclists because of its strength and durability. Mountain bike pedals made from steel will be able to handle a lot of stress and impact without becoming physically damaged. However, one thing that buyers should note is that if steel does become dented or damaged it is very hard to fix. Flat mountain bike pedals are more commonly made of steel than clipless pedals, and buyers will find they are available for very low prices. Buyers should consider the weight of this metal, as using steel pedals will increase the bike's weight. |
| Aluminium | Both flat and clipless pedals can be made from aluminium,, although clipless pedals that use this metal usually are alloyed with another material to improve strength. Aluminium is very light, and rust resistant, but is not particularly strong meaning pedals made from this metal are not very suitable for mountain biking. If the mountain bike is used for commuting and recreational purposes in urban areas then buyers can use aluminium pedals, but if they are using the bike for off road activities it is advised that they avoid buying pedals made from this material. However, if they do choose to purchase aluminium mountain bike pedals they will find they are sold at very low prices. |
| Carbon Fibre | Carbon fibre is one of the newest materials developed for use in bicycle manufacturing. Carbon fibre is extremely strong while remaining lightweight, making it an ideal choice for cross country cycling and off road cycling. Many manufacturers that specialise in carbon fibre parts claim the material has an indefinite lifespan, once it is regularly serviced. Pedals made from this material can be quite expensive, but buyers should view them as an investment. |
| Titanium | One of the most popular materials used in the construction of mountain bicycle parts, titanium is famous for its strength and vibration dampening qualities. Titanium pedals are very durable while remaining relatively light, and flat and clipless pedals made from this metal are popular with off road and cross-country cyclists. The main benefit that comes with using pedals made from titanium is the reduction of shock and vibration felt thought the shoes. Titanium mountain bike pedals range in price but it is possible to buy well-made pedals for reasonable prices. |
Conclusion
Mountain bike pedals are made for use with specific bikes and styles of off road cycling. Buyers need to be aware of the style of the pedal and make sure it is suitable for them. Buyers should also consider the material the pedals are manufactured from, as some are stronger than others but are more expensive. As mountain biking can be a dangerous activity, it's important for buyers to spend an ample amount of money on their equipment so they can minimise safety risks.
Buyers are advised to buy all bicycle parts and components on eBay, as the site has an excellent selection at very affordable prices. Buyers should have patience when searching through the various listings, and should always read the description box on the item page for additional information regarding pedal size and condition.