Scooters are cool, low-cost transportation that is perfect for whizzing around traffic to get drivers where they need to go faster than most cars. Even if the top speed of 50cc scooters is only about 65 kph, scooters save time by dodging traffic jams. The classic two-wheelers are also great for minimising drivers' carbon footprints while commuting to work, running errands, and enjoying weekend adventures.
Scooters vs. Mopeds
Although technically 50cc scooters and 50cc mopeds are different vehicles, most consumers use the terms interchangeably. Technically, a moped has pedals and is a hybrid petrol/person-powered motorbike. Additionally, a scooter has pass-through seating, unlike motorcycles and mopeds, which require riders to straddle the seats. Both are lightweight bikes with high energy efficiency and a high 'cool' factor.
New Vs. Used Scooters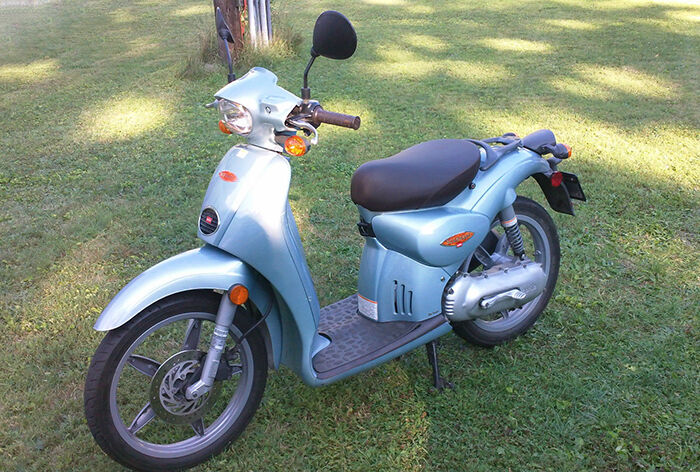 A new scooter usually comes with a lot of guarantees to make drivers comfortable. Newer models also typically include all the latest features, such as disc brakes and even cup holders. New 50cc road legal scooters have automatic transmissions, while many older scooters have manual transmissions, which some riders prefer but others hate. A used scooter costs significantly less in most cases, but parts are sometimes hard to find and more expensive. For used scooters, maintenance records should already exist, although a previous owner's maintenance history is sometimes sketchy. Inexpensive 50cc scooters are available as new or used models.
The Right Size for the Rider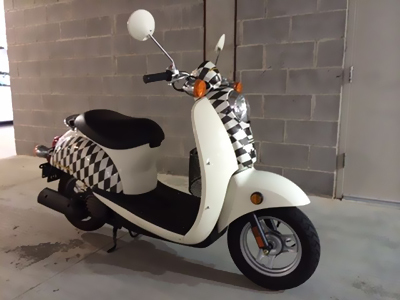 The right size scooter combines the correct seat height and the right weight for the rider to feel comfortable. Selecting a scooter based on size is most important for very small and very large riders. A rider's feet should rest flat against the ground while seated at stops. Small riders usually prefer small scooters with low seats, such as the Vespa 50 and many Yamaha 50cc scooters and Honda 50cc scooters. Very tall riders can also find scooters built to their size, such as scooters by Aprilia. A scooter that is too heavy for its rider to push into a parking spot or off its stand is too heavy. Most 50cc scooters weigh between 80 kg to 120 kg. The final size consideration is storage space. Those who often carry a great deal of cargo require more storage compartments on their scooters.
Other Essentials
A scooter helmet keeps riders safe, and it comes in colours that harmonise with many scooters. Vintage scooter helmets create terrific retro looks that blend perfectly with retro scooters. Scooter jackets come in various colours with retro styling, racing styling, and more. Short jackets are usually sufficient because the scooters protect against street spray. Scooter gloves keep the hands from freezing in cold weather.