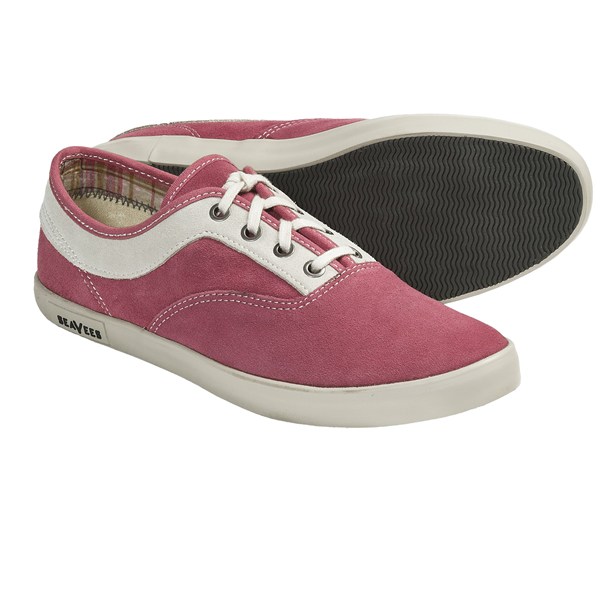 Plimsolls are light canvas shoes with rubber soles. They derive their name from the fact that the white stripe on the rubber sole resembles a Plimsoll line, the mark on a ship that shows how deeply she can be submerged when fully loaded. Plimsolls are the predecessors of modern sports shoes, but today, girls wear them mostly as casual footwear because they do not offer enough support for active sports.
Thanks to their flat design, plimsolls have become essential footwear for girls who need comfortable everyday shoes. Plimsolls are available in many colours and styles, so the right casual shoe can be found for any occasion. Parents can shop for girls' plimsolls in high street shoe shops or online auction sites, such as eBay. eBay has a wide variety of plimsolls available, ranging from cute flower-patterned plimsolls to the classic plimsoll model with shoelaces.
Short History of Plimsolls
Plimsolls originate from the end of the 19th century when people started to go on seaside day trips. Their normal working boots were too uncomfortable for walking by the sea, so the workers opted for lightweight canvas shoes that were known as sand shoes. The soles of the shoes were made of leather, rope, or jute, but those materials wore out quickly. After the New Liverpool Rubber Company introduced rubber soles, a thin rubber band was wrapped around the shoe between the canvas and the sole and this inspired the name "plimsolls" because of its strong resemblance to the Plimsoll line used on ships.
Plimsolls became popular among many Victorian promenaders because the shoes dried quickly and kept feet cool during the summer. Later, plimsolls evolved into other types of shoes, such as tennis and croquet shoes. New sole patterns were introduced to match the surface they were used on, for example, the tennis court. Thousands of plimsolls were also ordered for the army. In the 1950s, plimsolls merged with the sports shoes of the time and became trainers. From then on, the plimsolls have not been worn for sport only, but have been worn regularly by style-conscious girls. In the 1970s and 1980s, the plimsolls gained popularity when they were worn as a part of the school uniform.
Choosing the Perfect Plimsolls for Girls
Plimsolls are designed as comfortable alternatives to other shoes, such as heeled shoes, so finding the perfect fit is essential. A good looking plimsoll that does not fit perfectly is far from comfortable and may lead to rubbing and blisters. Choosing the most comfortable pair of plimsolls depends both on the girl's and her parents' preferences, and the girl's shoe size. Today, there are many types of plimsolls available. Narrowing down the selection starts with picking the favourite style, and then choosing the colour and the right size.
Plimsoll Shoe Styles
The classic plimsoll style is the lace-up. Its shoelaces mean that it resembles a casual brogue. Slip on plimsolls add a girly touch to the classic model, and not having to tie shoelaces makes them easier to wear. The most feminine plimsoll model is probably the bar buckle plimsoll that looks like a canvas version of the low-heeled Mary Jane shoe. There are also more luxurious plimsoll styles that feature ribbons and satin, and are made from non-typical upper materials, such as suede.
Finding the Correct Size for Plimsolls
Plimsolls for girls are manufactured all over the world, so it is necessary to know the sizing guide for the region in which the desired pair was produced so that the correct size can be found. However, before comparing shoe sizes, a girl's feet should measured as sizes can change quickly for children who are still growing and ill-fitting shoes can cause harm to the soft bones in the feet, as well as the ligaments and soft tissues. To find the correct shoe size, measure the length of the girl's feet in inches. The outline of the feet should be drawn on a sheet of white A4 paper and then measured. One foot may be slightly larger than the other, so use the larger measurement. This first table presents children's sizes for girls in the age range of 1 to 5 years old.
| Measurement | UK Size | US Size | EU Size |
| --- | --- | --- | --- |
| 5 | 4.5 | 5.5 | 21 |
| 5.13 | 5 | 6 | 22 |
| 5.25 | 5.5 | 6.5 | 23 |
| 5.5 | 6 | 7 | 24 |
| 5.63 | 6.5 | 7.5 | 25 |
| 5.75 | 7 | 8 | 26 |
| 6 | 7.5 | 8.5 | 27 |
| 6.13 | 8 | 9 | 28 |
| 6.25 | 8.5 | 9.5 | 29 |
| 6.5 | 9 | 10 | 30 |
| 6.63 | 9.5 | 10.5 | 31 |
| 6.75 | 10 | 11 | 32 |
| 7 | 10.5 | 11.5 | 33 |
| 7.13 | 11 | 12 | 34 |
The girl's measurements can be converted to the shoe size using the information presented in the table. This second table shows youth sizes, that is, sizes for girls that are 6 to 10 years old.
| Measurement | UK Size | US Size | EU Size |
| --- | --- | --- | --- |
| 7.25 | 11.5 | 12.5 | 30 |
| 7.5 | 12 | 13 | 31 |
| 7.63 | 12.5 | 13.5 | 31 |
| 7.75 | 13 | 1 | 32 |
| 8 | 14 | 1.5 | 33 |
| 8.13 | 1 | 2 | 33 |
| 8.25 | 1.5 | 2.5 | 34 |
| 8.5 | 2 | 3 | 34 |
| 8.63 | 2.5 | 3.5 | 35 |
| 8.75 | 3 | 4 | 36 |
| 9 | 3.5 | 4.5 | 36 |
| 9.13 | 4 | 5 | 37 |
| 9.25 | 4.5 | 5.5 | 37 |
| 9.5 | 5 | 6 | 38 |
| 9.63 | 5.5 | 6.5 | 38 |
| 9.75 | 6 | 7 | 39 |
Note the difference between the UK and US sizes; they may look similar, but the numbers do not have the same meaning in each region. For example, the UK size 6 is not the same as a US size 6; it is a US size 8. Therefore, it is vital to determine which sizing guide is used in order to find the perfect fit. When buying the plimsolls from a high street shoe shop, there is, of course, the possibility of the girl trying the shoes on.
Outfits to Wear With Girls' Plimsolls
Plimsolls are no longer merely sports shoes, but have taken on different roles. With their rounded toes and flat soles, they are comfortable as well as cute. Therefore, plimsolls are staples of every girl's wardrobe and can be worn with an array of outfits. In general, plimsolls look good with dresses, skirts, and shorts. Plimsolls are also known as comfortable footwear for school because they go well with school uniform, and when school is not too far, they are perfect for walking there. They are also a more casual alternative to brogues. The choice of plimsolls depends partly on personal taste, but with such a wide choice, parents should find something for their daughters.
How to Care for Plimsolls
If the plimsolls are cared for properly, then they should last for a long time and provide comfort until the girl needs a new pair of shoes. Cleaning the plimsolls is rather simple because it only requires a dry cloth that is used to wipe them clean. If the soles of the plimsolls are muddy, they can be cleaned with a shoe brush. Like similar canvas footwear, plimsolls may be machine washable on a low temperature setting. The cleaning and care instructions should be printed inside the plimsolls or otherwise provided, for example, on a leaflet. After washing the plimsolls, stuff them with paper to reshape them and then leave them to air dry.
Buying Plimsolls From eBay
To start browsing for plimsolls on eBay, you can type the 'plimsolls' into the search box on the main page. You will be presented with a list of thousands of shoes, which can be narrowed down by sorting the results by price, brand, colour or size. If you or the child have a more specific idea of what kind of plimsolls you would like to buy, then you can type in a more specific query. For example, you might be interested in a specific style, such as lace-up or slip on, or a pattern, such as floral.
Know the Seller
In order to ensure a successful purchase and delivery, you could research the seller before you bid in the auction. Read the seller's feedback and ratings from previous buyers and ask questions if any arise by using the "Ask a question" link. If you find a local seller, then you might be able to get your plimsolls faster and pay less for delivery, or even pick them up yourself. It is also a good idea to ask the seller about refunds and exchanges in case the plimsolls are not a perfect fit. Once you receive the shoes, the girl should try them on, preferably in the afternoon when her feet are bigger, and try walking around in them.
Conclusion
Comfortable plimsolls are no longer restricted to sport activities, but provide comfort for everyday wear as well. Made of a breathable canvas upper and a soft rubber sole, plimsolls represent well-fitting casual shoe style. They were first used in the 19th century for trips to the seaside and have since been used in many spheres, such as the army and as a part of the school uniform. Parents can either order their daughter classic plimsolls or a fancier pair in pink or with floral patterns, depending where the plimsolls are going to be worn.
Plimsolls are designed to be worn for long hours at a time, and to ensure enduring comfort parents should pay attention to the correct sizing by first measuring the girl's feet and then finding the corresponding size. When purchasing from eBay, the plimsolls can be tried on only after the purchase, so it is wise to get in touch with the seller before buying in order to know about possible exchanges and refunds.