Designed for high speeds on paved surfaces, road bikes usually feature a "drop" curved handlebar that allows riders to hold the handlebar in different positions. Road bike brake levers fit the unique handlebar of this type of bicycle. They come in different sizes and offer different functions. Riders who know the options available can buy brake levers that match their physique, bicycle components, and riding style.
Levers for Different Handles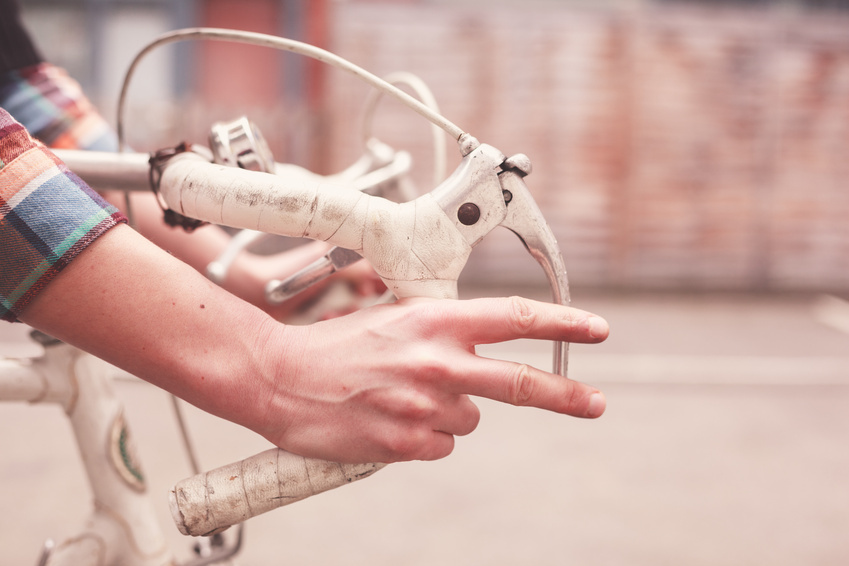 Though curled or drop handlebars are the most common on road bikes, some riders prefer fitting their bicycles with straight handlebars. This combines the efficiency of road bikes a more upright, and more comfortable, seating position. Brake levers for straight bars have different shapes, though they often include the same functionality that drop brake levers offer.
Ergonomics and Adjustments

Many "standard" sized levers fit men's larger hands. Some models include an adjustable reach, allowing riders with smaller hands to bring the lever closer. This may be incorporated with a screw-type adjuster, as in the Shimano ST-2200, or by spacers. Many road bike brake levers are designed so riders can control them from different holding positions. Levers for drop handles have large "hoods." These offer riders another holding position and are useful when getting off the saddle. It is important to match the brake lever with the type of brake used. "Short pull" levers are ideal for brakes that require a small or "short" cable movement, such as bike brake calipers, while "long pull" types work with direct-pull brakes that require more cable travel. Often, road bike levers are short or standard pull types.
Levers with Shifters
Most road bicycle brake levers incorporate gear shifters as well. Riders should match the number of speed options with the existing cassette on the rear wheel. For example, a 9-speed cassette requires a matching shifter. The Campagnolo "Ergopower" control uses a small lever within the brake lever to shift gears in one direction, and a button on the top of the hood for changing in the other direction. Other models, such as Shimano STI levers, use the brake lever itself to control shifting in one direction instead of the hood-mounted button. The shift mechanism may be mechanical (cable-controlled) or electronic (motor controlled). Electronic models like the Shimano Dura-Ace Di2 or Campagnolo Ergopower lever, offer more precise change, but are generally more expensive. Electronic levers must be matched with other electronic components to function correctly.
Groupsets
Bicycle component manufacturers typically offer road bike groupsets: a set that includes brakes, wheel hubs, derailleurs, and brake levers, amongst other components. Examples include Campagnolo Chorus, and SRAM Force groupsets. Although it is possible to replace a component from a different manufacturer or groupset with another one, parts from the same groupset work together perfectly, while also offering a consistent appearance.