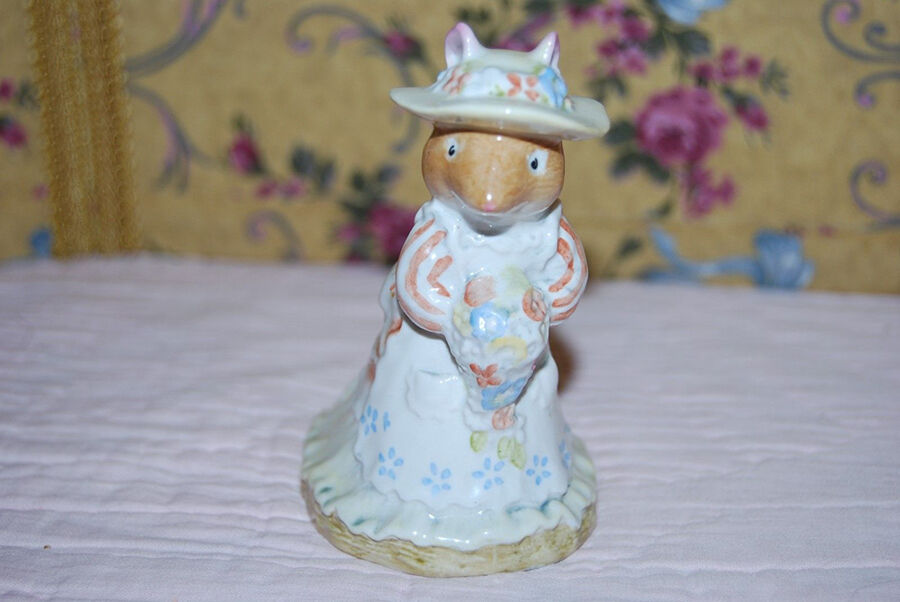 What better way to enjoy the adorable children's book series, Brambly Hedge, than with Royal Doulton Brambly Hedge figurines? Each small figurine stands around 10 cm tall. Collectors can build up an entire set or just purchase their favourite characters. The porcelain Brambly Hedge figurines make great gifts or display pieces. Put them in a baby's room or next to your favourite Royal Doulton Brambly Hedge tea pot.
The Toadflax Family Figurines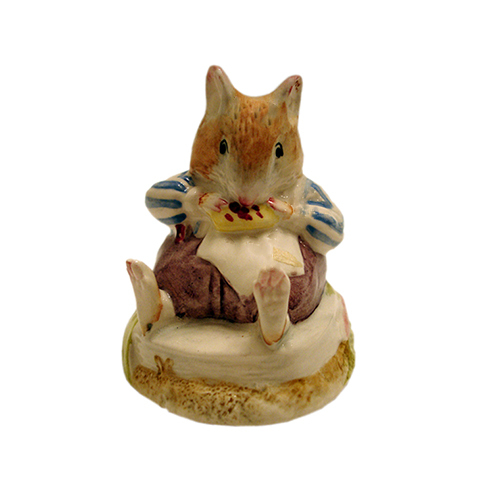 Mr. and Mrs. Toadflax live together in the Hornbeam Tree along with their four rambunctious children: Clover, Catkin, Teasel, and Wilfred who is an avid adventurer. Enjoy a little snack with the Alf Toadflax figurine that features him sitting down in his blue, striped shirt munching on some food that no doubt Mrs Toadflax made. Of course, the Mrs Toadflax figurine features the mouse cooking something tasty in her kitchen apron. Lastly, the Wilfred Royal Doulton figurine captures the spirit of the young explorer in his overalls with his trusty slingshot in hand.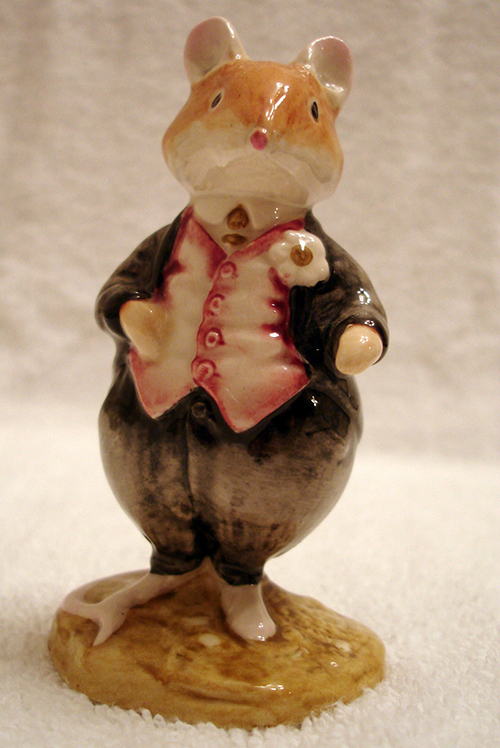 Do not forget about Dusty Dogwood when shopping for Brambly Hedge figurines. This mouse spends much of his time at the Flour Mill. It took some time for Dusty to gain the courage to propose to his love, Poppy Eyebright, but he did and they were married as they floated down the river on a small boat. The Brambly Hedge Dusty Dogwood figurine is a perfect representation of the mouse in his classy suit with a white flower adorning his jacket.
Mr. and Mrs. Apple Figurines
The Apples live next door to the Toadflax family in the Crabapple Cottage. Mrs Apple, or Flo, loves to spend her time cooking, and she grows all sorts of plants around the tree that she turns into jellies, pickles, and other foods. Of course, the Royal Doulton figurine of Mrs. Apple shows her in a pretty purple dress with her latest baked goods in hand. Mr Apple goes by Pip, and he works at the Store Stump. He is a practical mouse who does not like to dress up. His figurine shows him wearing his store apron and red bow with a warm cup of tea.
Lord and Lady Woodmouse Figurines
Lord and Lady Woodmouse live in the Old Oak Palace where they take on the role of leaders in the community. Lady Woodmouse is all about being a proper host to her guests and she loves the company. The Lady Woodmouse figurine has on her best hat, a striped dress, and a basket ready to be filled with things from the store.