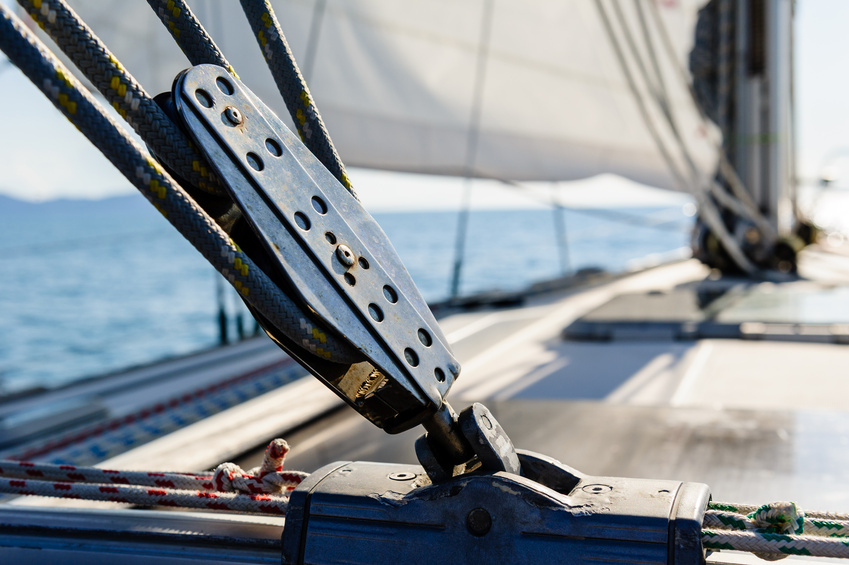 Sailing is a massively popular activity. There is no doubt that for a sailor, there is nothing more liberating than riding the ocean. Mankind has been using boats to move around the water for thousands of years, and as such the design of boats and their many trimmings and accessories has advanced a long way. One important piece of kit for any sailor is the clamp or grip. Clamps and grips are used to hold ropes in place, and to adjust their length.
It is the intention of this guide to cover the various features and characteristics of sailing clamps and grips in great detail, to the end that the reader becomes more informed about the subject, and is able to make their own purchasing choices. This guide will also explain why eBay, the famous bidding website, is such a great place to shop for sailing clamps and grips online.
What are Sailing Clamps and Grips?
This section of the guide will focus on explaining the form and function of sailing clamps and grips.
A sailing clamp is simply a metal device, used to hold a rope in place. This is important for many reasons. Sailing is a complex pastime. In order to get enough power to propel the boat at any reasonable speed, the sail must be quite large, and must be able to be manoeuvred into position (and adjusted) quickly and efficiently. This is no easy task, and is generally only achievable with complex rope and cable mechanisms, employing pulley systems. The ropes and cables need to be able to move when required, and need to be fixed in one spot when they are not needed. Sailing clamps are the simple solution to this complex problem, allowing ropes and cables to be held in place and moved when each is appropriate.
Sailing clamps and grips are small, metallic objects. On one side they appear to have a smooth, unbroken surface, and are a sort of hourglass shape. On the other side, the two hubs of the hourglass shape are hollow, and have a sort of stub in the centre. This shape allows the rope to be run through the hollowed out side of the device, and either fixed in position or fed through.
What to Look for in Sailing Clamps and Grips
This section of the guide will look closely at each of the most important factors to take into consideration when shopping for sailing clamps and grips. There are numerous main considerations. These are listed below, and are titled as follows:
Size
Quantity
Grade
Material
Cost
Condition
Size
The first thing to take into account when shopping for sailing clamps and grips is the size that the grip will need to be in order to be properly effective. The size of the clamp or grip should be directly proportional to the size of the ropes or cables which it is required to clamp in place. These ropes and cables are measured across their diameter. The metric system is used, with millimetres normally being the operative unit of measurement. The most common sizes are 2mm, 3mm, 4mm, 5mm and 6mm clamps. It is very important to measure the size of the ropes and cables before buying the clamps; a clamp is useless unless it fits the rope or cable exactly.
Quantity
It is very important to consider how many clamps and grips will be required, so that the buyer does not end up buying too many or too few. Clamps are normally sold in bulk quantities (due to their small size and low cost). Common quantities can range between (but are by no means limited to) 2 and 20 units in a bundle. Generally, a buyer simply looking to replace a single lost unit would buy a small pack, whereas someone who is getting started, or replacing a whole set of old and worn out grips, would buy a larger bundle. Price is also an issue with quantity; the more items bought, the higher the price.
Material
There is only one material that is universally accepted by the sailing community to be the definitive clamping material. This material is stainless steel. It is the only material that has all the prerequisite capacities; it is easily strong enough to withstand the pressure the cables apply, and is also the only material that will last for any reasonable amount of time against the considerable amount of rust that any metal used over the ocean will inevitably accrue.
Grade
The grading of a sailing clamp or grip is intended to be an indicator of its characteristics and strengths, its quality, and its condition, allowing buyers to have a very clear idea of what they are getting for their money. The grading system refers to the quality of the steel used, and is relatively simple once understood, but impenetrable to those who do not understand it. Below is an explanatory table, which can be used as a reference to understand what a clamp's grade represents in terms of quality and condition.
| | | | | |
| --- | --- | --- | --- | --- |
| Grade | Corrosion Resistance | Strength | Life Span | Maintenance |
| 302 SS | Poor | Best | Fair | Fair |
| 304 SS (UK A2) | Good | Good | Good | Fair |
| 316 SS (UK A4) | Best | Good | Excellent | Excellent |
Cost
As with any transaction, the price of the items in question is a factor that deserves serious consideration. Different consumers will be able to afford different things. A balance should always be struck between the required quality of the product and the shopper's available funds.
It is a good idea for any buyer to set themselves a budget before beginning the purchasing process; determining the maximum amount of money that can be spared for a particular expenditure (in this case sailing clamps and grips) allows a buyer to get the best possible quality product available for that price, as well as providing an incentive to get a better price for higher end items.
Condition
Condition is another factor which it is very important to consider. Buying second hand sailing clamps and grips will, naturally, drive the total cost of those items down, which is a definite advantage. However, the flipside of that advantage is that a used product will have a shorter lifespan. This may lead to another purchase being necessary sooner than if a new product had been bought in the first place. This is a difficult decision which the buyer must make, based on experience and requirement.
How to Buy Sailing Clamps and Grips on eBay
The widely-loved, global auctioning network eBay is a great place to either bid for or buy sailing clamps and grips. It has a truly massive range of products and goods available for purchase. It also features an intuitive, user-friendly interface, allowing for easy access and operation. This section of the guide will cover in detail the process of buying sailing clamps and grips on eBay.
To begin, travel to the eBay homepage. This page contains a list of links to the broadest product categories. From this first level, select the Sports & Leisure link. This link relocates the user to the next level of category links. From this subsequent list, choose the Sporting Goods option. This opens up another list, from which Sailing should be chosen. Finally, since clamps and grips are a very small item and as such does not have their own category, the search bar must be employed. Type in either clamps or grips and click search to get the desired results.
The item listings should now be displayed on the screen. Entries in the item listings consist of a thumbnail image of the product, as well as that product's name, and a small text entry giving key information about that product. The item listings can be customised using "filtering options", which refine the search based on the user's preferences. The filtering options include price, condition, and seller's location amongst others. The "buy it now" option allows products to be bought on the spot, whereas the "auction" option allows users to bid on products, in the hopes of getting a better price.
Clicking on either the thumbnail image or name of an item relocates the user to that item's individual information page. This page contains more extensive details and specifications of the item, as well as further information about the seller. This extra information includes user ratings, feedback and contact details.
Using eBay to shop for sailing clamps and grips is a simple and effective process, owing to the great selection of products and the incredibly helpful and simple website design.
Conclusion
Sailing is a liberating and exhilarating pastime. It has no rival in terms of the sense of openness and wonder that the sea can provide. It is important to have the right kit when sailing, and clamps and grips are an essential part of that kit. This guide set out with the intention of informing the reader about the process of buying sailing clamps and grips. The important points to remember are as follows:
Size
Quantity
Grade
Material
Cost
Condition
This guide concludes that it is highly advisable to use eBay to shop for clamps and grips. This is because of how easy it is to use, as well as its tremendous product range.