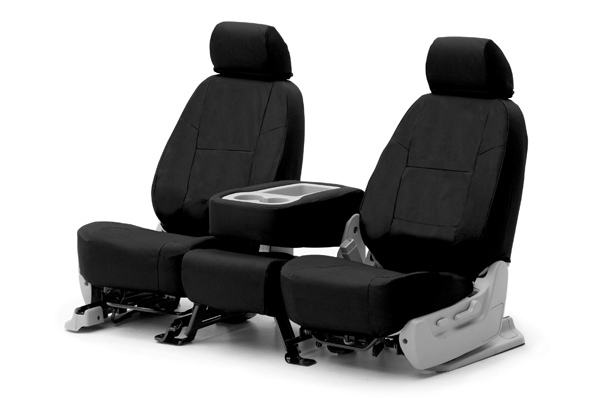 Seat covers help keep car seats looking like new while adding comfort to the seat. Not only do seat covers protect against stains, damage, or fading, most are easy to remove for simple cleaning. People choose to add seat covers to their car for many reasons. Some people choose soft seat covers, such as sheepskin, for added comfort and warmth in the winter. Other people choose easy to wash seat covers to protect the seats from children or pets. Some people purchase seat covers to give an already damaged seat a fresh new look.
Car seat covers are purchased in brick and mortar automotive stores, or online using eBay.. eBay has thousands of options for car seat covers, with different materials and styles to fit every need. Because of the large selection on eBay, purchasing car seat covers is quick and affordable. Before making a purchase, it is important to understand the different types of seat covers, as well as what to look for when buying one.
Types of Car Seat Covers
Different types of seat covers serve different purposes. Some are easy to wash, some are soft and comfortable, while others are used primarily for style. By understanding the different types of car seat covers, buyers are able to better understand which type of seat cover best meets their needs.
Neoprene Seat Covers
Neoprene is one of the most popular materials for making car seat covers because it is waterproof and easy to spot clean. Neoprene is the same material used for scuba suits, so the seats are protected against any amount of water damage. These seat covers are best suited for seats that may face the elements while doing things like off-roading, since they are completely waterproof and easy to wipe clean. The downside to neoprene seat covers is that they are not usually made for comfort, so they are less comfortable than other options.
Ballistic Nylon Seat Covers
Made with the same material as flak jackets for WWII fighter pilots, ballistic nylon seat covers are durable, waterproof, and protect against UV damage. Like neoprene seat covers, ballistic nylon seat covers are easy to wipe clean, and can withstand the elements quite easily. They are also not the most comfortable option for car seat covers, but they do an excellent job protecting the seat from weather, water, spills, or other messes.
Velour Seat Covers
Unlike neoprene or ballistic nylon, velour is made for comfort as opposed to durability. Velour is a plush fabric similar to velvet, made from cotton or polyester. Velour is both soft and warm, adding comfort to the car seats for an affordable price. The downside to velour is that it is not waterproof or stain resistant, but it does do a good job of protecting the seat underneath the cover.
Leather Seat Covers
Leather seat covers are an affordable way to have leather seats in a car without the expensive price tag. Leather seat covers are both comfortable and durable. Since leather seats do not absorb spills, they can be easily wiped clean with a cloth. These type of seat covers are also resistant to UV damage. Leather seat covers are one of the most popular types of seat covers because of their luxury and durability. However, leather may be uncomfortable in hot or cold weather.
Suede Seat Covers
Like leather, suede is also known for comfort and luxury. Suede is a soft, microfibre material that is both durable and long-lasting. Since suede is a fabric seat cover option, it is not waterproof or UV resistant, which is the biggest downside to suede covers. However, suede protectant is available to protect the seats against spills or messes, and increase the lifespan of the seat covers.
Sheepskin Seat Covers
Sheepskin seat covers are the best option for those looking for a combination of comfort and warmth. Sheepskin is an extremely soft, thick material and are known as one of the softest options among car seat covers. The downside to sheepskin seat covers is that they are not waterproof, spill-proof or easy to clean. Many options are dry clean only, so cleaning them may get pricey.
Tweed Seat Covers
Tweed is a fabric option for car seat covers that is both comfortable and durable. Tweed is often bought for the unique style and pattern, but is easier to clean and more resistant to spills than most other fabric options. The downside to tweed is that it is not waterproof or UV resistant, therefore it may not last as long as other options.
What to Look for When Purchasing Seat Covers
Aside from the type of seat cover, there are other things to look for when purchasing car seat covers. Since there are many different models of cars, it is important to choose a seat cover that fits with the specific make and model of the car. It is also important to consider the quality of the seat covers to ensure that they last as long as possible.
Consider the Seat Cover Fit
There are two main types of seat cover fits: custom and universal. Custom seat covers are designed for specific makes and models of cars, and tend to be a bit pricey. Universal seat covers are made to fit any type of car seat. Despite the type of seat cover, it is also important to check that the seat cover is compatible with the seat.
Buyers should consider the type of headrests as well. This is important to keep in mind if the seat belt is attached to the frame or the seat, or if the seat contains air bags or electrical controls. Covering air bags with a seat cover may be a safety hazard, so it is important for the buyer to ensure that the seat cover is compatible with his or her car.
Custom Seat Cover
Custom seat covers fit seamlessly over the seats they were made for. Custom car seats protect the investment of a car by protecting the interior without looking like bulky seat covers. Some makes and models have slightly different car seats, such as deeper bucket seats or different headrests, therefore it is important to measure the seat before purchasing a custom seat cover.
Universal Seat Cover
Universal seat covers are seat covers made to fit most makes and models of cars. They are much more affordable than custom seat covers, but they do not fit over the seat as tightly. Universal seat covers are designed to cover the whole front, back, top and bottom of the seat. Although they are not a custom fit, they still protect the seat, and are easy to get on and off for changing or cleaning.
Consider the Price
When it comes to seat covers, inexpensive covers are oftentimes lower quality than expensive covers. Mass-produced seat covers are inexpensive, but are not built to last, and have to be replaced much sooner than more expensive options. Investing in a higher quality seat cover ensures that the cover both protects the seat, and has a long lifespan. With the help of eBay, buyers are able to purchase higher quality seat covers that are oftentimes found at lower than retail price.
Conclusion
Cars with a damaged interior are worth much less than those with interiors in mint condition, therefore keeping the interior in good shape is beneficial in the long run. Car seat covers serve a number of purposes for car seats. They protect the car's original interior from fading, damage, and stains, while preserving the value of the car. Some types are made to protect the car from water, weather, or harsh conditions, while others are used more for adding comfort to uncomfortable seats.
Seat covers are also used to cover damaged or stained seats in order to give the car's interior a fresh look. Before purchasing a seat cover, it is important to consider the need for the seats as well as the fit and price. Purchasing quality seat covers is recommended to protect the investment of an expensive vehicle. With the large selection of seat covers on eBay, it is easy to find a seat cover for any need or style.