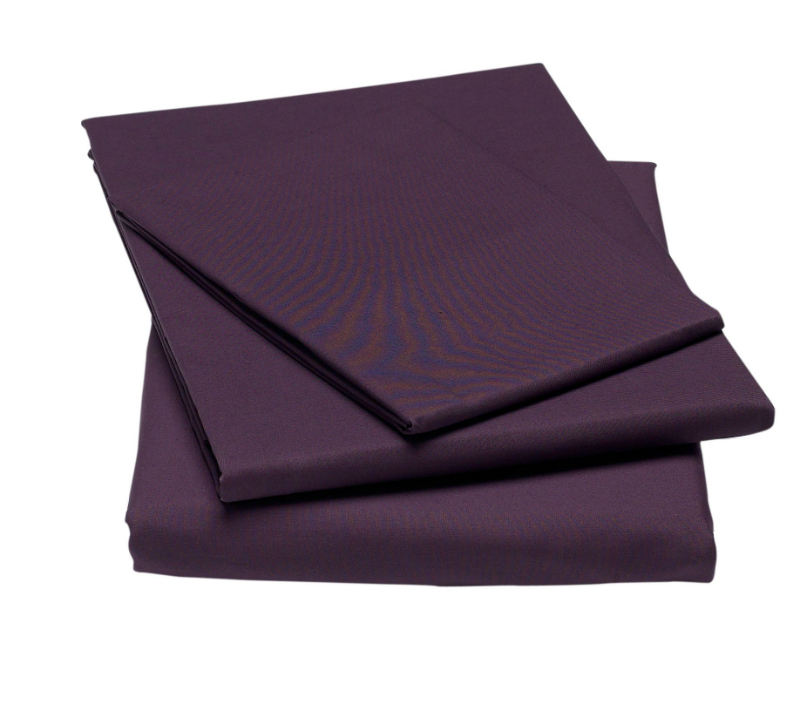 Buying high quality bed sheets, along with a good, sturdy mattress, helps everyone get a better night's sleep. The good news about buying single sheets,, to fit either a small single or a single bed, is that they are typically cheaper than their larger counterparts. However, many people tend to become indecisive when choosing bed sheets, simply because of all the many options available. Sheets come in different fabrics, weaves, and thread counts. Additionally, there are other options such as fabric finishes and dyed colours, that confuse even the most steadfast shopper. Thankfully, buying single sheets is not nearly as difficult as it seems to be at first.
Customers who want long lasting, luxurious bed sheets need to select a product made from high quality fibres in a strong weave with a medium sized thread count. Then he or she can determine the desired colours or finishes. Bed sheets are commonly sold in department stores, bedding shops, and more commonly on websites like eBay..
Sizing Single Sheets
Single sheets are made to fit either a small single, or a single mattress. There are actually two types of sheets that are used on the bed. The first is the fitted sheet,, which has a band of elastic around its corners that enables it to fold down over the mattress. Fitted sheets must stretch flat across the entire length of the bed, so purchasing the correct size is important. Keep in mind that the standard single size for fitted sheets is 90 cm x 190 cm, while the small single is slightly smaller at 75 cm x 190 cm. If the customer owns a thick mattress with extra cushioning, then he or she may need to purchase deep fitted sheets. These sheets are a little longer around the edges so that they can fold down over the mattress.
Flat Sheets and Sets
The second type of bed sheet is the flat sheet.. It rests on top of the fitted sheet and it used as a blanket during the night. Because the buyer is completely enveloped in between the fitted sheet underneath and the flat sheet above, it quickly becomes apparent why selecting high quality sheets is so valuable. No one wants to sleep on uncomfortable, scratchy sheets that can potentially irritate the skin. Typically, both the fitted and the flat sheet are sold in a set, along with a few pillowcases. It is often better to buy bed sheets in a set so that the different bedding pieces match. Purchasing in a set also ensures that both of the sheets are made the same way.
Bed Sheet Fibres
The fibres of the sheet affect its feel and its durability. In many shops it is common to find cotton polyester blended sheets. The polyester blend helps the fabric stay wrinkle-free, while making it a slightly more durable option than pure cotton. While these sheets are cheaper than 100 percent pure cotton, they also lack the exquisite feel of cotton against the skin. For this reason, many homeowners choose pure cotton sheets.. Cotton wicks away moisture so sleepers don't wake up feeling clammy, and is less likely to stain than other fabrics. Sometimes it is difficult to find all cotton sheets in a store, but eBay always has a wide selection. The best cotton sheets for softness are the long-staple, or long-fibre sheets. Look for labels with the words Egyptian long-staple, Pima, or Supima for sheets woven from long-fibres.
Silk
Silk sheets are another option when it comes to bedding. Silk has a sleek, sheer texture that some buyers prefer over all other fabrics, and the very mention of silken sheets brings to mind living in the lap of luxury. However, there are some issues with silk that buyers need to know. Silk does not wick away moisture like cotton, and it also stains extremely easily. Furthermore, while cotton can be machine-washed, silk fabrics usually need hand washing and air drying. This factor can make cleaning them a hassle, though it is certainly easier to clean single bed sheets than king bed sheets.
Bed Sheet Weave
The weave of the sheets, or how the fabrics are strung together on the loom, affects their feel and durability. Basic, plain weaves that use an equal number of horizontal and vertical threads are highly durable. Oftentimes, plain weaves warrant no mention on the labelling with one exception. The Percale weave is an upscale plain weave made from a thread count greater than 180, and is known for its crisp and light feel. Percale cotton sheets are a great choice for affordable, yet comfortable bedding.
Sateen
The sateen weave uses more vertical threads than horizontal ones. This gives the weave a sleek feel that is somewhat similar to silk, and many buyers who like silk but dislike all the additional care requirements, choose a cotton similar to sateen weave. However, sateen is not as durable as the plain weave since the extra vertical threads make it easier to tear the fabric. Only wash sateen sheets in a washing machine that does not use an agitator and dry them on low, or delicate settings.
Jacquards and Damasks
High end weaves like jacquards and damasks, are simply wonderful to touch. These intricate weaves produce highly textured patterns which can almost make them feel as soft as satin. There are also slightly coarse jacquard weaves for those who like sleeping on sheets with a nubby texture. Both of these weaves are just as durable as the plain weave since they use the same amount of vertical and horizontal threads. However, expect to pay more for sheets with a jacquard or damask weave.
Thread Count
Many buyers assume that the higher the thread count, the better the sheets. This is simply not true since the fibres and the weave affect sheet quality more than thread count. However, this has not stopped manufacturers from creating sheets with incredibly high thread counts over 1000. What the thread count does is measure the number of threads used in a square inch. While this means the threads will feel thicker and softer in the medium to medium-high range between 300 to 600, it does not mean that sheets with a 1500 thread count are the best. In fact, to get these extraordinarily high numbers manufacturers use very thin threads that can easily break or fray. Therefore, when buying for comfort and durability, choose a reasonable thread count in the middle range.
Finishes
Sheets that are sold in stores are often treated with a chemical finish using chlorine, silicon and formaldehyde. These chemical finishes help keep the sheets from wrinkling, shrinking, or losing their shape. However, some people may have adverse reactions to these chemicals, while others would simply prefer not to sleep on sheets treated with chemicals altogether. There are two options for finish-free sheets. Pure-finish sheets mean that no chemicals were used during manufacturing. Organic sheets are also left untreated with the further benefit that even the cotton was grown without using pesticides. It may be difficult to find pure-finish or organic sheets in stores, but they are often sold on eBay.
Dyes
The colour of the sheets is like the icing on the cake. For the most part, the colour is superfluous to other considerations such as fabric and weave, but it is also the part people notice most. Most sheets are coloured after they are woven together, and this can lead to initial stiffness in the fabric. After a few washes, the stiffness from the leftover dye goes away, leaving the sheets soft. High end sheets that use an intricate weave, may lack stiffness because they are woven from coloured threads on the loom.
Buying Single Sheets on eBay
When it comes time to purchase new bedding, there is no reason to head to the local department or bedding store. Most of these facilities have a limited selection of sheets, usually catering to the lower end of sheet quality. For customers who want affordable sheets that are high quality, there is no better place to shop than eBay.. Buyers can find bargains from all around the world, including amazing deals on single sheets. Even shoppers on a budget can purchase a long-staple cotton damask sheet set on eBay without having to pay high retail prices.
Finding Single Sheets on eBay
eBay has a wide selection of sheets and potential buyers can easily become lost if they do not know how to use the search engine. eBay's search engine reads whatever terms the user enters into its search box, and then crawls through all available auctions looking for matches. Therefore, the more specific the search terms, the narrower the results will be. For example, if a buyer wants percale sheets from 100 percent pure cotton in a single size, then they should search for "single pure cotton percale sheets&". If the buyer wants to get slightly pickier and only search for organic percale sheets, then search for "organic cotton percale sheets". Buyers can adjust their search based on the fibres, the weave, and even the thread count to find the perfect set that is right for them.
Conclusion
Buying single sheets for a bed is not difficult once a buyer understands what factors set the quality sheets apart from the poorly-made ones. First and foremost, buyers need to always make sure they are getting single sheets to match their single bed. Then, they need to choose a high quality fibre such as long-staple cotton for soft, comfortable sheets. The weave of the fibres also affects the feel, as well as the durability, of bed sheets. Thread count should also be a concern, with the best quality sheets coming in the medium to medium-high thread count range. Those who dislike the chemical finishes used on some sheets can choose from pure finish or organic sheets. Finally, once all other options are dealt with, customers can pick the colour they want for their sheets. eBay has the greatest selection at the best prices, allowing everyone to buy the best bed sheets they can find.