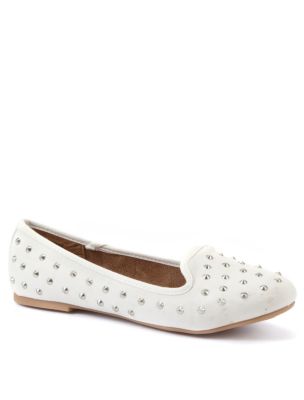 Slippers, also known as house shoes, are comfortable shoes that are designed for inside use only. They have cushioned soles and a soft interior to keep the feet warm and padded while walking around at home. Compared to regular footwear, slippers are lightweight and have a thin, soft sole that would not protect the feet if worn outdoors. They come in all shapes and sizes are the epitome of household rest and relaxation. Nothing compares to coming home after a long day and donning a pair of slippers, pyjamas, and a soft robe to walk around in. Only a nice cup of hot tea could make it any better.
Their popularity is the reason why slippers are one of the most common gifts that people give on birthdays and holidays. Since everyone thinks the shoes are comfortable, they make a safe and satisfactory present to give and receive. The slipper shoes can also be given every year because padding in the shoes will wear down after being worn for awhile. The following sections will give shoppers the guidance they need to pick out which slipper shoes to purchase and then show shoppers where they can buy them almost instantly.
The Culture of Slipper Shoes
Slippers are worn around the world but different cultures view them in different ways. In America, people wear them on and off indoors but since most people do not take off their shoes at home, the slippers are mostly worn in the morning. It has also become popular for teens to wear their slippers when making a quick run to the shop. In the UK, some schools require that their students remove their shoes and put on slippers before going inside. This is to maintain and protect the flooring. People in Japan on the other hand all remove their shoes before entering someone's house so slippers are used more often.
Sizing Slipper Shoes
Slipper shoes can be sized in two different ways. Some companies use actual shoe sizes to categorise their slippers while others use the generic small, medium, large system. The generic slippers can be more tricky to purchase because most people do not know how big they actually are. Use the chart below to determine slipper sizes.
| Generic Shoe Size | UK Shoe Size | Foot Length (cm) | Foot Length (in) |
| --- | --- | --- | --- |
| Small | 3.5 | 21.8 | 8.62 |
| Small | 4 | 22.2 | 8.75 |
| Small | 4.5 | 22.8 | 9 |
| Small | 5 | 23.1 | 9.12 |
| Medium | 5.5 | 23.4 | 9.25 |
| Medium | 6 | 24.1 | 9.5 |
| Medium | 6.5 | 24.4 | 9.63 |
| Medium | 7 | 24.7 | 9.75 |
| Large | 7.5 | 25.4 | 10 |
| Large | 8 | 25.7 | 10.12 |
| Large | 8.5 | 26 | 10.25 |
| Large | 9 | 26.6 | 10.5 |
The easiest and least complicated way to measure a foot is to stand on a piece of blank paper and closely outline each foot onto the paper. Then step off the paper and measure the outline from the back of the heel to the furthest toe out. It is also a good idea to read the product description before purchasing anything and see if the manufacturer has their own specific sizing chart.
Types of Slipper Shoes
It might surprise a lot of people to discover that there are many types of slippers to choose from including ones with health benefits. In addition, they can be made in various ways with fleece, wool, terry cloth and other materials. It all boils down to comfort and the preference of the buyer. The following are the main types of slippers.
| Type of Slipper Shoes | Description |
| --- | --- |
| | Closed back slippers are completely enclosed with a heel and covered toes. These are among the warmest slippers but can cause perspiration |
| | These slipper shoes are specifically designed to assist with the poor foot circulation common to diabetics. The slippers are adjustable to allow for swelling, seamless to avoid blisters, and they have extra support |
| | Moccasins have a soft leather exterior and a wool interior. Their soles are tougher than most other slippers so they can be worn outside with less risk of injury |
| | Mules slip on and have open toes and no heel guard |
| | Novelty slipper shoes are popular among kids. The slippers are designed to look like novelty characters or items such as a bunny or flower. These are generally very big and can be a tripping hazard |
| | Therapeutic slippers have extra cushion to absorb shock, they are moisture wicking, lightweight, and seamless |
| | Orthopedic slippers come with built-in arch and foot support to reduce foot pain and discomfort |
| | These resemble normal flip flops but are padded and made with soft fabrics |
| | Slip on slippers are also called clogs and are characterised by closed toes and no heel guards |
| | Slipper boots have become popular among teens. They resemble sheepskin boots and usually reach the midcalf. Some of them are made for outdoor use |
| | It is debatable as to whether or not these can be considered a type of slipper shoes. These are extra thick socks with rubber grips on the bottom for traction |
Keep in mind that the more closed in slippers are, the hotter they will get and the more the feet will sweat. The shoes that can be slipped on and off quickly for cooling are generally the most convenient.
Slipper Shoe Materials
The last step is to see what materials the slipper shoes are made with. They vary in levels of warmth so consider each one based on the climate.
Cotton
Cotton is lightweight and breathable. It isn't very durable so it won't hold up long, but it keeps the feet mildly warm without overheating them. It is also moisture absorbent.
Fur
Fur is the warmest material as well as the most comfortable. The fur feels very silky and it reflects body heat rather than absorbing it. The fur also allows air to circulate which prevents excessive sweating.
Wool
Wool is very warm because it acts as a good insulator. However, pure wool tends to be slightly scratchy which can cause irritation over time. It is also not as moisture absorbent.
Terry Cloth
Terry cloth is lightweight and softer than cotton. It breathes well and keeps the feet minimally warm. Like cotton, though, it is not very durable.
Synthetic
The majority of slipper shoes are made with a combination of synthetic materials. These will be less expensive than the furs and wools but how they hold up will depend on how they are made. Generally the lower priced slippers will be comfortable but have a short lifespan.
Finding Slipper Shoes
Slipper shoes are semi-seasonal, meaning that a small selection will be at the shops all year round and they will be available in more varieties once the winter comes. Typically the ones stocked during the year are moccasins and slip-ons because they are the most popular. Slippers are not hard to find online, though. Websites such as eBay have thousands of varieties that people can browse through to find exactly what they want.
How to Buy Slipper Shoes on eBay
Take advantage of eBay's convenient shopping system by taking a look at their thousands of slipper shoes of all kinds. Using eBay eliminates the hassle of driving around town looking for what you need. All you have to do is type the keyword of what you are looking for into the search bar located on every eBay page. After you enter the word, click the Search button and the site will show you all the products that match what you want. For example, if you type "Slipper Shoes", thousands of slippers will be shown that you can browse though.
Since it would take a lifetime to actually look at every single listings, eBay makes it possible to narrow down your search. You can shop by your shoe size, the style of the slippers, their condition, the brand, the colour, the material, how they fasten, and your price range. After you have customised your search, be sure to sort the listings based on price so that you can look through the best deals first. You can also save all these listings by clicking on Save Search. This will allow you to return to your My eBay page later and resume shopping.
If shopping for a gift, see what the estimated delivery date on the slippers is. This will help you make sure that they arrive in time for the birthday or holiday. Also be sure to check the what the postage charge is when comparing the prices of different products. Some sellers offer free postage and others do not.
Conclusion
Slipper shoes can provide the hours of comfort and relaxation that people need at the beginning and end of their day. The shoes offer warmth, support, and padding that help prevent the feet from becoming fatigued. Combining all of their benefits with fact that they also protect the floors makes them a must have item for every person. When looking for new slipper shoes, there are several considerations buyers should keep in mind; get the correct size, look at all the types and get the ones that look the most cosy, figure out which materials will provide the maximum amount of comfort for the climate, and do not waste time travelling from shop to shop when online sources like eBay are much quicker.