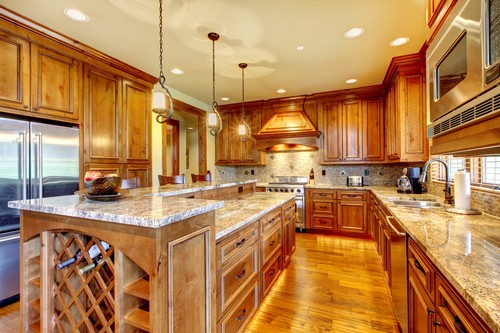 Solid wood cabinets are made from real wood. Solid wood cabinets are not manufactured from chipboard. A variety of types of wood are used in the crafting of solid wood kitchen cabinets, including maple, alder, and fir, as well as spruce, pine, and oak. Most of the time the term 'solid' wood is used to differentiate between ordinary solid wood and artificially engineered wood products like particle board, oriented strand board, and fibreboard.
When looking for new, solid wood cabinets it is important to consider the advantages as well as the disadvantages of using solid wood. One can do this by comparing the types of wood, the grain, and the colours of wood used to make stock, semi-custom, or bespoke cabinetry. One can look for solid wood cabinets for sale in traditional cabinetry shops, or one can shop online. For instance, eBay has literally thousands of listings for solid wood kitchen cabinets to browse through.
Chipboard vs. Solid Wood Kitchen Cabinets
Solid wood cabinets are considered to be much more attractive than fibreboard or particle board cabinets. This is in part because solid wood surfaces look so much nicer than vinyl or formica overlays. Nothing can quite compare with the mellow, aged look of high quality oiled wood. Solid wood will not fall apart when it gets wet, like pressed wood boards do. The biggest difference between solid wood and compressed wood boards is that solid wood costs much more.
'All wood' cabinets are not the same thing as solid wood cabinets because they are not made from boards of solid wood but from compressed chipboard or plywood. 'All-wood' cabinets are made with a solid wood frame but have a plywood cabinet box. Most kitchen cabinets are made in this manner.
Also known as particle board, chipboard is a man-made wood product that is manufactured from wood chips, sawmill shavings or sawdust mixed with resin, or another type of binder. It is then pressed and extruded to create an extremely durable and strong type of fibreboard called a composite board. Chipboard and plywood are cheaper than solid wood and weigh much less.
How to Tell If Cabinets are Solid Wood
The first thing to remember is that other forms of wood such as chipboard are made from real wood. The difference is that these types of wood are made from the chopped up pieces of wood shavings. Making boards in this manner is way of recycling what is essentially the waste product of cutting up solid wood. This type of board is still considered real wood. To determine if a cabinet is made from solid wood, there are a few steps the shopper should follow.
Step 1
Take off the hinges and inspect the screw holes in the wood. If the holes are full of particles of wood shavings the wood is chipboard and not solid wood.
Step 2
Inspect the inside as well as the outside of the cabinet door to see if the grain patterns match on both sides. If they match, the wood is solid wood, not chipboard.
Step 3
If there are repeating grain patterns on the doors or sides of the cabinets, it is not solid wood.
Step 4
Look for any labels that may be located on the cabinet that identifies the cabinetry as a solid or particle board product.
Types of Solid Wood
Hardwoods are commonly used in cabinetry. The most common types of solid wood used to manufacture solid wood kitchen cabinets include red and white oak, maple, hickory, cherry wood, birch, ash and pine. Pine is a soft wood but it is more affordable than most of the other types of wood listed below.
Red Oak
This is a very strong and durable wood that is not as expensive as some of the others. Red oak wood is perfect for stock cabinets, semi-custom cabinets, as well as custom-made cabinets.
White Oak
White oak is stronger than red oak, and just as durable. This wood has a golden sheen to it and is only used for bespoke cabinets.
Hard Maple
This is an attractive light coloured wood that has a fine grain. Hard maple is a bit more expensive than oak, but this wood is not as dense. This wood is a good choice for semi-custom and custom cabinets.
Hickory
Although hickory is a lighter shade than oak, the grain is fairly similar. Hickory has a very pale yellow colour to it and can be stained, but generally looks better with a clear finish to show off the wood. Hickory is best for rustic-look cabinets.
Cherry
Cherry wood is very hard and a good choice for cabinets that need to hold up under hardwear. The wood has a reddish-brown colour that generally darkens as the wood ages. This type of wood is good for semi-custom to bespoke cabinets.
Birch
A good, durable wood, Birch is a bit darker than maple and when stained can mimic the colours of cherry or maple. This wood is a good choice for both stock and semi-bespoke cabinets.
Ash
Ash is very similar in many aspects to oak, but is lighter in colour. Because it has limited availability it can be a bit more expensive and is usually used for custom-made cabinets.
Pine
Pine is a very soft wood, and is the only soft wood used to make cabinets because of its tendency to dent more easily than hardwoods. This wood is generally used in stock and semi-custom cabinets.
Cabinet Features to Consider
When choosing for solid wood cabinets, the shopper needs to look at the way the cabinets have been put together. They need to check the dovetailing, and how the drawers are constructed to be sure that the quality is as advertised. The shopper also need to consider the wood grain and how the cabinets have been finished. The grain is very important. For stock and semi-custom cabinets, veneers will provide better grain-matching than solid wood. Colour is the next factor to consider, because one can always stain the wood if one wants to change the colour of cabinets.
Wood Grain
The wood grain is a feature that the shopper should assess when looking for solid wood cabinets. Grain refers to the patterns made by the alternation of light and dark woods. A good quality piece of cabinetry will have good grain alignment and, unlike composite woods, the grain matches on front and back.
Cabinet Finishes
The type of finish that a cabinet has is extremely important. How well a cabinet's finish holds up depends upon the type of finishing material that was used. Finishes for solid wood kitchen cabinets range from wax and shellac to oils and polyurethane. Some of the finishes provide high gloss coatings, while others are more subtle, creating a nice sheen on the wood surfaces that is not glossy or too shiny. A shopper should research the types of finishing compounds, how they affect the appearance of different types of wood, how much protection they offer the wood, and how long the cabinet finish will last. A shopper may also want to consider applying their own finish to their cabinets. They should look into how safe they are to use, and how much work is involved in applying particular finishes to solid wood cabinets.
How to Buy Solid Wood Kitchen Cabinets on eBay
To begin searching for solid wood kitchen cabinets, start on the eBay home page. Enter specific keywords into the search bar on the eBay's home page. For example if you enter "solid oak kitchen cabinets" you will be rewarded with potentially hundreds of listings that match that description. The more specific your search query, the more targeted your search will be. On the results page, you can specify the room (in this case, the kitchen) and then filter the search results based on brand, colour, and style.
Make sure to check the listing carefully for dimensions and whether the cabinets are new or used. If you need any questions answered, you can go to the seller's member profile page and contact them through the contact link in their profile. While you are in the seller's profile, take note of the seller's feedback score to see how other buyers have rated the seller's ability to follow through on a sale.
Conclusion
When a kitchen is is in need of a complete facelift, think about buying solid wood kitchen cabinets to accomplish that goal. But before buying anything, be sure to research everything about wood cabinets first so that it fits in with other furniture in your home. The shopper should research the sizes, shapes and colours of the cabinets available and investigate the type of woods used to manufacture the kitchen cabinets, as well as the finishes that have been applied to the cabinets.
The shopper should match the cabinets to existing decor in the kitchen and ensure that the choice of solid wood kitchen cabinets ties in with the rest of the home's interior decor. For example, the mellow oiled finish of cherry wood, as well as the deep brownish-red hue of the cabinets will match perfectly with a kitchen that has a more traditional look and feel. If a kitchen has a country motif, a shopper should choose whitewashed pine kitchen cabinets with a 'distressed' look to create the much sought-after shabby chic look. No matter the look a shopper is going for in their kitchen, eBay has a huge selection of solid wood kitchen cabinets to choose from.