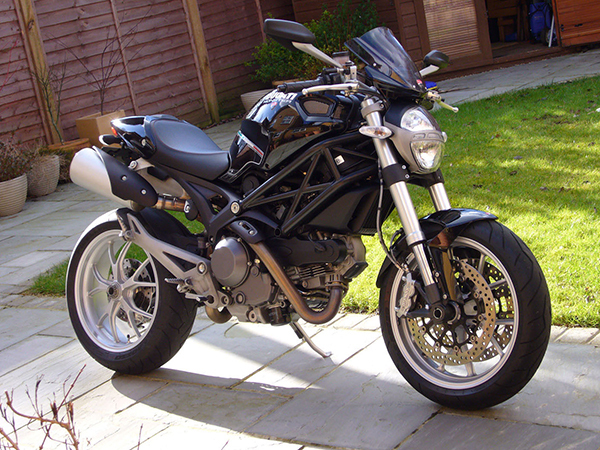 Any motorbike owner can benefit from keeping a store of spare parts on hand, and Ducati owners are no exception. Whether they ride a Monster, a 1098, or even a Diavel, it always helps any owner to have at least a few basic parts on hand, just in case. With their balance of light weight and high performance, these Ducati motorbikes often ride at the edge of performance, and no moving parts last forever. It really does not matter how carefully a person rides, motorcycle parts wear out with use, even gentle use, and that means at least some parts need replacing over the life of the motorbike. Some parts, such as brakes, are designed to be replaced at regular intervals, while others are only replaced as a result of accidents or other damage. Still, whether a rider is looking for parts for future preventative maintenance, or for an immediate repair, buying spare parts is quick and easy for anyone willing to put in a little time and effort.
History of Ducati
One of the most interesting tidbits about Ducati is that while the company was founded back in the 1920s, it was not founded as a motorbike company. In fact, the prewar incarnation of the company had nothing to do with bicycles, motors, or even transportation: they made radio equipment. It was only after the original factory was destroyed in 1944, that they made the shift towards becoming the motor company they are today. With the assistance of the Italian government, they introduced their first vehicle, a motorised bicycle, in 1946, twenty years after the company was founded. By 1950, they were making real motorcycles, albeit small ones, and as the decade progressed they began to move into the high performance arena under the design leadership of Fabio Taglioni. It was Taglioni's move into high performance that put Ducati on the road that eventually led to the Monster, the 1098, and most recently, the Diavel.
The Ducati Monster
Introduced in 1992, the Ducati Monster turned heads with its classic sportster design. Unlike most modern Ducati bikes, it eschews a fairing and the cafe racer look for something more like a traditional American bike. With its wide handlebars and open frame, it is almost unique among Ducatis, but there is no denying its popularity.
The Ducati 1098
For many, the first thought that comes to mind when hearing the name Ducati is the image of a superbike, and no Ducati exemplifies the superbike in the same way as the 1098. Combining power, speed, and Italian style, this is the classic Italian superbike. Its performance is such, that in 2008 the 1098R model became the first motorbike to use traction control.
The Ducati Diavel
Introduced in 2010, the Diavel is Ducati's first power cruiser since the ill-fated Indiana. Combining near-superbike performance with an easier ride and more comfortable handling, it is the perfect bike for any rider who wants the power and style of Ducati without the intensity of a superbike.
Buying Spare Parts for Ducati Motorbikes
The key to buying spare parts for any Ducati motorbike is knowing which parts the motorbike in question needs. Not all motorbikes use the same parts, even if they have the same engine and come from the same manufacturer, such as Ducati. The first step for any owner is to obtain a proper factory manual for the specific motorbike they own; ideally one that not only shows what parts it uses, but also lists the part numbers. Knowledge of these part numbers is key to finding exactly the right spare parts for any Ducati motorbike.
Buyers should also remember that there are several options available to them when it comes to buying spare parts. They can buy Ducati factory parts, third-party aftermarket parts, and even used parts of either description. Each choice brings its own set of benefits and limitations.
Original Ducati Parts
For most buyers, the easiest option is to get their parts direct from the source: Ducati. Original Ducati parts are designed to work with the motorbike and are often the easiest to install. The only drawbacks are that some factory original parts may no longer be available, particularly for older Ducati Monsters, and some of those that are, may either require special ordering or come at a price premium. Still, if the parts are available and fit within the buyer's budget they make an excellent choice.
Aftermarket Ducati Parts
Any successful motorbike creates a third-party industry for aftermarket parts, and Ducati is no exception. Aftermarket parts fill a number of roles for motorbike owners: in some cases they keep compatible parts in production long after the factory has retooled for new models, in others they provide a budget alternative to factory parts. Some aftermarket parts are designed for appearance, to help customise the look of a Ducati motorbike, while others are designed for performance, to let the owner wring that last ounce of power from their ride.
Used Ducati Parts
The third option is to look for used Ducati parts . For some older motorbikes, going used may be the only option, while for others it may simply be a budget-saving choice. Regardless of the reason, those looking at used parts for their Ducati should take the time to examine the specific part they are buying as all used parts have their own history. Some used parts may have significant wear, while others may only be on the market because the owner chose to upgrade that component. Still, for many buyers, used parts are a viable alternative, although there are some parts that should never be re-used and should therefore be avoided on the used market, as can be seen on the following table:
| | |
| --- | --- |
| Part | Reason for Avoidance |
| Mounting Bolts | High levels of stress can lead to metal fatigue |
| Seals | Often bind to original surfaces, hard to remove cleanly |
| Gaskets | Impossible to remove without damage |
One result of this is that when buying used parts, the new owner should always replace the mounting bolts and any seals or gaskets that come with them. These parts are usually inexpensive and designed to be replaced, so there is no reason to try to re-use them as the savings would be minuscule in comparison to the risk.
Choosing the Right Ducati Parts
Choosing the right parts for a Ducati is as much about the owner as it is about the parts. One of the first things the buyer should do, right after buying the manual, is identify their needs and what they need those parts to do. Some may simply want to keep an inventory of factory parts for their Ducati, while others may want to buy aftermarket parts for that extra hint of individuality. Others, still, may look for used parts in order to stretch their budgets. Regardless of the reason, there are parts available for every Ducati motorbike, rider, and budget.
Buying Spare Parts for the Ducati Monster, 1098, and Diavel on eBay
It does not matter which Ducati you have, or what type of parts you are looking for, eBay is an excellent place to find the spare parts you need quickly and easily. All you have to do is enter the type of bike you have and the parts you want into the search box, there is one on every page, and let the results fill your screen. Then, once you have your results, eBay offers a myriad of tools to manipulate them. You can use the filters in the sidebar to narrow the parts down to just the ones you want, and there is a sort function so that you can retain those that best meet your needs in sharp focus. The combination of search, sort, and filter keeps you in control of what you are looking for.
After you have narrowed the parts down to just the ones that fit your needs, the next step is to decide who to buy them from. The best place to do that is at the seller's profile page where you can see everything from their feedback to their location. You can also see if they can make a deal on shipping by bundling spare parts together, or if they might even allow you to save on shipping by picking your parts up in person.
Conclusion
One thing the Ducati Monster, Diavel, and 1098 all have in common, other than the marque, is that like all motorbikes they require spare parts from time to time. Spare parts are not simply insurance against a breakdown, they are a natural result of the fact that moving parts are subject to wear and over time, they wear out. Interested purchasers can find everything from original Ducati parts direct from the factory, to aftermarket parts aimed at those who are looking to gild the lily. Buyers can even find used parts available, some of which may be almost indistinguishable from brand new. Whatever a person's needs, the key is always to identify not only which parts they need, but also why they need that particular one. Probably the most useful tool any rider can own is a full manual, complete with part numbers. Armed with that knowledge, purchasing spare parts for any Ducati becomes almost as enjoyable as riding one.