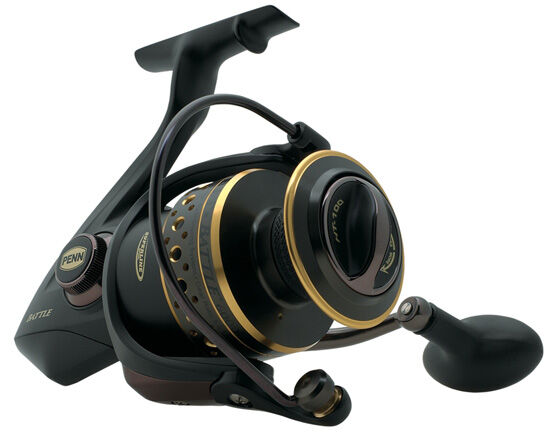 There is a huge range of spinning reels on the market. Many of them are very effective and well made; some less so. Of all the types of fishing out there, the most regularly used reel is the spinning reel.
Narrow the choice
It is used by coarse, game and sea anglers across the globe. As a tool it is incredibly easy to use and very effective at delivering all types of bait with distance and a satisfactory degree of accuracy. Furthermore there is very little that can go wrong with a spinning reel.
If looked after they last for years and compared to fly reels they are very cost effective. Prices do vary, depending on the brand and generally by the number of ball bearings contained in the reel. Choosing a spinning reel is about the only thing that is complicated about them. There are literally thousands to choose from.
A good place to start is:
What kind of fish?
Which water?
The reel you buy will depend on what type of fish you want to catch in which type of water.
Don't always go for light fishing tackle
Many anglers these days like to fish with tackle that is as light as possible so they can really feel the fish. Do not be tempted to fish tackle that is too light. Not only will you lose fish, but you may struggle to reach the fish in the first place.
The other key considerations are the:
type
weight
size of bait you are fishing.
With these three facts in mind it should be possible to reduce the options and select the right spinning reel for the job.
Fast or slow water?
Spinning reels for fast rivers or slow rivers and salmon may well guide you to a range that perfectly suits the salmon fishing trip you are making. Alternatively there are reels for Carp ponds and big Mirror Carp, if that is your destination and quarry.
Spinning reels come in a range of weights. These handle differently in different conditions but the basics are:
| | |
| --- | --- |
| Ultralight spinning reels | Usually reels that handle 6 pound test line or less. There are some smaller reels designed for 2 pound test line. |
| Top Ultralight Reels and Light spinning reels | Much the most popular with the light-tackle angler. |
| Top Light Tackle spinning reels | Heavy spinning reels for deep trolling and surf fishing and some bottom fishing. These are incredibly strong reels and can hold line of up to 50lb test. The weight of the reel is vital when playing big sea, or game fish. |
The final consideration when buying a spinning reel is the rod you have or wish to buy with it. The balance between rod and reel makes a huge difference. A reel that is too big for the rod makes handling the rod very cumbersome. Equally a rod that is too big for the reel will be just as unsatisfactory.
Spinning reels are incredibly diverse and flexible and can be changed to suit the angler, conditions or fish as required.
The drag system on most reels allows the angler to increase the drag on the reel when a fish is being played which obviously tires the fish more quickly. This will allows you to land the fish more easily.
Drags can vary but should be set to about one third, or 30%, of the test weight of the line. If you are fishing with 15lb line then a 5lb drag is probably about the right balance.
Retrieve – an angler can vary the speed at which he or she retrieves the line just by turning the reel slower or quicker. Certain reels have quicker retrieve speeds but this must be balanced with the type of water being fished and the technique the angler adopts.
Left or right-handed? The spinning reel has always been designed for both left and right-handed anglers.
There will be a button beside the main handle which when pressed will allow the removal of the handle to reposition on the required side.
When buying spinning reels always ask the local experts. It is more important to learn about the fishing than the reel.
Once you have a good understanding of what the fish are about, choosing the correct tackle will quickly become more apparent.
Establish:
what the fish will be taking
what the water will be like
how easy it is to cast
what the size of the fish are.
You will find all this out from a local expert who understands your specific type of fishing. Use your local expert's deep knowledge of tackle to help you choose the best reel for the job.
There are many spinning reels brands but a few to watch out for would be Shimano, Daiwa, Abu Garcia, Penn, Quantum and Pflueger. These brands offer a wide range of different sizes, weights and styles of spinning reels, suitable for an extensive range of different spinning techniques and quarry.
There are a few other considerations to make before buying a spinning reel.
Firstly the amount of fishing that one intends to do. There is no point spending £500 on a Shimano Stella reel when only fishing once a year from a holiday cottage. Equally a seasoned and regular angler of any experience will not want to replace a worn out reel with an Abu Garcia beginners reel for £20. The reel must suit the fishing and the amount of fishing an angler is going to do. Reels do last but the best last longer and won't let an angler down in a hard fight.
Secondly, the angler has to consider the type of water. If the reel will be in or near seawater reels that do not have the correct protection are likely to be damaged. If sea fishing is on the agenda then make sure the reel has a non-corrosive coating and is designed for such work.
Thirdly, the size of the reel should be calibrated to:
the size of rod
the nature of the bait being cast
the distance required
the type of bank conditions
the type of water being fished.
The pick up or retrieve on a reel in fast water or a river needs to be much quicker so that the reel doesn't over-run. A big reel retrieves quicker. A bigger reel might be more suitable in these conditions.
Equally in slow flow or still water conditions the angler might wish to fish the rig much more slowly. You can afford to have a slower and possibly smaller reel system in these conditions.
If an angler is spinning for small fish in a still water he might choose to fish with a 05-10 size reel. The sea shore angler, throwing a heavy lead a great distance and then having to retrieve fast in the surf may take a reel between 20-50 size.
There are various questions that inevitably get asked around the use of a spinning reel. Using the drag system correctly comes up a lot.
The drag system is common to most reels and allows the angler to crank up the tension on the reel. This is very useful when playing a fish, making it harder for the fish to pull line off the reel.
Generally when fishing for big fish such as marlin or tuna the reel will be set on a trolling setting which might be marked as the 'free position'. When the fish takes the drag will be put to the 'strike' position. In big game reels the system is very complex and your guides will set the drags on the reels to exactly the right level before they set out on the trip.
With smaller scale fishing, it is up to the angler to move the drag setting up as the fight begins. Take care not to go too high as the fish will break the line or the hook will be pulled out because there is too much tension.
Putting the right amount of line onto a reel is important because too much makes it too full and creates more chance of a tangle. Moreover, if there is too much line on the reel, the chance of backlash when casting is increased.
Too little line on your spinning reel also ups the risk of tangling. More importantly, it also gives the angler less line to play with when fighting a big fish. 90% capacity is what is usually recommended.
Overall the spinning reel is a brilliant tool. If correctly fitted, set and used it is a pleasure to use. Problems only arise when the wrong reel is being used for the conditions being fished. Understand the fish, the water and the environment and ask the experts. With the right budget and advice a reel will give great satisfaction for a good few years.
How to Buy Spinning Reels on eBay
Now that you've worked out which spinning reel you want, find them quickly on eBay. While you shop, don't forget Line, and tackle. Click the Sporting Goods portal and click fishing.
Categories: The Categories list on the left side of each page will help you narrow down your listings by item type. You'll find links for Clothing & Footwear, Coarse Fishing, DVDs, Fly Fishing, Sea Fishing, Tackle Boxes, Universal Accessories, Videos and Trophies As you refine your search you'll be able to narrow down your choice by subcategory.
Product Finder
Use the spinning reel Finder to quickly narrow down item listings by brand, model and condition. (new or used)
Keyword search
Search eBay listing titles for specific words. For example, if you want to find used spinning reel, type the keywords "spinning reel used" (without quotation marks) into the Search box. Click "Search title and description" to expand your results. Visit eBay's Search Tips page for more tips on searching with keywords.
If you can't find exactly what you want, try browsing eBay Stores or tell the eBay Community what you're looking for by creating a post on Want It Now, or save a search on My eBay and eBay will email you when a matching item becomes available.
Buy spinning reels with Confidence
Make sure that you know exactly what you're buying and understand how eBay and PayPal protect you.
Know your item
Read the details in the item listing carefully.
Remember to add delivery costs to your final price. If you're buying a high value item, check that the seller will insure it until it is delivered to you.
If you want more information, click the "Ask seller a question" button on the seller's profile or the "Ask a question" link at the bottom of the item listing page.
Always complete your transaction on eBay (with a bid, Buy it Now or Best Offer) otherwise you will not be covered by eBay Buyer Protection.
Never pay for your eBay item using an instant cash wire transfer service like Western Union or MoneyGram. These are not safe ways of paying someone you do not know.
Know your seller
Research your seller so that you feel safe and positive about every transaction.
What is the seller's Feedback rating?
How many transactions have they completed?
How many positive responses do they have?
What do buyers say in their Feedback?
Are they positive about the seller?
Most top eBay sellers operate like retail shops and have a returns policy.
Do they offer a money-back guarantee?
What are their terms and conditions?
Buyer protection
In the very unlikely event that you do not receive your item or it is not as described, eBay Buyer Protection your purchase price plus original delivery cost.