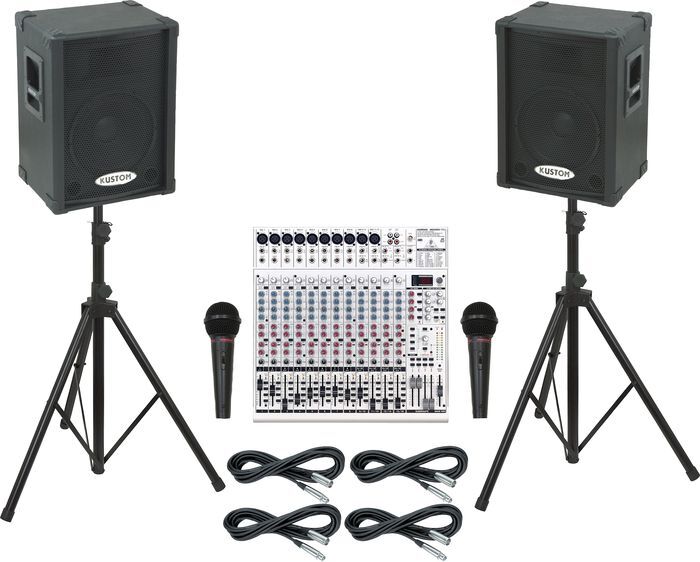 The rapid advancement in audio technology led to the creation of the first stereos in the late 1940s. Since then, a steady stream of innovations has brought listeners closer to the feel and sound of live performances. The quest to deliver live performance sound through stereos largely depended on the speakers used to project audio. Floorstand speakers, the speakers that sit on both sides of a stereo system, were the forerunners to other types of speakers. Through the years, one type of speaker emerged as the viable alternative to floorstand speakers. Known as standmount speakers, the audio projection units allow users to either mount the speakers on a wall or stand them up on some type of shelving or cabinet.
Online shoppers can find near mint condition standmount stereos at discounted prices on the most popular auction site, eBay. eBay sellers offer a wide variety of stereo systems that include standmount speakers, as well as sell standmount speakers as stand-alone components. Before they shop for standmount speakers, consumers should read an overview of the speakers, learn which factors to consider before buying a pair of standmount speakers, and review the four most popular and critically acclaimed standmount models.
What Are Standmount Speakers?
As the name implies, standmount speakers can be located in two primary places. Users can mount the speakers on walls or build a shelf for the speakers to "stand". Standmount speakers found on eBay provide users with more flexibility when configuring their stereo systems. They are smaller than floorstand speakers, and thus, users can place standmount speakers in small room corners or on top of small cabinets. Standmount speakers project less midrange-muddying resonance than floorstands, although the speakers carry little, if any, bass tone. The lack of bass requires most users to purchase subwoofers to augment bass lines. Standmount speakers also offer users better music speed, rhythm, and pace than floorstand speakers. In addition to their easy positioning, many audio aficionados prefer standmounts because of their lower retail price.
What to Consider When Buying Standmount Speakers
While standmount speakers differ from floorstand speakers in a number of ways, the two principal types of stereo speakers share many attributes, especially the factors involved in making a purchasing decision. Standmount speaker buyers must consider construction materials, power, subwoofers, and drive units, among other buying factors, before they reach a buying decision.
Construction
The materials used to construct standmount speakers influence the sound and durability of the speakers. Manufacturers utilise materials that make the speakers as inert as possible to prevent significant audio changes. MDF remains the most common material used to construct standmount speakers that are sold on eBay, although some manufacturers have begun using heavy woods, fibreglass, and carbon fibres. Users do not have to walk the fine line between sacrificing durability for pristine sound.
Many standmount speaker manufacturers insert internal braces to augment durability. Standmount speakers that stand on shelves, or within cabinet spaces, are more vulnerable to damage than mounted speakers, and hence, require more durable materials for construction.
Drive Units
Most standmount speakers sold by eBay sellers possess dynamic drive units that consist of a magnet, voice coil, and diaphragm. However, the size and materials used to make the drive units greatly impact the quality of sound. The combination of sizes and materials create an almost unlimited number of magnet, voice coil, and diaphragm combinations. The drive units chosen for stereo speakers closely relate to the type of stereo receiver and audio transmitter.
Power
Speakers do not generate power on their own, but instead rely on other stereo components to emit sound. Manufacturers provide power handling ranges in their stereo operator manuals, and users should treat the power handling range as the starting point for choosing standmount speakers. Consumers who shop for standmount speakers on eBay must consider speaker sensitivity and impedance as it relates to power. High sensitivity speakers project greater volume for each power level. Impedance indicates the load sent by speakers to the stereo amplifier.
Positioning
Some speakers thrive close to rear walls, while other speakers do better close to the audio source. It comes down to a matter of room acoustics and size. For larger rooms, users should buy standmount speakers that can handle locations close to the amplifier and receiver. Experiment with toeing or angling standmount speakers towards the user listening position, whether the position is in a chair or at a computer desk. The type and number of room furnishings influence which type of standmount speakers to buy on eBay.
Subwoofers
Even larger floorstand speakers have a difficult time of accurately projecting bass lines. Therefore, buying subwoofers to complement speaker quality is a no-brainer for smaller standmount speaker models. Users should adjust subwoofers to come in at the lower roll-off point of standmount speakers. Home theatre systems allow users to create the signal sent from the subwoofer to the speakers.
Leads
Many stereo buffs underestimate the importance of the type of leads used to connect standmount speakers with receivers, amplifiers, and subwoofers. Leads have a significant impact on the way standmount speakers and amplifiers interact. The ideal stereo leads should possess low inductance and high capacitance to maintain steady amplification.
Buy the best standmount speakers on eBay that fit within the budget and keep lead runs as short as possible to ensure smooth audio signal transmission. Most standmount speakers allow users to connect treble and bass drive units with short running stereo leads.
Popular Standmount Speaker Models
A review of the most influential audio magazines, both in print and online, reveals a common thread among the most popular standmount speaker models. Each of the following four standmount speaker models project high-quality sound, provide long-lasting durability, and allow users to place the speakers virtually anywhere within any type of room. The defining characteristics of the four models may come down to dimensions. Every one of the four most popular standmount speakers are available on eBay.
PMC DB1+
PMC's Dinky Box 1 may be the highest quality standmount speaker on the market. The speakers are small and easy to integrate into the most complex home entertainment systems. PMC is known for producing well-balanced standmount speakers, but the DB1+ may be the most balanced speakers yet. The DB1+ has a sensitivity rating of 87 decibels and dimensions of 16 cm x 29 cm x 24 cm.
Dynaudio Audience 42
Renowned for its punch projection, the legendary Audience 42 standmount speakers work best for playing beat-driven music, such as hip-hop and ska. Because of its ability to pump up speaker power, the Dynaudio recommends buying this standmount speaker model for larger rooms that contain some type of carpeting. The sensitivity rating of 86 decibels is one of the lowest for standmount speakers on the market. Dimensions are 17 x 29 x 24 cm.
ATC SCM19
ATC produces some of the best drive units on the stereo speaker market and the SCM19 may have the highest-quality drive units of any ATC standmount model. The high-class engineering of the speakers reminds many audio experts of recording studio master tapes. As one of the largest standmount speakers at 22 x 44 x 31.4 cm, the SCM19 does not have the positioning flexibility as other standmount models.
Epos M12.2
This standmount speaker has an incredible command of the midband, although some audio experts mention the lower than average bass line. However, the Epos M12.2 is known for being the best at projecting acoustic music and a capella vocals. Epos suggests buying its M Sub subwoofer on eBay to enhance bass lines. The M12.2 measures near the norm for standmount speakers at 20 x 37 x 25 cm.
How to Buy Standmount Speakers on eBay
eBay provides standmount speaker buyers with a search engine to match them with standmount speaker sellers. Simply type keywords into eBay's search engine, and then navigate through the search result pages. Type specific keywords to reduce the number of search results. For instance, typing "Epos standmount speakers" or "Dynaudio standmount speakers" reduces the time you spend searching for sellers who match your shopping criteria. After you find a standmount speaker seller, click on the seller's product page icon to review accepted payment methods and delivery terms.
Know the Seller
eBay awards the website's Top-Rated Sellers by placing an electronic ribbon icon next to qualified seller product photographs. Top-Rated Sellers have established track records of selling superior products and offering generous return policies. Look for eBay's Top-Rated Sellers who have at least a 30-day window for returning standmount speakers. You can also review customer feedback that eBay posts on seller product pages. Look for sellers who have garnered positive customer feedback over the past year and preferably have received positive feedback for selling stereo systems or audio components. Once you form a business relationship with an eBay seller, you may be able to make future transactions through the seller's eBay Store.
Conclusion
Audio buffs understand that stereo speakers comprise one of the more important audio components for basic stereo systems, as well as for intricate home entertainment centres. What some audio buffs may not understand is that the technology for standmount speakers has improved enough over the years to place the speakers next to floorstand speakers in terms of quality and longevity. Many users utilise standmount speakers because the speakers offer positioning flexibility and better sound quality. The smaller speakers fit just about anywhere inside of a home or along room walls.
The first factor to consider before buying standmount speakers on eBay concerns the materials used for construction. Buying standmount speakers that utilise the right materials not only ensures durability, but materials also influence sound quality. Consumers also have to consider other factors that include leads, subwoofers, and power levels. Manufacturers have started a trend of producing smaller standmount speakers than the ones that have historically hit the audio equipment market. The purpose of constructing the small standmount versions is to give buyers even more flexibility when it comes to positioning their speakers to maximise audio integrity.