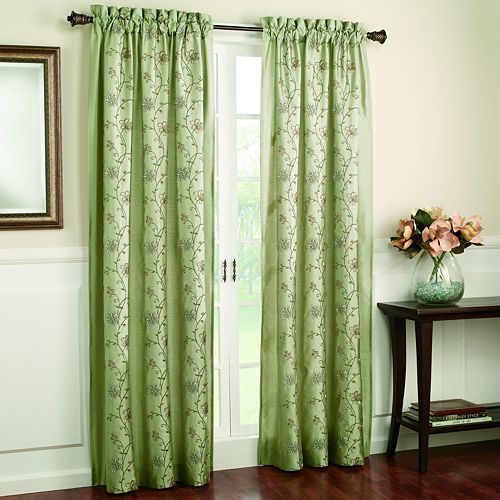 Window treatments are an essential feature when furnishing a home or individual room. They can provide colour and decoration to windows that would otherwise look empty and boring.
In addition to ornamental value, many window treatments provide functional uses such as insulation and light restriction. These enable extra comfort in a living or work space and can often be controlled using accessories such as rails, curtain poles and curtain hold backs.
If looking to buy window treatments or accessories, there are a wide range available on eBay – including items such as blinds, curtains, curtain rails and many more. Use this guide for reference when buying thermal backed window treatments.
What are Window Treatments?
Window treatments are a range of accessories and decorations that are used to aid the aesthetics and functionality of a window or door. They can be placed in, on or around the window and can either be 'soft treatments', 'hard treatments' or in the form of extras and accessories.
Types of Window Treatments
There are many different types of window treatments and they can be made of various different materials. Each different style of treatment is designed with different purposes in mind and often fall into two main categories. These are:
Soft Treatments - Soft treatments are typically items such as curtains and drapes that are made from soft and flexible material. These come in a range of different lengths and are often used for decoration in the home.
Hard Treatments - Typically made from solid, sturdy material such as wood or plastic, hard treatments can often been in the form of blinds or shutters.
| Examples of Soft Treatments | Examples of Hard Treatments |
| --- | --- |
| Curtains | Shades |
| Drapes | Blinds |
| Netting | Shutters |
Types of Curtains and Blinds
When purchasing either thermal or non-thermal curtains window treatments, it is important to note that there are many different variations available to choose from – and many different styles.
Lined curtains are significantly more efficient at providing insulation and blocking out light due to their thicker and heavier material. Unlined curtains are more suited when thermal insulation is not required.
| Curtain Examples | Blind Examples |
| --- | --- |
| Pleat curtains. | Roman blinds. |
| Tape top curtains. | Vertical blinds. |
| Grommet top curtains. | Venetian blinds. |
| Sheer curtains. | Pleated blinds. |
Using Curtains and Blinds
Window treatments are straightforward to operate but methods can differ depending on the style of window or blind.
Curtains and drapes are typically attached to a rail or curtain pole to enable them to slide easily on their horizontal plain. However, different styles are attached in various manners – which can include the use of:
In contrast, blinds are operated by pulling and/or turning its mechanism. These could be:
Chords
Chains
Sidewinders
Rods
Always be sure to check if additional accessories are required in order to avoid delay in assembling the items.
Thermal Backed Window Treatments
Thermal backed window treatments are specific window treatments that are designed to provide insulation from external temperatures.
Whether it is low winter temperatures or warm summer heat, thermal treatments help keep the inside temperature at a comfortable level.
Types of Thermal Backed Window Treatments
Thermal backed window treatments are available in both hard and soft varieties and can include curtains, drapes and blinds. They are an excellent way in which to control room temperature and can even help to lower heating and energy costs.
Thermal Backed Curtains and Drapes
Thermal curtains are often made from heavy material such as polyester and suede in order to aid insulation and the blocking out of unwanted light. Some variations even have a layer of foam for additional effectiveness.
These drapes are available in a vast array of colours, textures and designs to suit many different interior styles. Lighter coloured materials are extra effective at blocking out sunlight due to their reflective qualities.
Blackout draperies can also be used if purchasing non-thermal window treatments. These act as an added layer of protection and sit behind the main set of curtains.
Thermal Backed Blinds
Thermal blinds are also an excellent option when looking to control the temperature of a room. They can be made of various different materials – such as wood, plastics and fabric – and consist of a layer of foil which reflects heat and light. This allows for heat to either be kept inside a room or reflected away to keep it cool on warmer occasions.
Blinds are also very easy to clean and maintain, with a simple wipe required for wooden and plastic variations. For other fabrics, running over the material with a vacuum cleaner can suffice.
For extra effectiveness, thermal blinds can be used in addition to lined curtains. Many people choose to combine treatments such as roller blinds and large, lined curtains for further insulation - the blind can reflect away light whilst the curtains provide a second layer of resistance.
What to Consider When Buying Thermal Backed Window Treatments
Curtains and blinds come in many different varieties and each can have their own unique specifications and style. It is therefore important to take the following requirements into consideration when looking to purchase thermal backed window treatments.
Sunlight Considering the amount of light that a window treatment will come into contact with is important as this could determine the thickness and strength of material required. For example, windows that have more exposure to the sun would perhaps require thicker curtains for better insulation.
Treatment Style There are many different styles and design of window treatments. Take some time to decide which would be the best fit for the designated room.
Treatment Length Be sure to measure the space between where the treatment will sit and the lowest area it is required to cover.
Window Width Similarly, it is important to be aware of the width of a window when purchasing a treatment or accessories such as curtain rails.
Cleaning Curtains and blinds can attract a lot of dust and stains. It is important to clean the material properly in order to maintain its strength and colour. If the treatments will come into contact with pets or children, darker colours could be a more suitable option.
Price Be sure to shop around to find the best possible price when looking to buy thermal window treatments. If purchasing with eBay, do compare products from different sellers and take into account how much time is left on an auction – a great deal could be just a moment away.
Conclusion
Thermal backed window treatments are an excellent way to improve the look and functionality of any room or corridor.
They are an effective tool for controlling the temperature of a room – they can help prevent heat loss in winter and keep a room cool in the summer months. Thermal treatments can even help reduce energy bills.
Curtains and blinds are available in a wide range of styles, colours and designs and can be mixed and matched to create the perfect accompaniment to any home.
If looking to purchase window treatments, take into account this guide and consider the wide range of different styles and types before buying. Decide which variation is the most suitable and shop around online to find one at a price that is within a suitable budget. Be sure to read reviews of the product as discovering other people's first-hand experience is always invaluable.
eBay will generally provide window treatments and accessoriesat an affordable rate and if deciding to go down this route, then take the recommended precautions and use PayPal to ensure a safe transaction.