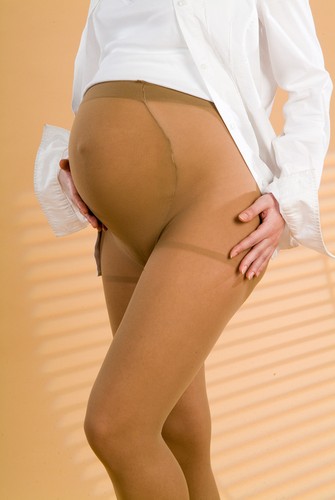 Tights most often cover the distance of the wearer's legs from the waist to the feet. This form fitting garment comes in many forms including control top, seamless, support, and sheer. Sheer tights are designed to match the skin colour of the wearer's legs, making them appear smoother. Tights are most often made of nylon or cotton and contain a lycra blend to help them to maintain their shape. Tights come in a wide array of colours. Dark colours such as black, brown, and navy blue help to slim a pregnant woman's figure and minimise the appearance of cellulite and veins.
Wearing tights during pregnancy does not affect the baby. Maternity tights are available, but ordinary tights may also be worn if they have sufficient support. Loose tights may cause the fabric to rub against the wearer's skin, leading to ingrown hairs and friction burns, while constrictive tights may increase problems associated with varicose veins. Tights are available at specialist boutiques and department stores. When purchasing a pair of tights at retailers such as eBay, pregnant women should consider maternity tights, the disadvantages associated with them, their various thicknesses, how to find the right size, and how to care for the tights properly.
Tights for Pregnancy
Some women prefer to wear maternity tights instead of ordinary tights as they are designed to fit over a woman's bump, but either type are considered acceptable. Tights should cling snugly to the wearer's legs without limiting her range of movement.
Maternity Tights
When choosing a pair of maternity tights, pregnant woman should consider cut, comfort, and colour as well as the stage of pregnancy. The tights should flatter the wearer's new body shape and fit comfortably on or below the baby bump. Maternity tights feature a looser elastic than ordinary tights, or an adjustable waistband that usually fits loosely around the wearer's natural waist, a few inches above the naval. While women in their first three months of pregnancy may prefer these type of tights, a waistband that rests below the stomach is ideal for women from their fourth month of pregnancy onwards who may have difficulty dressing. Maternity tights contain a front panel, which is designed to cradle the pregnant woman's bump and support the baby as it grows and develops. Most will be made of a cotton blend fabric. Unlike ordinary tights, maternity tights do not have control tops, as the constrictive waist may cause discomfort.
Support and Compression Tights
Support tights are designed to increase blood circulation in the wearer's legs by providing variable compression. This compression helps to promote blood flow deep into the legs. Support tights can minimise the discomfort and swelling of varicose veins. They can also provide relief from swollen legs and feet. However, this should only be considered a temporary fix. Support tights that are too restrictive may do more harm than good if worn for prolonged periods of time.
Tights that are too constrictive can compress veins and connective tissue, while limiting movement. This may cause damage to the wearer's skin and veins. To help to avoid this problem, support tights are available in several grades, each grade differing in the amount of compression that it provides. Low grade compression tights are widely available, but pregnant woman may need to get a prescription for higher grades. If not properly used, high grade support tights can be dangerous. It is good idea to consult a doctor before choosing the grade and deciding how often and when the support tights should be worn during pregnancy.
Disadvantages of Tights
Most tights are made of synthetic fabric, such as nylon, which is not very breathable, leaving the wearer more prone to sweating. Wearing tights can lead to the growth of bacteria: thrush thrives in warm, moist environments. Pregnant women who are prone to thrust should avoid wearing tights on a regular basis. Tights can also cause pressure on the urethra due to the snug fit of the material. This, in combination with the non-absorbent qualities of the tights, can lead to urinary tract infections, a major risk factor for pregnant women.
Tights are known for increasing a woman's body temperature. Pregnant woman who have difficulty regulating the temperature of their bodies may find tights restrictive and intolerably warm.
Thickness of Tights
Pregnancy tights can be found in various thicknesses. The best thickness for a woman should be determined by the temperature. Most maternity tights range from 20 denier to 80 denier. 20 and 40 denier tights are better suited for warm or cool weather, with 40 denier providing increased support and durability. 60 and 80 denier maternity tights are usually reserved for colder weather. They have a heavier denier and are more opaque. Pregnant women should consider tights with at least 40 denier to help to maximise support.
Maternity Tights Sizing
To ensure overall comfort and support, pregnant women should consider various measurements when buying tights. These measurements include the circumference of the ankle, thigh, calf, hips, and waist, as well as the length of the leg from the floor to the waist. Many maternity garment manufacturers design items based on a woman's clothing size before pregnancy. Check this before buying a garment, especially from an online retailer.
| Size | Ankle (cm) | Calf (cm) | Thigh (cm) | Hip (cm) | Waist (cm) | Length (cm) |
| --- | --- | --- | --- | --- | --- | --- |
| Small | 16-19 | 27-33 | 38-46 | > 102 | > 76 | 74-89 |
| Medium | 19-22 | 30-36 | 44-52 | > 107 | > 85 | 79-94 |
| Large | 22-25 | 32-38 | 51-58 | > 112 | > 91 | 84-99 |
| X-Large | 25-29 | 34-41 | 57-65 | > 117 | > 97 | 89-104 |
| XX-Large | 29-32 | 37-43 | 64-71 | > 132 | > 112 | 89-104 |
Women should take their measurements when they first wake up in the morning because swelling tends to increase throughout the day. For those who are in between sizes, it is always best to buy up a size to ensure a proper fit.
Caring for Tights
Although tights tend to be economical, women should take proper precautions to prevent them from getting ladders. While wearing tights, women can use hairspray to help to strengthen the fibres. This will also prevent the wearer's clothes from clinging to the tights. To best preserve the fabric, women should not wash the tights after each wear unless they show signs of wear. When washing, it is best to soak the tights in a sink or basin full of warm water and detergent rather than machine washing them. Tights should then be laid flat to dry. To prevent any snagging, women should avoid their fingernails coming in contact with the material of the tights when putting them on and taking them off. For the most efficient method, women should roll up one foot at a time when putting on the tights.
Where to Buy Tights if You're Pregnant
There are many bricks and mortar department stores that sell tights and small boutiques dedicated to tights. However, for women hoping to invest in a pair of maternity tights, they may have better luck at a shop specifically geared towards maternity clothing. Buyers who want to ensure that they are buying correctly sized tights should see if they can try them on, or compare their measurements to any packaging.
Alternatively, buyers can choose to buy new or pre-owned maternity tights online at retailers such as eBay. For buyers looking to pay a competitive price or who want a specific type of maternity tights, eBay offers a large selection of products.
Buying Maternity Tights on eBay
Buying maternity tights online offers buyers a wide choice in any price range to meet any budget. Buyers can type "maternity tights" into the search box on eBay's home page and a wide selection of tights in various colours available for sale will be listed. For those who have a better idea of what type of maternity tights they require, eBay offers an advanced search feature which allows buyers to narrow down listings by categories, such as price.
Buy Maternity Tights with Confidence
Before making a purchase, buyers should always examine all listing images for signs of wear or damage to the maternity tights. The photos of tights for sale can provide helpful insight to the buyer and let them know exactly what they are bidding for. If additional images or information is required, then ask the seller. The best sellers will always be happy to provide additional information to promote a positive transaction. Before finalising the purchase, investigate the seller. On eBay, this is simply a matter of reading a seller's feedback comments and checking their rating. Check whether the seller has a returns policy, just in case the tights do not fit.
Conclusion
Shopping for tights for a pregnant woman on eBay is a great idea as tights may be found for a fraction of the cost, which is handy, especially as the woman will only need the tights for a short period of time. While ordinary tights can still be worn during the duration of the pregnancy, woman may find that maternity tights are better designed for their changing body, and offer increased comfort. Tights such as compression and support tights help to minimise swelling and varicose veins, two problems that often occur with pregnancy. The thickness of the tights should also be considered. Women should measure themselves to get the correct size of tights before placing a bid. They should also understand how to properly care for the tights in order to maximise their lifespan and prevent ladders and snags. With so many tights to choose from, eBay can help any pregnant woman look and feel her best while minimising the discomforts associated with pregnancy.