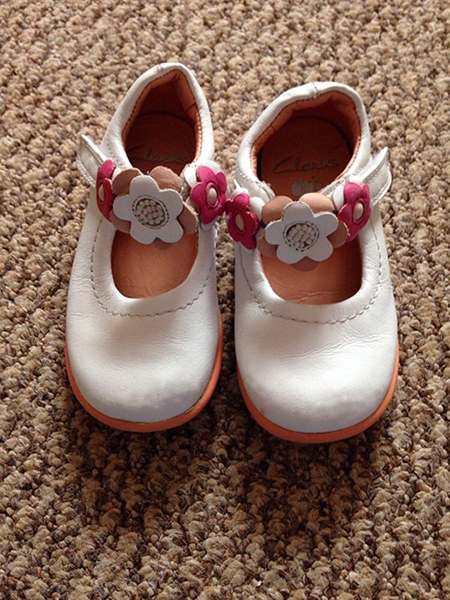 Baby shoes are traditionally considered items that are most likely to be kept as mementos. They historically were bronzed and kept as heirlooms. Since infant shoes are not worn for very long, or very often, they often retain their original condition. This makes them an excellent commodity to obtain from past generations, from friends and family who previously had babies, or used from other sources.
Baby shoes are designed in a variety of styles to be appropriate for a range of occasions. Some choices are acceptable for both boys and girls, where others are gender specific. To buy the correct size shoe for a child, it is a good idea to physically measure his or her feet to determine what size to get. There are several places from which to buy used baby shoes including consignment shops, charity shops, car boot sales, as well as online marketplaces like eBay.
History of Shoes
As a protective accessory for the foot, shoes have existed for a very long time. The earliest forms of shoes were sandals. They basically consisted of a hard sole which were bound to the foot with straps. In ancient Mesopotamia, a shoe similar to a moccasin was used. Until they began to be mass produced in factories, shoes were not designated for the right or left foot. Many baby shoes are still made that way. As footwear fashion evolved, so did the styles of shoes for babies.
Picking the Right Used Baby Shoe
To choose the proper shoe for a baby, it is important to obtain a few pieces of information. It is necessary to know a bit about the different types of shoes that are available for infants and for what activities the different styles are suggested. It is also imperative to know what size shoe the infant needs. Particularly when one is ordering footwear, it is a good idea to know how to obtain the correct size.
Determining the Proper Size Shoe for the Baby
Children develop at individual rates, so their feet grow at different rates than those of their contemporaries. Just because a shoe is sized for children of a particular age does not mean that it fits all children at that age. To ascertain the correct size shoe for the baby, one needs to measure both feet. Most people have one foot that is slightly larger than the other. Choose a shoe size that fits the larger foot.
Since babies grow so quickly, it is a good idea to purchase shoes that are half a size to a full size larger than necessary. This is especially true if the primary event for which the shoes are to be worn are in the future because the child is likely to grow after the purchase. Keep in mind that soft shoes tend to be more forgiving than hard shoes. It stands to reason that leather shoes should be purchased in a larger size for the baby than canvas trainers and booties.
Types of Baby Shoes
There are several types of baby shoes that fit different situations. Some are primarily intended for girls, and others mainly for boys. Some are designed for active, casual use, and others are to be donned for formal, decorative purposes. The following table lists some popular options and their common uses.
| | | | |
| --- | --- | --- | --- |
| Shoe Types | Primary Characteristics | Girl Uses | Boy Uses |
| | Knitted; light colours like pink, baby blue, white; warm like mittens. | With dresses; over sleepers. | With trousers; over sleepers. |
| Mary Janes | Patent leather or vinyl; close-toed; strap with a buckle clasp. | With dresses and onesies. | Typically not worn by boys. |
| Oxfords | Leather, patent leather, or vinyl; closed-toed; lace-up or slip on. | With trousers and dresses. | With trousers. |
| Pram Shoes | Offered in a variety of material; soft; match the outfit. | Mostly decorative; with matching outfits or dresses. | Mostly decorative; with matching outfits. |
| | Leather, canvas, or vinyl; closed-toed; lace up or Velcro; offered from most popular brands. | With jogging suits, onesies, and jumpsuits. | With jogging suits, rompers, and athletic clothing. |
Although several of the alternatives are primarily gender specific, many of them are acceptable for use by boys and girls. With so many options available for each category, it is advised to have a bit of additional information about the popular styles of each.
Traditional Baby Shoes
Traditional baby shoes fall into two categories, booties and pram shoes. Booties are typically knitted and primarily intended to keep the baby's feet warm. They are more decorative than socks alone and tend to assist in keeping the socks on a squirmy baby's feet.
Pram shoes often match the outfit and therefore make excellent accessories when baby is out and about. They are often soft soled and similar to slippers and moccasins. They are more supportive and protective than booties but more casual and decorative than other options.
Baby Trainers
Both trainers and athletic shoes for babies are produced by many of the same manufacturers that create them for adults. These options protect the feet but are mainly used as a fashion accessory. Baby Converses, Jordans, and Vans often accompany miniature jogging suits or leisure outfits. This allows parents to dress their child similarly to how they dress their older siblings and themselves.
Formal Baby Shoes
Babies are dressed up by putting them in formal shoes. For attending church, weddings, and special occasions, nice shoes can complement an elaborate ensemble. They are also elegant additions when baby's portrait is being taken. Infant girls look adorable in Mary Janes, while little boys look fashionable in Oxfords. Both are found in traditional colours as well as contemporary trends.
Training shoes
Training shoes are normally more substantial and sturdy than booties are. They usually look similar to adult work boots or athletic wear. They are sometimes made of patent leather or leather with a soft or rubber sole. They often rise to above the ankles to protect both the feet and the ankles.
Reasons to Buy Baby Shoes
Baby shoes fill several purposes for a baby and his or her parents. They keep the child's feet warm and protect them from the elements. They also protect the feet from sustaining injury from touching other outside elements, such as bees, thorns, or pebbles while toddling around. Shoes finish an outfit more than taking the baby shopping, to the park, out in the community, or to more formal events with bare feet or in stockings. They provide the parents with one more accessory with which to tailor the child's ensemble, expressing their style as well as the personality of the baby.
Why Buy Used Baby Shoes
Babies typically grow quickly and a pair of shoes purchased one month may not fit them the next. For this reason, buying used shoes is a good idea. Most gently worn baby shoes can be acquired for a lower price than buying them new. Since the child who last wore them likely wore them only one or two times, they are nearly new. It is not only a good choice economically, but it is also good for the environment. Buying used baby shoes is a form of recycling.
Shopping on eBay for Used Baby Shoes
Once you have decided to buy used baby shoes, go to eBay to make shopping a convenient and enjoyable experience. On the homepage, merely type a few descriptive terms into the search bar to have a plethora of options available at your fingertips. For example, enter the phrase "used baby shoes" to conduct a general search. If you prefer to look for something in particular, type more specific phrases to narrow the search. If you are looking for used shoes for a baby boy, type "boy's baby shoes" or "used baby tennis shoes". For a girl, type "girl's baby shoes", "baby Mary Janes", or "used girl's booties". These prompts find you relevant selections provided by vendors from around the world.
Buying Used Baby Shoes on eBay
When you have some likely options, it is time to do some additional research. Examine the images of the baby shoes closely. Then read the accompanying descriptions to obtain insight into the condition, price, and preferred method of payment. By taking a few moments to do some extra research, you increase your confidence in the products and reduce the likelihood of weeks of disappointment and regret.
Conclusion
Buying used baby shoes is an economically and environmentally responsible decision. There is a huge variety of gently worn styles and colours that are available for purchase. Booties and pram shoes are great ways to protect a baby's feet, as well as keep them warm on the go. Designer athletic shoes finish a casual ensemble that allows an infant to demonstrate the style of his or her parent. Patent leather Mary Janes and Oxfords look lovely when a small child's presence is required at a more formal situation. They also look nice when the baby's portrait is done.
To find an appropriate pair of used baby shoes, shop around and do some comparing. Consider buying a few consecutive sizes of a pair that one likes to ensure that the style is available for the child to wear for several months. For a large selection of used baby shoes with a variety of designs, search on eBay.