Before going to an event that involves ballroom dancing, take lessons to prepare yourself so that you are not embarrassed on the dance floor. Also, invest in some lovely ballroom dancing clothes. If your budget does not allow for brand-new finery, discover how to select used ballroom dancing clothes that help you feel comfortable and gorgeous when you step out onto the floor with your partner.
Buy Comfortable Ballroom Dancing Clothes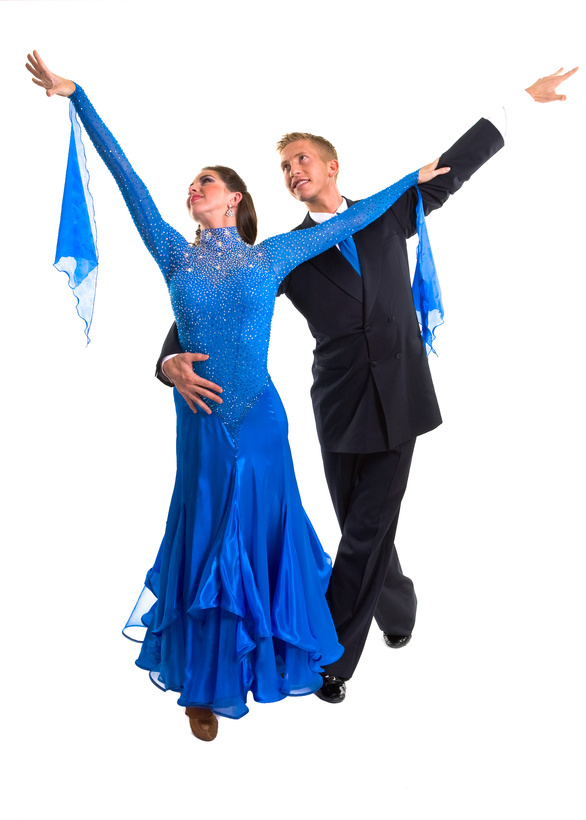 Whether you are male or female, you need clothing that keeps you comfortable while dancing. Avoid anything too tight or restrictive, especially around the legs and shoulders. Give yourself some ease in the garment so that you can move freely as the dance requires. Also, keep in mind that a session of ballroom dancing lasts for an hour or more. Choose ballroom dancing clothes that allow your body to breathe. As you browse the available options, select used dancing clothes made of soft, comfortable materials that are flowing and flexible yet provide gentle support in the right places.
Stay in Style when Buying Used Ballroom Dancing Clothes
Try to find used ballroom dancing clothes from a season or two ago. Anything older than that may appear passeé, unless it is vintage. Vintage ballroom dance clothes have their place, especially if you choose a style that flatters your body and combine the vintage suit or dress with chic modern accessories.
Purchase Quality Used Ballroom Dancing Clothes
Since you are purchasing used clothing, remember to inspect each piece thoroughly. Make sure that the dress or suit retains its vivid colour. The hem of the ballroom dance dress and the cuffs of the pants should be free of stains, rips, or fraying. Also, check all the fastenings, such as the buttons, zippers, hooks and eyes, or snaps, to ensure that everything is functional.
Ballroom Dancing Clothes for Men

For men, ballroom dancing usually requires a ballroom dance suit, including a crisp collared dress shirt, neatly pressed pants, a suit jacket or blazer, and a tie. Since ballroom dancing involves movement of the upper arms and shoulders, men may want to invest in a used jacket specifically designed for ballroom dancing. To finish out the ensemble, men should pick up a pair of ballroom dancing shoes.
Ballroom Dancing Clothes for Women
Part of the beauty of traditional ballroom dancing is the swishing and swirling of lovely ball gowns. Women should select a long, flowing dress with a form-fitting bodice. The dress can have sleeves, straps, or exposed shoulders, depending on the wearer's preference. Whatever the rest of the dress looks like, women need to have secure coverage of the bust area so that they can move freely without worries of a wardrobe mishap. Comfortable dance shoes complete the look.