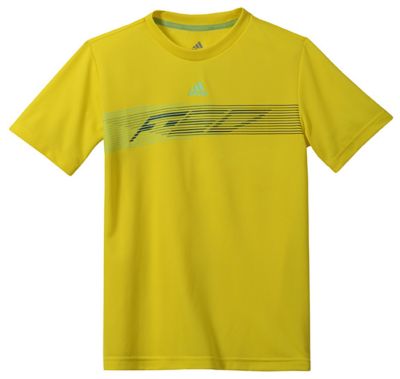 Boys can go through dozens of T-shirts in a year as a result of clumsiness, overuse, or just boys being boys. Keeping boys in clean shirts that are in decent order can be a tall order of business for any parent, especially given the pace with which many children can outgrow clothes. Fortunately, buying used T-shirts can provide parents with an easy and responsible way in which they can keep boys in T-shirts without going over budget. This can also relieve parents of the stress of watching new shirt after new shirt get trashed by rough-and-tumble play. Of course, many grown-ups might not have an understanding of the used marketplace, if they only usually purchase mainstream retail and hot off-the-rack items. With the wide variety of T-shirts on the market, getting to know a little about the types of T-shirts available can be of help. Consumers can also benefit from a more concise understanding of where and how they can buy used boys' T-shirts, whether offline or online from auction sites and fashion aggregators such as eBay.
Types of Used Boys' T-Shirts
Any of the popular styles of boys' T-shirts can be found in the used marketplace. Some of the most prevalent options include T-shirts with sports themes as well as superhero and novelty T-shirts.
Used Sports T-Shirts
Sports-related clothing is a particularly popular genre of clothing for many young boys. Sports T-shirts are no exception and can be found to a large extent in the used marketplace. This type of T-shirts can include shirts associated with a particular athletic brand, or they may be a promotional item for a certain team or squad. Some used sports T-shirts can even feature a sport-specific design such as a football jersey or a baseball shirt. By and large, these types of shirts are made of 100 percent cotton or cotton blend, with acrylic blends being used in some sport-specific jerseys.
Used Long-Sleeve Boys' T-Shirts
Ideal for the colder months of the year, long sleeve T-shirts are also prevalent in the second-hand marketplace. Used long-sleeve T-shirts can feature a single sleeve design that extends all the way to the wrist or a dual-sleeve design with a long, internal sleeve sewn into a traditional short T-shirt sleeve. Dual-sleeve T-shirts can also often be found with a hood integrated into the design. The collar element on a long-sleeve T-shirt can be either a traditional crew collar, a v-neck, or a button-down crewneck.
Used Collared Boys' T-Shirts
Collared T-shirts are shirts that adhere to a traditional T-shirt design in the body but have a button down front and a shirt collar instead of a crew neck design. Collared T-shirts are good choices for slightly more formal occasions, allowing a boy to look a bit more put together at events in the warmer months. Collared T-shirts can be found in a range of summer colours, with stripes being a particularly popular style subset in this category.
Used Superhero Boys' T-Shirts
Every boy loves to fantasise about being a superhero and, fortunately, there are plenty of T-shirts out there to help him play the role. Used superhero T-shirts can feature anyone from Spider Man to Superman to the latest video game action hero or character. They are typically found in 100 percent cotton or cotton blend. These T-shirts feature a bold design element on the front or back of the shirt that highlights a superhero or action hero. The colour schemes of these T-shirts are usually quite bright and dynamic, making them ideal for summertime and casual events.
Vintage Boys' T-Shirts
The vintage marketplace for boys' T-shirts can provide many unique ways for dressing a young man. Vintage T-shirts for boys can even include some items with rare provenance that a child can keep as a collector's item or bit of memorabilia. The styles in vintage tees vary widely and can include anything from rocker T-shirts from the 1980s to automotive tees from the 1970s. T-shirts from various brands of the past that have come back into fashion can also be found on occasion within this category.
Novelty Used Boys' T-Shirts
Novelty T-shirts can give boys a fun way to leverage their own sense of humor and style. These T-shirts typically feature a comic design, character, or saying on the front or back, and are designed to entertain. Parents on the lookout for novelty T-shirts for a boy should make sure that the text on a shirt is age appropriate and that it fits in with school dress codes, if applicable. This fun category has a wide range of selections, colours, and design schemata.
Finding the Right Size in Used T-Shirts
Boys' clothing is typically sold in age-related sizes. In order to ascertain the correct size for a child, parents need to first take basic measurements of a boy's build. His height should be measured by having him stand with bare feet flush against a wall and measuring from the floor to the top of his head. His chest and waist measurements can be taken with a measuring tape by running it around the widest parts of the chest and at the natural waist.
These measurements can then be cross-referenced with the chart below to give parents an idea of what age-related size a boy fits into.
| | | | | | | |
| --- | --- | --- | --- | --- | --- | --- |
| Dual Sizes | 3-4 Yrs | 4-5 Yrs | 5-6 Yrs | 7-8 Yrs | 9-10 Yrs | 11-12 Yrs |
| Height | 104 cm | 110 cm | 116 cm | 128 cm | 140 cm | 152 cm |
| Chest | 56 cm | 58 cm | 60 cm | 64 cm | 69 cm | 78 cm |
| Waist | 52 cm | 53.5 cm | 55 cm | 58 cm | 62 cm | 65 cm |
When shopping for used T-shirts, consumers may encounter items that are sized by standards other than those in UK, including US standards, European standards, and Australian standards. The following chart provides a conversion reference between the different regional size standards.
| UK | European | US | Aus |
| --- | --- | --- | --- |
| 3-4 | 98-104 cm | 4T | 4 |
| 4-5 | 104-110 cm | 5 | 5 |
| 5-6 | 110-116 cm | 6 | 6 |
| 6-7 | 116-122 cm | 6x-7 | 7 |
| 7-8 | 122-128 cm | 7-8 | 8 |
| 8-9 | 128-134 cm | 9-10 | 9 |
| 9-10 | 134-140 cm | 10 | 10 |
| 10-11 | 140-146 cm | 11 | 11 |
| 11-12 | 146-152 cm | 12 | 12 |
It is important for consumers to remember that sizes can vary greatly from one brand or manufacturer to another. Whenever possible, a consumer should confirm an item's sizing with a vendor and ask whether an item runs large or small for a size. All of the measurements provided in the charts represent averages and should be used as general reference only.
Shopping for Used T-Shirts for Boys
When shopping for used T-shirts for boys, consumers can consider looking through local offline retailers such as vintage and second-hand shops. These stores can have a limited selection of boys' clothing, but they often carry adult clothing as their main stock. However, one of the larger catalogues of used clothing for boys may be found on the online auction site, eBay.
Buying Used Boys' T-Shirts on eBay
To shop for used T-shirts for boys on eBay, you can start by running a basic search on any page on the website. You can get an overall idea of the options available by running a search with a general search term, such as "used boys T-shirts". If you already have a specific style in mind, you can run a search using a more focussed term, such as "long-sleeve used boys T-shirt". The site itself can also make related search suggestions which can help you expand or refine a search.
Getting to Know the Sellers on eBay
When buying a used boy's T-shirt on eBay, it can aid the process if you take the time to get to know any sellers from whom you are interested in purchasing items. You can do this by taking the time to look through their previous auction listings and reviewing the feedback they have received from other customers. Once you have made your own purchase, consider leaving your own feedback about the seller. This process can help both you and future customers find the exact items needed in a timely manner.
Conclusion
Keeping a boy well-stocked in T-shirts as he grows can be a much easier process for parents if they begin to avail of the used marketplace in the process. On the used marketplace, consumers can find any one of myriad T-shirt styles for boys in excellent quality. By familiarising themselves with these styles and then making sure that they have an understanding of the various sizing systems used in fashion, consumers can then confidently turn to the world of used clothes to find countless T-shirt options for a boy. While offline retailers may have some children's clothing, online auction sites such as eBay offer what is considered to be among the largest catalogues of boys' used clothing available. Consumers can peruse the numerous listings on the website and take the time to communicate with sellers and get to know their practices before making purchases. Using the power of eBay can help a consumer find the exact type of T-shirt he or she is looking for to keep boys looking and feeling confident.