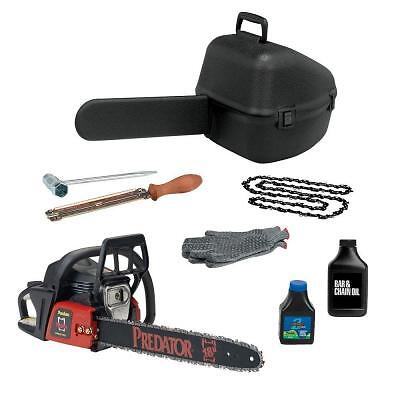 Man has always tried to make life easier and this can be seen by the many different tools, from a rock used as a hammer, to state-of-the-art machinery, that have been invented over the ages. One of the most important tools in shaping the modern world is the chainsaw.
About Chainsaw Parts and Accessories
Chainsaws are typically used to cut wood, for example, for felling, harvesting and pruning. Prior to the development of the modern chainsaw in the early 20th century, several models had been invented that would lead to and influence its design. The earliest of these, dating from the late 18th century and the early 19th century, were used in surgery to cut bone. The German engineer Andreas Stihl patented a hand held electrical chainsaw in 1926 and a gasoline powered model in 1929. Both chainsaws were designed for wood cutting. Emil Lerp designed and mass produced gasoline chainsaws from 1927. The earliest chainsaws were heavy with long bars and required two people to operate them. Around the middle of the 20th century engine designs were improved so that chainsaws could be operated by one person. Today specialist chainsaws containing diamond grit are also used for cutting brick, stone and concrete.
Chainsaw Parts and Accessories
Modern chainsaws have several basic components. These include the engine, drive mechanism, cutting chain and guide bar.
Engine and Drive Mechanism
The engine is usually a two stroke petrol engine, though some chainsaws have an electric motor. The drive mechanism consists of a centrifugal clutch and sprocket wheel.
Chain
The cutting chain is made up of steel links held with rivets, from which protrude cutting teeth. Early scratcher teeth were designed to scratch into and gradually abrade the wood. They were slow and required a lot of maintenance. In 1946, Joseph Buford Cox developed the chipper type chain, still in use today, based on the curled design of timber beetle larva jaws. These were more efficient, required less maintenance and meant the depth of cut could be more safely controlled. Modern chain designs include chisel chains with square cornered teeth and semi-chisel chains with rounded corners. The teeth are arranged in different ways on the chain, known as full complement, skip and semi-skip. Full complement chains have the most teeth, whereas skip chain has every other tooth removed. Semi-skip chainsaw chain is a combination of the two, with more teeth than skip but less than full complement. Chain length is determined by the number of drive links, metal components that locate and lubricate the chain on the bar. Chains come in different gauges, which is the thickness of the drive links. Chains also come in different pitches, which is the distance between rivets.
Guide Bar
The guide bar guides the cutting chain into position. Guide bars are typically made of steel and are approximately 40 cm to 90 cm in length. Like cutting chains, guide bars have a number of important specifications, including gauge and pitch. Guide bars have two length measurements: the overall length used to determine chain length and the cutting length which is the distance from the furthest tooth to the power head.
Choosing Chainsaw Parts and Accessories
When choosing parts and accessories for a chainsaw, keep the following in mind.
Chains
Ensure that the chain is compatible with the model of chainsaw. The seller or manufacturer should specify if it is compatible.
Teeth Design
The basic tooth designs are suitable for general forestry and tree surgery applications, as well as firewood cutting.
| | | |
| --- | --- | --- |
| Chisel chain | Squared corner | Efficiently cuts clean softwood. Saw chips are cleared quickly |
| Semi-chisel chain | Rounded corner | Slower in clean softwood than chisel chain. Remains sharper for longer than chisel chain so is more suitable for hardwood, dirty wood, frozen wood and stumps. Suitable for planks and boards |
| Chipper | Curled design | Remains sharp for a long time so is sometimes used for dirty wood where other chains would become degraded |
Teeth Arrangement
The arrangement of teeth on the chain affects the type of work and chainsaw the chain is most suitable for.
| | | |
| --- | --- | --- |
| Full complement | Most teeth | Produces very smooth finishes and fine sawdust. Most frequently used by professionals with large, powerful chainsaws |
| Skip | Least teeth | Fast and efficient for cutting planks, boards and beams. The finish produced is rougher than full complement chain. Most frequently used on smaller chainsaws or those with extended bars |
| Semi-skip | Combination of full complement and skip | Fast but not as strong as skip chain. The finish produced is rougher than full complement, but not as rough as skip chain |
Chain Length, Pitch and Gauge
Chains must be the correct length, pitch and gauge to run safely. These are determined by different components of the chainsaw.
| | | |
| --- | --- | --- |
| Chain length | Defined as number of drive links | Determined by length and type of guide bar and size of sprocket wheel. To replace a chain, count the number of drive links |
| Chain gauge | Defined as thickness of drive links | Determined by gauge of guide bar. A chain that is too large for the guide bar will not fit and a chain that is too small will slip. The usual sizes of gauge are 1.1 mm (0.043"), 1.3 mm (0.051"), 1.5 mm (0.059") and 1.6 mm (0.063") |
| Chain pitch | Defined as distance between rivets | Determined by drive sprocket and nose sprocket. The distance between rivets varies so an average of two measurements is taken. The usual pitches are 6.35 mm (0.25"), 9.53 mm (0.375"), 8.26 mm (0.325") and 10.26 mm (0.404") |
Guide Bars
When purchasing a guide bar, ensure that the specifications correspond with the cutting chain to be used. The overall length is the measurement used to determine chain length.
Chain Sharpener/File
Chain sharpeners are vital accessories to ensure the proper maintenance and operation of chainsaws. The chain should be removed from the chainsaw and sharpened regularly, for example, after every few uses.
Protective Clothing
When operating a chainsaw, it is essential to wear the proper protective clothing. This includes chainsaw boots and trousers, gloves, safety helmets, visors or goggles and ear defenders. Chainsaw boots are steel toe capped boots with added layers of chainsaw protective fabric. Ensure that boots comply with appropriate safety standards. Chainsaw trousers are made of protective fabric and are classified according to maximum chain speed. Chaps which cover the front of the legs can be worn instead of full trousers. Chainsaw protective fabric contains ballistic nylon or Kevlar. Ensure that chainsaw trousers comply with EU safety standard EN381-5. Chainsaw gloves are required to be flexible as well as safe. For this reason chainsaw protective fabric is only added to the back of the left hand, which is where most injuries to the hands occurs. Ensure that gloves comply with EU safety standard EN381-7. Safety helmets protect against kickback and small falling or flying objects. Ensure that helmets comply with EN397. Visors and goggles protect the eyes against small objects, chips, dust and debris. Whether a visor or goggles are worn is largely a matter of personal preference together with consideration of working conditions. Ensure that visors comply with EN1731 and goggles with EN166. Ear defenders protect the operator against excessive noise that could damage hearing. Ensure that ear defenders comply with EN352-1.
Considerations when Buying Used Parts and Accessories
When buying a used power tool such as a chainsaw, it is especially important to be aware of safety considerations. Ensure that the seller is reputable and the part being bought is compatible with the particular model of chainsaw. When searching for used chainsaw parts and accessories, there are also options to select manufacturer refurbished or seller refurbished. These mean that the part has been restored to working order. Manufacturer refurbished items have been professionally restored to meet manufacturer standards. Seller refurbished items have been restored by the seller. All items listed as used, manufacturer refurbished or seller refurbished should be fully functional.
Find Used Chainsaw Parts and Accessories on eBay
Used chainsaw parts and accessories can be bought on eBay. Head to the eBay homepage, open the Home & Garden tab to the left of the page and click on the Home & Garden link. Open the Garden tab and click on the Power Tools & Equipment link. Click on Chainsaw Parts & Accessories. Scroll down to Condition and select Used. Alternatively there are options to select Manufacturer Refurbished and Seller Refurbished. Listings can then be browsed or refined further using the options to the left of the page. Used chainsaw parts and accessories can also be searched for directly using the search bar at the top of any eBay page.
Conclusion
When buying used chainsaw parts and accessories, it is important to keep a number of considerations in mind. Most importantly, it is important to check that the part is compatible with the model of chainsaw, other components of the chainsaw and complies with appropriate safety standards. Check seller feedback and reviews and shop around to find items at the best value.