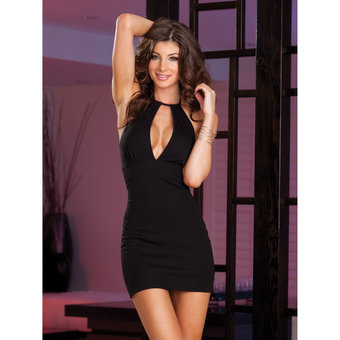 Buying used clothing is a great way to save money on what could be an otherwise expensive clubwear dress. It is also preferred by many environmentally conscious women, as recycling helps to cut down on the amount of waste that enters landfill sites. Clubwear dresses are not typically worn to the office or to formal social events; they are usually confined to trendy night spots. So, most receive very little wear and can be found in like new conditions. When selecting used clubwear dresses, women should check the condition of the garment for stains, discolouration, odours, and tears. Also, it is important to know whether the dress has been altered. Women should also consider their body type as many clubwear dresses are revealing. The low cut variety are worn by those willing to flaunt a lot of bare flesh. In order to help women to buy used clubwear dresses, this guide will discuss things to look for, such as the condition of the dress; it will provide an insight on setting an appropriate budget, consider various body shapes, and instruct women on how to search for and purchase used clubwear dresses at online retailers such as eBay.
Condition of the Clubwear Dress
When purchasing a used clubwear dress, there are many factors that buyers should consider before completing their bid. These factors can contribute to the dress's overall appearance and may affect the buyer's ability to wear the garment.
Stains
The dress should be thoroughly checked for stains. It may be possible to remove some stains, but the likelihood of this decreases the longer the stain is allowed to persist in the dress. In particular, buyers should check the underarm area of the dress. Stains from perspiration or deodorant are not uncommon, especially after a long night of dancing. Clubwear dresses may also contain stains from spilt drinks. Colas, wine, and other alcohol stains can be difficult, or even impossible to remove.
Discolouration
Dress discolouration tends to occur with the passing of time. If the dress has been left in a plastic garment bag for long periods, it may gain a yellowish tint. Similarly, a yellowish tint can indicate that the fabric has been exposed to direct sunlight for a long time. Fluorescent lights can cause discolouration as well if they are used near to a dress that has been hanging for prolonged periods. Discolouration is generally classified as a chemical change and cannot be reversed even with excessive washing.
Tears
The fabric of the dress should be checked for tears, loose threads, and runs. Delicate fabrics such as silk and satin are especially prone to damage, even if worn only once. Cotton dresses have a tendency to pill, especially if not cared for properly. If the previous wearer was not careful when putting on and taking off the dress, the stitching at the seams may have been compromised, which can cause the dress to begin to unravel in parts. If the dress is floor length, then the bottom hemline should be examined. Often, longer dresses are stepped on by others or by one's own heels, which causes the fabric to stretch or rip.
Alterations
Before purchasing a used clubwear dress, buyers should inquire about the dress's current sizing. Although the size of the dress is often indicated by a manufacturer's label, the previous wearer may have altered the dress to better fit her measurements. If the dress has been taken in, shortened, or otherwise modified, the buyer will need to find out the current dress measurements and check them against her own.
Bust
The bus is measured by placing the tape measure under their arms, around their body, and over the fullest part of the bust.
Waist
The waist is measured by placing the tape measure around the narrowest part of their waist. This is often right above or at the navel.
Hip
Hips are measured by standing with the feet together and measuring around the fullest part of the hips. The hip region is typically seven to nine inches below the waistline.
Length
Women should also measure the length of the dress. Although clubwear dresses are known for their lack of modesty, the length should still be taken into account, especially for taller women who require more material to cover essential areas.
Set a Budget
Although buying a used clubwear dress will save women money, it is still a good idea to set a budget. Buyers should do a price comparison so that they can gain a sense of how similar used dresses are priced. Buyers should also search for the prices of new dresses. Used dresses should be substantially less than new dresses in order to be a good bargain.
Determine Body Shape
When buying a used clubwear dress, women should consider their body shape. While halter dresses may flatter the body shape of some women, strapless dresses are better suited for others. If the dress does not complement a woman's body shape, it is likely that the dress will remain confined to the inside of her wardrobe. Even if the dress was bought at a large discount, it is still a waste of money if it never makes it to the club.
Hourglass Shaped
Almost any clubwear dress will flatter a woman with an hourglass shape; however, it is best to avoid dresses with an overwhelming amount of embellishments as this tends to draw attention away from the figure. Instead, a woman should stick to a simple dress that shows off her curves.
Pear-Shaped
Pear-shaped women are larger on the bottom than on the top. Because of this, these women should shift attention away from their larger area and towards their upper body. Pear-shaped women should consider a dress with embellishments around the chest. This will draw attention upwards and away from the hips. A dress which enhances the bust area may also help to even out a woman's proportions. Dresses that are a light colour at the top and darker at the bottom can give the illusion of a thinner hip and thigh area.
Apple-Shaped
Structured dresses will best complement an apple-shaped body and can help to create the appearance of an hourglass figure. Women with this body type tend to carry most their weight around their middle section, creating an undefined waistline. Dresses that feature a belt or band around the centre will help to give the illusion of a waist. Darker dresses will also flatter an apple shaped figure and help to minimise the tummy area.
How to Buy Used Clubwear Dresses
Used clubwear dresses can be found at many bricks and mortar shops, from high-end department stores to secondhand shops, car boot sales and charity shops. Used clubwear dresses are ideal if you are on a budget, just starting out in your first home, or environmentally conscious. Clubwear dresses are usually worn infrequently, so as long as they have been properly cared for, most should be in very good condition.
How to Buy Used Clubwear Dresses on eBay
Shopping for used clubwear dresses on eBay is a good idea because you may not wish to pay the full price for an item that will only be worn on a few occasions. The selection of used clubwear dresses available on eBay is far larger than many other retailers can offer. You have the pick of the most unique items at some of the best prices.
Buying online is made easy with sites like eBay because they offer security and convenience. Especially useful to the money savvy shopper is eBay's Auction feature. By bidding on an item and keeping up with the bidding until the end of the auction, many items can be bought for less than their retail price.
Choosing "Top-Rated Sellers" on eBay ensures that the seller has a history of offering their customers a satisfying service. This feature makes eBay a secure online marketplace to buy and sell used clubwear dresses. It is a good idea to become familiar with the terms and conditions before buying. Many of the questions that a new bidder may have are addressed in the eBay Safety Centre.
Conclusion
Buying a used clubwear dress is a great way to save money while being environmentally friendly. Some dresses have more than likely received limited wear and can be found in like new conditions. When shopping for a used clubwear dress, it is important to thoroughly check an item's condition. All signs of wear and tear to the dress should be taken into account including stains, discolouration, and other visible damage. Buyers should set realistic expectations and be willing to accept minor flaws. It is also a good idea to ask about any alterations that have taken place. Just because the dress is cheaply priced does not necessarily mean that it is a good deal. Clubwear dresses are designed to flaunt a woman's figure and should therefore complement her body shape. Knowing how to dress according to one's body shape will help a woman to look and feel her best. With so many used clubwear dresses to choose from, eBay can help a woman to find the perfect outfit for her next late night out on the town.