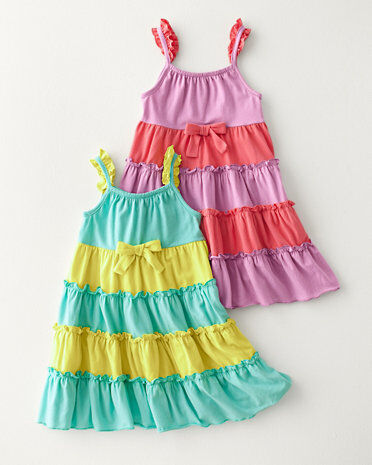 A dress consists of a bodice and a skirt that are joined together. Girls usually wear dresses willingly, especially ones that make them look like princesses. For parents, dresses are great things to buy for their daughters because putting them on is easy and requires less time than getting them into a pair of trousers and a top. Therefore, dresses are a good option for busy parents who want a practical and pretty outfit for their girl.
Girls who love dresses can wear them in a variety of settings from the playground to parties. Today, there are many styles and materials available for any occasion and parents are sure to find something that works well. Although some dresses may look fancy and expensive, there are affordable options that also do good for the environment. By buying used girls' dresses, parents not only save money, but they help to reduce waste that comes from manufacturing and disposing of worn garments. Used dresses are available in charity shops, as well as online auction sites, such as eBay, and with a growing child in the family who needs clothes often, it is a good investment to buy a used dress.
Fabric for Girls' Dresses
The fabric of the dress determines how to care for the garment and where to wear it. Different fabrics have a different feel on the skin. As children tend to have sensitive skin, it is advisable to use natural fibres that do not cause irritation. A girl who does not feel comfortable in her dress may express it in ways that may be a uncomfortable for her parents: an unhappy child can make a lot of noise.
Cotton
Cotton is a natural fibre derived from the seeds of the cotton plant and it is one of the most widely used materials in the dress industry. Cotton is soft and strong, although it wrinkles easily. When blended with polyester, the wrinkling is reduced and the resulting fabric is stronger than pure cotton. Then there is the luxurious looking cotton silk poplin that combines the best of silk and cotton, having the sheen of silk, but breathing well, like cotton.
Linen
Linen is a natural fibre woven from flax. This fabric is known for its light weight and plain block colours, and it is often used for summer dresses. Pure linen wrinkles easily, but when blended with lycra the wrinkling is reduced and linen's stretchability increases. Lycra also adds lustre to the fabric.
Wool
Wool is an animal fibre made from the fleece of sheep or other animals and its known for its felting property. Wool is warm and cozy, and therefore suitable for practical winter dresses. The softest type of wool is wool jersey, that stretches well and has a smooth finish. Wool broadcloth feels velvety, while wool gabardine is tightly woven and durable.
Silk
Silk is made of the fibre derived from the cocoon of the silkworm. It is soft and lustrous and suits elegant party dresses. Silk charmeuse looks like satin, but is softer, while silk taffeta has a sheen and a smooth texture. Silk chiffon feels slightly rough, but it is very sheer and lightweight. Silk double georgette is the strongest silk available and has a matte surface. Textured silk varieties include silk dupioni and silk shantung, which are medium weight.
Satin
Satin can be made of silk, acetate, or viscose, and is known for its special satin weave and soft, glossy texture. Different types of satin have different degrees of lustre. Duchesse satin is made of silk fibres and is shiny as well as heavy, making it suitable for party dresses. Topaz satin also has a high sheen and it is reversible: one of the sides is shiny and the other has a pebbly feel and a fine rib. Stretch satin is also shiny, but allows for movement, so it is a good choice for the dresses of active girls.
Velvet
Velvet is made of nylon, acetate, viscose, or silk, often with a cotton backing. If feels soft and luxurious and is used for girls' velvet party dresses.
Care Instructions
Girls' dresses have care instructions printed on a label sewn inside the dress. The specific instructions depend on the material of the dress and any embellishments that it may have. In the case of a used dress, the label may have faded, been removed, or fallen off. As a rule of thumb, the fancier the dress, the more care it requires. Used girls' dresses have already been worn and therefore need extra care in order to last.
Caring for Cotton and Linen
Dresses, like any other clothing, should be laundered with similar colours. Removing surface dirt from both cotton and linen is done by shaking the dress. Cotton can be washed in warm water and tumble dried on a low temperature, then finished with a cool iron. Cotton can be ironed on the right side, while linen dresses need to be ironed on the wrong side. Linen dresses are best dry cleaned, but hand washing with a mild detergent is also possible and it softens the fabric. Linen is dried by laying it flat on a clean towel.
Caring for Wool and Silk
Both wool and silk dresses should be brushed after wearing them in order to remove any lint or dust. These fabrics often require dry cleaning, although wool also responds to a damp sponge, and silk can be hand washed in lukewarm water using a mild detergent. Silk and wool are ironed when damp on the wrong side. It is advisable to use a cloth when ironing woollen dresses.
Used Girls' Dresses for Every Occasion
Dresses are versatile garments as they are available in different styles and materials. Although some parents may view dresses as merely formal wear, there are designs that fit other settings as well. Girls can wear dresses to school or even play in them.
Used School Uniform Dresses
School uniform dresses are usually in a pinafore style, or made with gingham fabric. They are typically cotton or cotton blends that are comfortable for a long school day. School uniform dresses are plain, but durable, so finding a used dress in excellent condition is more than possible.
Used Casual Dresses
Casual dresses are worn after school and at the weekend. They vary in style and colour, and can have printed images on the front in a similar way to a T-shirt.
Formal dresses
Girls' formal dresses are usually made of satin and silk. They typically have more embellishments and require more care than casual dresses. Therefore, formal wear is often more expensive and should be reserved for special occasions. As they are not worn frequently, there may be some excellent bargains to be found on like new dresses.
Choosing the Correct Used Dress Size
Dresses are manufactured in different countries that have their own sizing guidelines. A conversion chart is helpful when choosing perfect dresses for girls. Pay attention to where the dress was produced to decide which size is best.
| Age | UK Size | US Size | EU Size |
| --- | --- | --- | --- |
| 6 months | 6 | S | 60-66 |
| 9 months | 9 | M | 68-71 |
| 12 months | 12 | L | 73-76 |
| 24 months | 24 | XL | 83-89 |
| 2 years | 2-3 | 1-2 | 86-92 |
| 4 years | 4-5 | 3-4 | 98-104 |
| 6 years | 6-7 | 5-6 | 110-116 |
| 8 years | 8-9 | 7-8 | 122-128 |
| 10 years | 10-11 | 9-10 | 134-140 |
| 12 years | 12 | 11-12 | 146-152 |
| 14 years | 14-16 | 13-14 | 158-164 |
These sizes are just guidelines, especially as most of them use age. Girls of the same age may be different heights and require different sizes. As children are constantly growing, it is clever to buy a dress that is a slightly larger size rather than one that is a close fit. Some used dresses, especially the formal ones, may have been altered, so it is wise to ask for the measurements and match those against the child.
Buying Used Girls' Dresses on eBay
You can start looking for girls' dresses by typing "girls' dresses" into the search box on the main page. This presents a list of results to browse through. If you have a more specific idea what kind of dress you want to buy, type in the specific keywords. For used dresses, you can select "Used" from the list of conditions or search for "used girls dresses". The results can be sorted by price.
Once you have chosen the dress, you should also read a bit about the seller by browsing through the ratings and feedback. If there are any questions, you can submit them to the seller. Whether or not sellers answer queries is also a good indication of their trustworthiness. Reliable sellers should be able to answer quickly and provide information about the item's condition and size. You may even ask for specific measurements of the dress so make sure that it will fit your girl. The seller's refunds and exchange policies, postage costs, and payment methods should be present in the item listing. If not, contact the seller.
Conclusion
Girls and dresses are a perfect combination. The garments are easy to put on and can be worn in many settings. There are dresses for everyday school wear or just for trips out and about; while some dresses are made of more expensive materials and are designed for formal events and parties. These formal dresses also make girls look like princesses, with the abundant embellishments and sashes.
Girls' dress materials range from soft cotton and linen, to elegant and luxurious satin and silk; while woollen dresses are perfect for colder days. Each material requires specific care, but the rule of thumb is that dresses should be washed with similar colours and preferably at a lower temperature. Once in the buying process, the parents should get in touch with the seller in order to find out more about the dress. Buying a used girls' dress from eBay is easy, as the site lists a wide range of dresses to choose from.