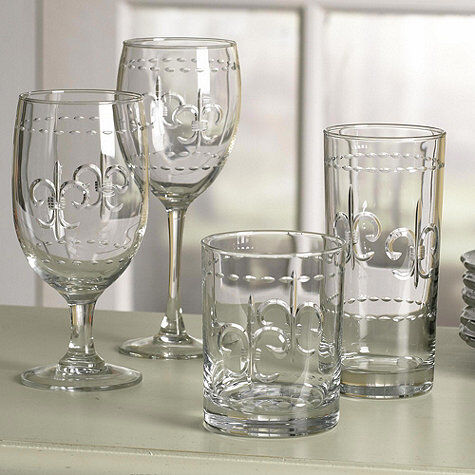 Used glassware is an environmentally friendly way of adding to a collection: making use of something that is not wanted by someone else can keep it from adding to the landfill problem and can give a new lease of life to an object that has lost its charm for its first owner. House clearances and general de-cluttering can lead to a wealth of items being available on the market, and there is always the chance that a single matching glass will turn up in a search and make complete a set that is missing one of its original components. The term 'used glassware' should make the buyer aware that the condition of items in this category will vary, from almost new, boxed items that have been used sparingly to items that have experienced extensive use and may be in a condition that reflects their age and treatment. The suggested price does not always reflect this distinction, so buyers need to be thorough in their examination of the images and descriptions of used glassware; they may find an item unfit for their purpose or excessively expensive if they have neglected to do so. Despite this, treasures can still be found with a little effort.
About Used Glassware
The history of glass can be traced back to 3500BC in Mesopotamia in Ancient Greece. The people of Mesopotamia invented many technologies in addition to glass making, including copper and metalworking, textile weaving, and flood control and irrigation. The main ingredient of glass is sand, to which various chemicals are added to give it different qualities. These include lime, magnesium oxide, aluminium oxide, lead, barium, thorium oxide, and iron. Before the invention of glass blowing in the Roman Empire, glassware was made by wrapping hot glass around a core. This core was made of dung and clay. The core was then removed, leaving the glassware item. With the invention of glass blowing came the potential to make different sizes and shapes of glassware, resulting in glassware becoming a household item. One of the most important periods in the history of glass was during the Italian Renaissance in the early 1200s. Venice and the island of Murano, in the Venetian Lagoon, became the centre of glassmaking and saw the introduction of decorative techniques and new types of glass. The development of glass and glass products continued. Diamond point engraving originated in Bohemia and wheel engraving in Northern Europe. Englishman George Ravenscroft developed lead glass, and French artist Emile Galle led the Art Nouveau movement. American artist and designer Louis Comfort Tiffany began to design glassware, and it was at this time that it became an art form. Tiffany glassware includes windows, lampshades, mosaics, jewellery, and blown glassware.
Popular Types of Used Glassware
'Used' in this context can mean any item of glassware that has been previously owned and is now available for sale on the secondhand market.
Period Glassware
Used glassware can be very desirable and collectible, so those people looking for vintage period pieces should do some research before they start scouring online sites and specialist shops. The current vogue for Victorian glassware means the vintage market is awash some fine examples of mid and high period nineteenth century art. In particular, 'slag glass', or malachite glass as it is more commonly known, is proving exceptionally popular. This kind of glass is pressed to obtain a marble effect and gained real currency in the 1890s when the taste for florid dishes and bowls in kitchens, drawing rooms and dining areas was at an all-time high. Look out for cranberry too. This staple of the Victorian middle class is currently experiencing a renaissance after a period of little interest, and informed buyers can pick up jars, jugs, bowls and glass sets for reasonable prices.
Drinking Vessels
Drinking vessels come in a multitude of varieties, from elegant champagne flutes to traditional beer glasses and jazzy, modern shot and cocktail glasses. Coffee cups and tea glasses can also be included in this category, as well as bar accessories such as decanters, jugs, and punchbowls.
Ornamental Glassware
Vases, bowls, candlesticks, sculptures, ornaments, and paperweights are other examples of used glassware. Some used glassware paperweights are particularly aesthetically pleasing, as well as useful, and are available in bright colours and beautiful designs. Antique paperweights were produced primarily in France, although the UK and the US also produced some good examples. Used glassware candlesticks can add the finishing touch to any table, while used glassware bowls are ideal for fruit, potpourri, sweets, or myriad other things. Used glassware sculptures and ornaments can add interest to any room, and are very collectible, while used glassware vases can be a beautiful way to display fresh or artificial flowers.
Used Glassware Materials
Glassware is not all the same grade and quality, so those who are looking for specific items should get an idea of the different kinds of materials a given object can be made out of before starting their search. For example, it's perfectly easy to purchase a set of wine glasses, but not all wine glasses are created equal. The key to making a successful purchase is to make sure that the descriptions of the product, and the grade and quality of materials and workmanship used is thoroughly understood before committing any money.
Glass
Glass items in this category will vary in type, from simple economy-style wine glasses to retro-style sets; colours and shapes will be equally various. Full sets of glasses can be found, which may even include a jug and decanter, as well as 'job lots' of mixed glasses, such as wine glasses, sherry glasses, glass goblets and champagne flutes. Glass is 100% recyclable and does not corrode, deteriorate, fade, or stain; however, the downside is that it can be fragile and break into lots of sharp fragments. Used glassware should always be handled with care to prevent breakages.
Lead Crystal
More decorative pre-owned items are usually made from crystal. Despite its name, this material is not actually crystal but is in fact glass to which an amount of lead oxide has been added during manufacture. This makes it more workable and easy to decorate. Modern lead crystal usually contains less dangerous materials, such as zinc oxide, instead of the potentially poisonous lead oxide; older used glass may have a higher lead content than more modern examples. The addition of lead oxide raises the refractive index of glass, resulting in its brilliant lustre. Cutting techniques further enhance lead crystal, with each cut facet transmitting and reflecting light.
Shopping for Used Glassware
Researching the market value of used glassware is not easy, and the buyer should use his or her own initiative when it comes to deciding if a specific item is worth the asking price. This will depend as much on the buyer's desire to possess the item as much as the initial starting price set by the seller. An unrealistic price can be a warning sign – too high and the item may not be good value for money, too low and the item may be in poor condition or show signs of much wear.
Find Used Glassware On eBay
Used glassware can be found on eBay in one of two main ways; one way is to use the interactive menu on the homepage to follow links through the Home & Garden tab to Dining Rooms and then Glassware. After following this route, the page will display a panel on the left of the screen, which can be used to search within categories for specific kinds of items. Narrowing the search down to used glassware, which is an option found under 'condition', should yield appropriate results. The other route is to type 'used glassware' into the search box and effectively come at the search from the other direction, eliminating all those items that do not meet the buyer's needs and using the left-hand panel to focus the search in to ever-narrower categories until the right items are found.
Conclusion
eBay offers a wide selection of pre-owned glassware, and the bargain-hunter or collector is sure to find something to suit, whether it is a full set or an individual glass to replace a cherished broken item. Research is the key to a successful purchase; potential buyers should research both the item and the seller to get the best possible result.