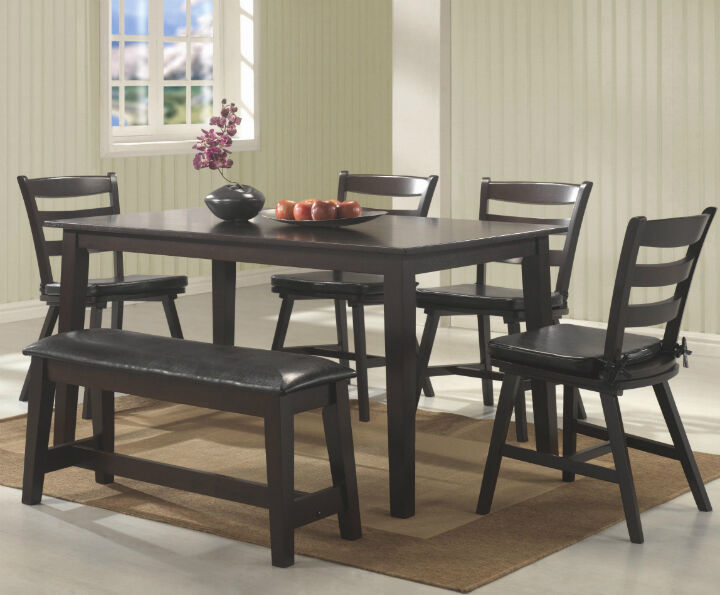 New kitchen furniture is usually prohibitively expensive, and many manufacturers produce furniture by using flimsy particle board or other veneer-faced substitutes. Used kitchen furniture is often far cheaper than new options, and in many cases, savvy shoppers stumble across used furniture which has been constructed of real, solid wood or employs other high-quality materials otherwise rarely seen without expensive, boutique pricing.
Whatever the reason shoppers have for looking for used furniture, there are a few simple steps to follow to guarantee that buyers get quality furniture for the best price possible available. Identifying quality materials and inspecting for aesthetic or construction defects are a few good examples. Shoppers may also want to consider shopping at online venues such as eBay. Shopping online at eBay saves considerable time compared to shopping for used kitchen furniture in person, and many buyers are pleased to find that they uncover quality pieces at bargain prices.
How to Buy Quality Used Kitchen Furniture
To buy quality used kitchen furniture, individuals should generally stick to a few simple but reliable steps. These steps include identifying the pieces they want, finding styles which match their kitchen spaces, identifying quality materials, finding quality construction, and establishing the ideal price range.
Determining Furniture Pieces Wanted
Ultimately, when individuals decide to purchase kitchen furniture, it is because they are wanting furniture to fulfill a need. The most common kitchen needs are more counter or work space, more storage, and seating.
Kitchen Furniture Which Provides Additional Counter Space
Those in need of more counter space have several different types of furniture to consider. Fold-down surfaces are mounted on walls or against the ends of existing countertops and employ hinges to keep the surfaces upright and out of the way, and they then fold down when needed. Kitchen islands are another ideal alternative, which not only endow a kitchen with additional counter space, but typically also feature additional storage space below.
Kitchen Furniture Which Provides Storage
Owners of small kitchens who often struggle with little storage space have many options when looking for furniture to amend this problem. Many kitchen islands feature shelves, drawers, or cabinets beneath the additional counter surface, while spice racks, hanging racks, and shelving also free up much needed drawer and cabinet space. Shoppers should try and match the type of storage they need to the type of furniture bought. If moving pots and pans out of a cabinet frees up much needed room, they should consider a wall or ceiling mounted rack. If additional dry goods or dish storage is needed, they should consider shelving or a kitchen island.
Kitchen Furniture Which Provides Seating
Some may simply think that a kitchen table is all which is needed to satisfy a lack of seating, but there are a wealth of options in kitchen tables which should not go unnoticed. And those relatively short on kitchen space may opt simply to purchase stools for use around an extended countertop instead. For those who require a small table which may occasionally need to fit larger parties, some tables are manufactured with folding ends or removable centre leaves. Other options include cafe kitchen tables, which are small and generally only seat two individuals.
Finding Styles to Match the Space
There are a few simple decorating tips and tricks to ensure that any piece of kitchen furniture matches the existing space. Any wooden surfaces should be either painted or stained to match the cabinetry, while metal finishes should match the finish on the sink or cabinet knobs. In areas where multiple stains, paint colours, or finishes are used, buyers should opt for the dominant colours. Those who are indecisive may wish to opt for neutrals, such as blacks or off-whites, which can easily match a wide variety of other colours.
Identifying Quality Materials in Used Kitchen Furniture
It is a simple fact that not all furniture is made equal. Shoppers should avoid purchasing used furniture comprised of particle board or other laminated wood substitutes. Heavier pieces in true hardwoods such as oak, walnut, maple, cherry, or mahogany are more likely to stand up to the rigours of moving and daily use, rather than cheaper, flimsier woods such as pine or beech. Few to no darkened, circular swirls should be visible in the surface of the wood, as these represent weak points in the grain. Other elements of the furniture should be of metal, not plastic, wherever possible.
Identifying Quality Construction in Used Kitchen Furniture
Quality construction is difficult to identify in any furniture, whether it is new or used. Luckily, looking in a few key areas, particularly joints and seams, helps to identify quality pieces which will stand up to consistent use.
Wooden Joints
One way to identify quality construction is to inspect any wooden joints or seams. Many manufacturers which produce furniture with subpar construction often use simple, heavy gauge staples to join two pieces of wood. Another sign of poor construction is the use of only glue at joints. Instead, buyers should look for joints which feature screws, pegs, or a combination of the three.
Welded Joints
Any welded joints on kitchen furniture should likewise be inspected. Such joints should appear relatively smooth with a minimum of puddling or pooling of the joined metals. Any roughness, pitting, or discolouration is likely a sign of a poorly executed weld.
Other Areas to Watch For
Other areas which buyers may wish to check include any wooden surfaces. These should have been thoroughly sanded during manufacturing, and should feel smooth to the touch, rather than rough. All corners should be even, joining smoothly rather than appearing offset.
Establishing a Price Range for Used Kitchen Furniture
Purchasing furniture of any kind, used or not, is a significant investment. It is important to consider how much individuals expect to pay for used pieces before heading to shopping venues.
Used Furniture Pricing
In general, shoppers expect to pay half the value of retail price or less for used kitchen furniture. How much they expect to pay varies widely depending on the type of furniture. Full sets, such as kitchen tables with chairs, are likely more expensive than relatively small, single items such as pot hangers. To get a better idea of what might be reasonable, potential buyers should check a few retailer websites or local stores for items similar to those which they are wanting to purchase used. Then they should make a general assessment of the prices retailers command of these pieces. The fact that furniture owners may bargain or haggle on their own prices should also be factored in.
High-Quality Used Kitchen Furniture
Some used kitchen furniture is worth even more than some brand new options. Many of these high-quality pieces are older remnants of a time when creating furniture from solid wood was the norm rather than the exception, and age often increases value. Such pieces are antiques or are otherwise identified as heirloom quality by solid construction, detailed ornamentation, and high-end materials. Anyone looking to purchase such higher quality pieces should do so with the understanding that the quality is likely reflected in price.
Buying Used Kitchen Furniture on eBay
The unique eBay software makes buying used kitchen furniture a breeze. First, locate the search bar which is available on any of eBay's pages. Type in the words or terms which collectively describe the type of furniture you would like to purchase. Some good examples might be "wood kitchen island" or "walnut kitchen table". Feel free to make your initial search fairly general, as your results can later be refined by options such as colour, price, and proximity to your location. Some other search refining options are available based on the specific terms used in your search.
In some cases, you may find a listing which looks promising, but lacks all the information you might need to make an informed purchasing decision. In these cases, look on the individual listing page for the "Ask a question" link. This link allows you to contact an item's seller directly with any questions or concerns.
Conclusion
When looking for used kitchen furniture, following a few simple steps guarantees solid results. After identifying what piece or pieces of furniture to hunt for, narrow them down to a type of style which complements the kitchen area. Look for pieces with quality, sturdy materials, and strong construction, as some kitchen furniture manufacturers are prone to placing wooden veneer on particle board pieces, which may not even survive the transfer from someone else's home to yours. The goal of buying used kitchen furniture is to find quality pieces at bargain prices; not to bring home furniture which falls apart in transit.
Whatever variety of kitchen furniture you intend to purchase, you may want to consider shopping at online retailers such as eBay. Doing so nets shoppers a considerable time savings vs. looking through classifieds or visiting outlet stores. And despite shipping costs, buyers may also even find the perfect item more cheaply.