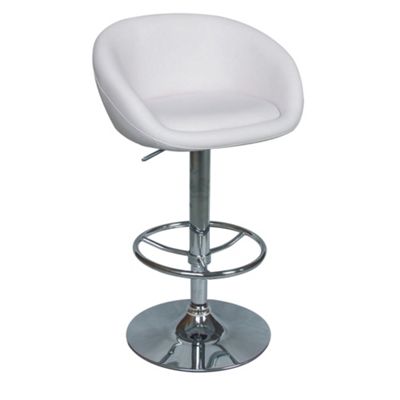 Kitchen stools are fun, informal seating options that can open up the room and add cooking space to the room. They are smaller and more versatile than formal dining room seats and make a great investment for any home or apartment dweller regardless of the kitchen design. However, those new to the market for kitchen stools may be overwhelmed when they find out how many different styles are actually available. After the buyer visualises the desired look and stool construction, the next step involves choosing between several specific details. For example, the height of the stool should fit with the kitchen table or countertop, the style should mesh with the aesthetics of the kitchen, and the material should be comfortable, yet long lasting and affordable at the same time. Suffice it to say, buyers in the market for new kitchen stools have their work cut out for them.
In order to save money, buyers should consider the option of buying used kitchen stools. Fortunately, those that spend time researching and preparing for their next purchase can make an informed decision on a quality used stool that is perfect for their style and budget. Homeowners and apartment dwellers that want a good deal on quality used kitchen stools should learn about the various materials and styles on the market, target stools that fit within their budget, and browse eBay's large selection of used items.
Kitchen Stool Materials
One of the most important considerations both in terms of style and price is what the stool is made out of. Buyers that decide on the material first can use that decision to guide the other aspects of the purchase. The most popular materials for kitchen stools include metal, wood, plastic, wicker, and upholstered fabric.
Metal Kitchen Stools
Metal kitchen stools are sturdy, generally affordable, and easy to clean and maintain. They are also resistant to weather conditions and therefore can be used outdoors. Metal stools bring a more contemporary look to the kitchen, but not all of them are the same. For example, chrome and gunmetal stools have a hard, shiny finish that sometimes gives them a flamboyant appearance. However, brushed steel stools have a more textured look and do not reflect as much light; they tend to blend in more with other kitchen pieces. For example, many stainless stoves, refrigerators, and dishwashers are brushed steel, so adding kitchen stools of the same material can provide a uniform look. The only major drawback of metal stools is the fact that they can be very heavy and difficult to transport around the kitchen or an outdoor space.
Wood Kitchen Stools
Wood stools are extremely versatile. They work well in rustic, traditional, and modern kitchens, and can be found in many different sizes and shapes. In addition, wood can be combined with metal to provide a nice contrast. Organic wood stools are typically made from beech, oak, cherry, maple, or walnut. Each type of wood has its own natural colour and grain, as well as its own price point. Users can weigh the pros and cons of each one before making a purchase. There are also engineered or synthetic woods that are made from recycled wood material and are just as strong and durable as the original.
The major drawback of wood kitchen stools is their vulnerability to the elements. Heat, humidity, and exposure to sunlight can all affect the stool's appearance and longevity, and they are obviously unfit for extended outdoor use due to the risk of rain damage.
Plastic Kitchen Stools
Plastic kitchen stools offer a combination of style, affordability, and practicality. Because they are available in so many different colours and patterns, there is a plastic stool that can match the décor and style of basically any kitchen. Plastic stools also clean up easily and are not susceptible to water or sun damage. In addition, plastic kitchen stools are usually the more affordable than other materials, so buyers on a budget should definitely add them to the short list of options. One reason that a lot of buyers pass on plastic is the fact that they are not the most environmentally sound choice. Another is their lack of character or non-traditional look and feel.
Wicker Kitchen Stools
Wicker kitchen stools impart a more casual feel than other materials. They are most commonly found in black, white, or a natural colour; all three varieties can bring a very inviting feel to the room. Wicker stools are not offered in as many different shapes and sizes as other materials, so buyers can browse through this option quicker than most.
Upholstered Fabric Kitchen Stools
Upholstered fabric can be used in conjunction with solid wood to make the stool more comfortable. Fabric is generally used on either the seat of the back of the chair. Either way, the addition of fabric can add a nice personal touch to the furniture. Another advantage of upholstered stools is that the material can be swapped out periodically, and the same chair can be transformed to take on an entirely new look. Chairs with upholstered backs tend to take up more space, however, and may not be suitable for smaller kitchens or households with many children.
Kitchen Stool Styles
In addition to the material, buyers should decide which style, or stool construction, best suits their personal needs and the kitchen décor. The amount of use that the stools will receive should also factor into the decision. For example, homeowners who envision them being used frequently and for long periods of time should consider purchasing stools that have backs and arms. These features are also important for households that have elderly residents, as the extra support decreases the stress on the arms and shoulders.
Another point of consideration is the amount of available space. Smaller kitchens benefit from backless stools. The artist's stool, for example, with its simple round seat atop an adjustable stand, is perfect for a smaller room. Backless stools of all types are very stylish and practical. Backless stools with a lip on the back of the seat, which provides added security, are very popular because of their portability. Regardless of the desired style, buyers should target stools that are appropriate in terms of both height and price.
Kitchen Stool Height
As a general rule, buyers should target kitchen stools with seats that are about 30 centimetres below the surface of the counter or table. Most standard kitchen counters are 88-94 cm high, and therefore the appropriate stool height, referencing the height of the seat itself, is approximately 60 cm. However, comfort is a matter of personal preference, and the size, weight, and age of the residents should also factor into the decision. The best course of action is to measure the height of the eating area, consult the other members of the home, and adjust the size of the stool accordingly.
Used Kitchen Stool Pricing
New bar stools vary in price and can be found in range from 10 to 200 pounds. High quality bar stools are generally found in the 60-175 pound range, and custom made seats can be very expensive. Used kitchen stools should be priced against new items of the same make and model and adjusted accordingly. One of the best aspects of buying used furniture is that the seller is often willing to negotiate. Those in the market for a used stool should ask the seller specific questions about the condition and the age of the stool and offer a figure that is below asking price. Buyers should start the process with an acceptable figure and try to find stools that are budget friendly yet durable and stylish as well.
Using eBay to Purchase Used Kitchen Stools
Homeowners and apartment dwellers looking to furnish their kitchen with stools should explore the large selection of new and used items on eBay. eBay is a massive retail site that has a high volume of sellers and a wide variety of products offered in different regions across the U.K. The diversity of merchants and items plays to the advantage of the buyer who can browse the listings in the comfort of their own home until they find a product that fits their personal needs and their budget. Those that know how to search and filter results as well as evaluate sellers will have a pleasant and successful shopping experience on eBay.
Search and Filter Results
Because of the sheer number of products on eBay, a general search for "used kitchen stools" yields many results. In order to conduct a more efficient search, users can include specific descriptors in the search field and also utilise the many search filters eBay provides. For example, a search for "used metal kitchen stool" can significantly narrow the field. Those that prefer to start with the larger listing can use more general terms and then filter the results by price, condition, seller location, or colour. Either way, eBay's user-friendly design allows buyers to find what they are looking for in a manageable amount of time.
Evaluate Sellers
Buyers should evaluate a seller on eBay based on the feedback of other buyers as well as their own direct communication with the individual. Previous buyers are encouraged to complete a Detailed Seller Rating on each merchant they interact with, and many leave detailed comments and feedback on the seller's profile. Both of these are helpful in gaining a complete picture of the seller's level of customer care and business practices. In addition, prospective buyers should reach out to the seller directly to ask details about the product and the return process, and this can be accomplished through eBay's convenient Ask a Question link. Buyers who click on this link can ask a specific question and engage the seller in dialogue, which should serve to expedite the evaluation process.
Conclusion
Buyers in the market for used kitchen stools have a wide array of options to choose from and a huge online retail market to service their shopping needs. The hardest part of the process is choosing a stool that fits their style and their budget, and this decision must be informed by market research. Specifically, buyers should explore the different options regarding material and stool construction. In terms of material, wood, metal, and plastic are popular choices, and there are also many different combinations of material, such as wood and upholstered fabric, that may be appealing.
The construction, for example, backless and armless stools, is a matter of personal preference and should be based on the size and layout of the kitchen as well as the physical needs of the residents in the home. Other important considerations include the height of the stool and, of course, the price; both of these decisions should reflect the values of the buyer and the layout and design of the kitchen as well. Buyers that are informed about their options and utilize eBay to make a purchase are likely to add significant value to the space and increase the functionality of their kitchen.