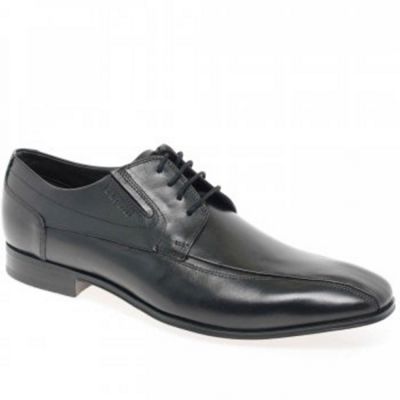 Formal shoes have been a staple of men's fashion since the concept of formal attire was developed. Dress shoes are a vital piece of fashion that adds the finishing touches to formal attire. A man can have the perfect suit and tie, but without the right formal shoes to accent the ensemble, he can stand out for all the wrong reasons. Unlike casual or athletic shoes, formal shoes are designed for very specific social engagements and rarely can be used in fashion situations other than as formal attire.
This makes formal shoes a very specific footwear that should be shopped for very carefully. Unfortunately, formal shoes can sometimes be more expensive than even the suit they are purchased to compliment, so find great deals on them is important. This guide explores the different types of formal shoes, what to look for when shopping for them. and how to save a great deal of money purchasing used formal shoes in place of new ones.
What Makes up a Formal Shoe
Formal shoes are designed to have an elegant appearance that compliments any formal or semi-formal occasion. Formal shoes will usually be made of high quality leather, suede, or similar material to create a luxurious appearance to match suits and tuxedos. Formal shoes can also be worn with slacks and a blazer to give a more formal appeal to smart casual attire. Formal shoes will generally have thinner soles and a shine to the leather, unless made from suede, and they can be lace up or a slip on design.
Common Formal Shoe Types
There are several different styles of formal shoe to complement certain styles of attire. When considering the purchase of a used formal shoe, buyers should take into account the type of outfit the shoe will be worn with and focus on that particular style.
Oxford
The oxford was originally known as the Balmoral in England. The oxford is usually constructed of leather or suede and has closed lacing and internal eyelets, which give the exterior of the shoe a very Spartan appearance that lends to its elegance. The oxford can be paired with any type of formal clothing from suits to tuxedos, and variations of colour allow them to be worn in various levels of formality. They are especially popular in very formal engagements that require tuxedos.
Wingtips
Wingtips are a variant of the oxford design that gets its name from a wing shaped pattern that appears as a cap on the vamp of the shoe and is perforated in various patterns and designs. The wingtip was originally known as a brogue and was designed as sports shoes in Scotland and Ireland. The wingtip is usually constructed with leather or suede and is common in formal attire. The shaped patterns of the wingtip create an appealing visual that lends well to designer suits, and they are very popular as accessories to formal engagements that do not require a tuxedo.
Loafers
Loafers are constructed with softer leather materials that the oxford or the wingtip, which makes them slightly less formal. They are slip on shoes that have a similar appearance to a moccasin and can have tassels or a strap across the upper portion. Because they are constructed from softer materials, loafers are known for their comfort, which makes them ideal for dressier occasions that do not require the completely formal appearance of oxfords or wingtips. Loafers are great for smart casual attire and more formal ensembles that include blazers and slacks. They are ideal for dressing up a business casual outfit in the office.
Monk Straps
Monk straps are similar to loafers in that they are slip on dress shoes that typically do not have laces. Monk straps get their name from a strap of leather that runs across the upper of the shoe and features a metallic buckle on the end. Monk straps can be worn in all the same type of formal settings as a loafer, but when constructed of shiny leather, they can double as a more formal accessory to a complete suit. Monk straps come in different variations and offer the wearer the benefit of a refined appearance along with the comfort of the softer materials associated with slip on shoes.
Boots
Dress boots are ankle height boots that have a slight heel and very slim and sleek appearance. The dress boot usually has a narrow heel so as not to interfere with the manner in which the trouser falls on the boots vamp. Dress boots are almost always constructed from leather and are highly polished to produce an elegant and formal appearance. Their clean lines allow them to be worn with designer suits and less formal applications as well. They are one of the only formal shoe styles that are versatile enough to be worn with a suit or a pair of denim jeans.
Considerations for Buying Used Formal Shoes
Purchasing used formal shoes is an excellent way to augment a wardrobe at a fraction of what it otherwise might cost to purchase the shoes in new condition. Formal shoes are not normally worn on a daily basis, so they remain in good condition for considerable periods of time. Many men change suits periodically as well as shoes, so there are ample opportunities to acquire great used shoes at bargain basement prices.
Getting the Size Right
Prior to purchasing any shoe online, it is important for the buyer to make sure they understand their exact shoe size. By going to a shoe shop and being professionally measured with a Brannock device, the buyer can ensure they have their exact foot dimensions prior to purchasing a used shoe. It is also a good idea for a prospective buyer to try on as many different types of formal shoes as they can to help determine which styles and brands fit them best. Trying on the various styles of shoes is important because not all the styles will fit similarly. The buyer might discover that the dress boot that they wanted to purchase did not fit their foot properly regardless of the size or brands that they tried on.
Condition of the Shoe
Prior to purchasing any used shoe, especially online, it is important to visually inspect the shoe for any signs of abnormal wear or damage. The listing should have close up images of all the parts of the shoe that are clear and show all the details of the shoes condition. The heels and sole of the shoes should have minimal wear and have the stitching intact. The leather should be polished and shiny and not have cracks or scuff marks visible on the material. The shoe might have wear marks in the leather, but make sure that the creases are not breaks in the material.
How to Buy Used Formal Shoes on eBay
After you've decided to purchase a set of used formal shoes, you can save yourself a large amount of time and money by utilising the advanced and powerful search tools available on eBay. Simply go to the eBay homepage and enter a keyword like "used mens formal shoes" into the search box. A number of auctions will be listed that correspond to that search word. You can choose to browse through the various auctions until you find a pair of shoes you like, or you can refine your search by selecting various categories that will narrow the results more in line with what you are looking for. Of course, if you already know the brand and size of shoe that you are looking for, you can enter that information directly into the search box and all available auctions that fit that keyword will be shown.
Once you have found the shoe you are looking for, make sure to check the sellers feedback. Sellers on eBay are rated by each buyer based on how the perform throughout the auction process. Sellers with good feedback ratings and positive comments can be trusted to conduct themselves in a professional manner and be dedicated to good customer satisfaction.
Conclusion
Buying used formal shoes online can be an excellent way to expand a footwear wardrobe in a very cost effective manner. Formal shoes are an important piece of formal attire yet they are not a shoe that is commonly worn as part of an everyday outfit. For this reason, many men sell their used formal shoes when they change over their wardrobes. This creates a situation that can benefit the savvy clothes shopper by allowing them to pick up great deals by shopping for used formal shoes that still have a great deal of life left in them. The key is to perform the proper research when looking for the best shoes at the lowest prices.
Shoppers can find great deals on used shoes in thrift shops and specialty shops, but they can also find excellent quality shoes online for a fraction of their original cost. This means that smart shoppers can equip their entire formal shoe wardrobe for less than they might pay for a single pair of new shoes.