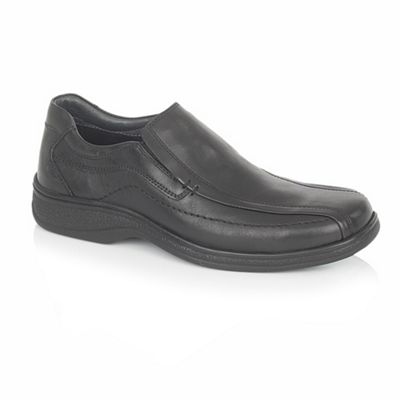 Clothing and shoes can be expensive purchases, especially when needed for particular events or seasons. Buying pre-owned shoes is an easy way to save money on the cost of footwear, and many used items are available that are lightly worn. However, it is important to buy used shoes that can still provide support and comfort. Learn about what to look for while shopping to find shoes that fit properly and will not cause discomfort to the wearer.
Used men's shoes are available from shoe stores, thrift stores, and garage sales. Many shoe retailers have a section in their store reserved for shoes that have been returned. These items are offered at discounted prices, and are often in a condition that is like new. Online sellers are also a great way to obtain used footwear. Marketplaces like eBay have shoes available from both private and commercial sellers. Shop around to find the best prices on the full range of used shoes, and stick to a few rules to find items that can provide comfort and long use for their wearer.
Inspect Shoes for Wear
Look over a pair of shoes to make sure they are in an acceptable condition. If buying online, look for images that show each side of a shoe, as well as its interior. Ask the seller for additional photos if needed.
Begin examining used shoes by looking at the soles, as these offer the best indication of a shoe's history. Scuffing and wear on the tread reveals shoes that are heavily worn, and are therefore unfit for a new user. Be especially cautious of uneven tread wear, as it is indicative of a specific walking style. These shoes are likely to be worn unevenly on their insides, and can cause discomfort to a new wearer.
Examine the insoles of a shoe for signs of wear. Insoles with an imprint in their padding should be avoided, as they have already adapted to the unique contours of the previous wearer's feet. It is also important to check the external appearance of a shoe. Look for solid seams and joints. Shoes with frayed stitching or splits in the connection between a sole and the material of the upper shoe are likely to fall apart.
Ask questions about the history of a shoe to determine how often it was used. Online listings usually provide information on how a pair of shoes has been used. For example, a pair of boots may only have been worn a few times for snowy days during one winter season.
Select a Shoe Size
A shoe's comfort is primarily determined by its size and fit. The best way to find a wearer's foot size is to head to a shoe retailer. Stores have a measuring tool that can be used to accurately obtain a measurement. These tools measure both width and length.
Alternately, some websites provide a printable sizing chart that can be used in a similar fashion. Always measure feet while standing up, and take measurements for both feet. It is not unusual for one foot to be bigger than the other, so be sure to shop for a shoe size large enough to accommodate the larger foot. Feet also tend to expand as a day progresses, so take measurements and try on shoes in the evening to be sure shoes will be comfortable at all times.
Shoes are measured differently in Europe and the United States than they are in the United Kingdom. The following table offers size comparisons to help buyers find shoes that have been made outside the UK.
| UK Size | European Size | US Size |
| --- | --- | --- |
| 6 | 39 1/2 | 6 1/2 |
| 7 | 41 | 7 1/2 |
| 8 | 42 | 8 1/2 |
| 9 | 43 | 9 1/2 |
| 10 | 44 1/2 | 10 1/2 |
| 11 | 46 | 11 1/2 |
| 12 | 47 | 12 1/2 |
| 13 | 48 | 13 1/2 |
| 14 | 50 | 14 1/2 |
| 15 | 51 | 15 1/2 |
When trying on shoes, there should be about one and a half centimetres of room between the tips of the wearer's toes and the material at the end of the shoe. Shoes should fit snugly at the heel, and should not pull away from the foot while moving. Try walking around in the shoes. If they are to be used for any type of athletic endeavour, hop a few times. If the shoe stays secure on the heel, and the toes do not touch the end, it is a good fit.
Select Types of Shoes
There are many types of shoes available, and finding the appropriate style for an event or activity is important for protecting feet and providing comfort.
Casual Shoes
Shoes for everyday use can be made in almost any style, though there are a few things to look out for. Buy shoes with a flexible sole, and be sure they can be laced up snugly. The more padding is present on a shoe, the more comfortable it will be to wear for long periods of time, so consider basketball shoes and other sneakers for daily wear. Boots with heels or little padding are generally unsuitable for daily use. Canvas and leather are ideal material choices, as they breathe better than synthetic materials.
Athletic Shoes
Active wearer's should consider athletic shoes for any type of physical activity. These provide additional arch support and padding to promote comfort and safety while running and jumping. High top sneakers are also designed with extra support for the wearer's ankles. Buy these items as near to new as possible, as they are more likely to absorb sweat from the previous owner.
Dress Shoes
Dress shoes are typically an ideal shoe to buy used. In many cases, a previous wearer may have only worn the shoes once or twice for a wedding or other formal event before deciding to sell them. Because these shoes are designed with less padding than other products, they are also less likely to conform to a wearer's foot and absorb dirt or sweat. As with all used shoes, look for materials that breathe well. In the case of dress shoes, leather is a good option. It is not as important for dress shoes to be flexible and well-padded if they are only to be worn occasionally.
How to Buy Used Shoes for Men on eBay
All types of used men's shoes can be found on eBay. An easy way to locate these items is to enter keywords into the search field on the homepage. For example, to see listings for dress shoes, simply type "dress shoes" into the field. The category options on search results pages can be used to narrow listings to used items and men's shoes.
Examine listings to be clear on the specific item being sold. Note the price of the shoes, and be sure to add shipping costs to an estimate of the total cost. Check the seller's accepted payment methods, and have payment ready at the time of purchase. Sellers often provide multiple photos of used shoes, so inspect these for signs of wear and damage to the item. Compare images with the seller's description, and contact the seller if you have any questions.
Click on sellers' names to see their full profile. There, you can view information about their eBay history, including the satisfaction of past buyers. Average ratings based on the seller's shipping speeds and the accuracy of item descriptions are also available. Consider the number of completed transactions to find experienced eBay users, and view comments left by previous buyers to gain a more specific idea of a seller's performance. Leave feedback at the end of your transaction to inform future buyers about your experience and help them choose a reliable seller.
Conclusion
Buying used is an easy way to cut costs on clothing purchases. When buying used shoes, it is important to look for items that are in the best possible condition. In many cases, shoes can be found that have only been used a few times. Determine how much a shoe has been worn by examining its sole. Heavy wear is indicative of a shoe that has been broken in and is already conformed to a previous wearer's foot. Check insoles to see if a distinct footprint is present. If so, look for a different pair.
Choose shoes that are appropriate for different activities. Look for comfortable, flexible shoes for everyday use, and athletic shoes with extra padding and arch support for physical activities. For weddings and other formal events, choose dress shoes that breathe well.
Used men's shoes can be purchased from shoe stores, thrift shops, and garage sales. Marketplaces like eBay are an easy way to shop for a wide selection of used items. Research sellers when purchasing online, and look for the best prices available. Careful shoppers can find many great shoes at discounted prices that will provide safe and comfortable use for years to come.