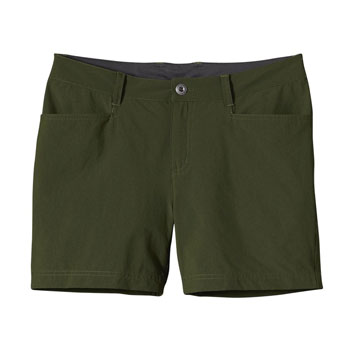 Nothing says summer more than a woman slipping on her first pair of shorts for the season. These short, freeing garments are one of the real signs that the warmer months have arrived. Shorts allow a woman to explore the fun facet of her personal style in the warmer months. During other times of the year, shorts can provide women with an indoor workout option or even a comfortable sleeping garment. What many women may not realise is that one of the more practical options when searching for quality shorts is to shop for used women's shorts. Second-hand or used shorts can offer women a diverse range of choices at lower price points. Quality used shorts in excellent condition may be found on the marketplace today, including yard sales. However, one may find a wider selection of used women's shorts online. At the online auction site, eBay, individual sellers and retailers offer a huge array of choices and styles of used women's shorts.
Shopping for Used Women's Shorts on eBay
To begin a search for used women's shorts on eBay, one can start off with the search bar located at any page on the website. If you wish to get an overall idea of the range of selections available on eBay, then you may start with an all-encompassing general term such as "used women's shorts". If you have a particular style of used shorts in mind, you may use a more specific term to narrow down the listings. eBay also offers related search suggestions that can help expand search options to find just the right pair of shorts.
Of course, in order to find the ideal pair of used shorts, it can help to have an idea of the main types of shorts available on the used marketplace on eBay. It is also beneficial to be aware of the decorative details that may be found in shorts as well as where and how each type of shorts can be worn to achieve a certain look.
Types of Used Women's Shorts on eBay
Used women's shorts on eBay vary from the edgy and stylish to the pragmatic and comfortable. Popular shorts styles available in the marketplace include jeans cut-offs, athletic shorts, and linen shorts.
Used Jean Shorts and Cut-Offs
Used jean shorts are one of the more prevalent categories of shorts in the used marketplace. These shorts are made from denim and can be constructed by cutting off shorts from an original pair of full-length jeans. Denim shorts provide women with the same universality that jeans do, allowing them to pair these bottom pieces with any one of several shirt and top options. Denim cut-offs can be quite short, so a woman should be prepared to reveal a bit of leg when wearing these jean shorts.
Vintage Denim Shorts
There are vintage varieties of denim shorts that come from particularly famous jean eras in fashion. Typically found from the 1970s and the 1980s, a heyday for jean fashion, these vintage shorts can hold a unique appeal.
Used Board and Water Shorts
Board shorts, also known as water shorts, are designed to provide women with coverage during sun and surf activities at the beach. These synthetic blend shorts are sturdy enough to stand up to surf, but light enough to dry much more quickly than a pair of cotton shorts. Used board shorts can be commonly found with tropical patterns or in bold graphic patterns. Board shorts can run from the very short to knee length, giving women a range of coverage options.
Used Athletic Shorts
Used athletic shorts are great workout garments for the ardent gym fan any time of the year and are ideal for use outdoors in the warmer months. Athletic shorts can be found with a classic sportswear look with piping on the hem or in solid bold colours or vibrant patterns. Running shorts, a subset of the general athletic shorts category, typically have a shorter hem and venting on the side of the thigh to allow the legs a greater range of motion. Athletic shorts can be found in cotton as well as in synthetic material that wicks moisture away from skin to cool an athlete during a workout.
Used Cotton Blend Shorts
The more ubiquitous and universal summer shorts, cotton blend shorts come in a wide range of colours, patterns, and lengths. Cotton or cotton blend shorts give women a comfortable and soft hot weather option. Women who prefer a bit more coverage on the thighs can find knee-length varieties, while those who like to show off the legs can leverage short or cuffed options instead.
Used Sleeping Shorts
Sleeping shorts are comfortable shorts based on men's boxers and boxer briefs that women can wear to bed. These shorts are typically made of 100 percent cotton or a cotton blend, though some can be found in a silk variety or even a flannel variety appropriate for colder months. Sleeping shorts can come in any type of colour or pattern, with whimsical patterns being one particularly prevalent style subset in this category.
Used Linen Shorts
Used linen shorts can offer a woman a slightly dressier way to wear a short in the spring or summer. This quality material can give a pair of shorts a touch of refinement that takes it a notch up from everyday casual wear. A fine pair of used linen shorts may be paired with a blouse, creating an appropriate ensemble for a lunch with friends or afternoon tea in the garden. White linen shorts can also make a good option as part of a tennis outfit for playing at higher-end clubs and courts.
Finding the Right Size in Used Women's Shorts
One of the most important elements of the shopping process when looking for used shorts is finding the right size. Women can get a general idea of their correct size by taking basic measurements of the hips and waist and then cross-referencing them with the chart below. The waist can be measured with a tape at the natural waist, or at the drop waist if a woman wants to wear low-rise cut-offs, say, while hips should be measured at the widest part.
| Single Size | UK 4 | UK 6 | UK 8 | UK 10 | UK 12 | UK 14 | UK 16 |
| --- | --- | --- | --- | --- | --- | --- | --- |
| | cm | cm | cm | cm | cm | cm | cm |
| Waist | 58 | 60.5 | 63 | 68 | 73 | 78 | 83 |
| Hips | 83.5 | 86 | 88.5 | 93.5 | 98.5 | 103.5 | 108.5 |
Keep in mind that, on eBay, one may encounter used shorts sized under standards other than UK standards, such as US, European, and Australian standards. The following conversion chart can help women convert a UK size into another country's size.
| | | | | | | | |
| --- | --- | --- | --- | --- | --- | --- | --- |
| UK | 4 | 6 | 8 | 10 | 12 | 14 | 16 |
| Euro | 32 | 34 | 36 | 38 | 40 | 42 | 44 |
| US | 1 | 2 | 4 | 6 | 8 | 10 | 12 |
| Aust. | 4 | 6 | 8 | 10 | 12 | 14 | 16 |
It is important to remember that sizing can vary widely from one manufacturer to another. The charts above present an average by which women can gauge their size, but exact sizing should be confirmed with the vendor of an item during the purchasing process on eBay.
Buying Used Women's Shorts on eBay
Once you have settled on the type of used women's shorts you want to purchase, you may begin searching through the extensive fashion listings on eBay. When you see a listing that looks appealing, click on the listing name to access the details page for the listing. On this page, you can find essential facts on the shorts available as well as important data such as shipping costs and estimated delivery time. You can also access information on the seller of the item, an important step in the eBay buying process.
Familiarising yourself with the sellers is an essential part of feeling confident about the purchasing process on eBay. By visiting a seller's page, you can access information on the seller's customer service record and view the types of items they sell. You can also see feedback the seller has received from other customers, giving you further insight into the business.
Conclusion
By purchasing used shorts on eBay, women are able to supplement their summer wardrobes and sportswear collections. The diverse marketplace on eBay, which aggregates individual sellers and retailers, gives women a wide selection that includes items as diverse as tropical-themed board shorts and formal summer linen that can be worn at teas and lunches. A woman who is looking for the ideal pair of used summer shorts need only consider which style she prefers, get an idea of her general size, and then begin searching through the listings on eBay. The website's numerous search functionalities allows a prospective buyer to locate a great pair of used women's shorts from the comfort of the home. By carefully reviewing listings and taking the time to vet the seller with whom she wishes to do business, a woman can utilise eBay to quickly find the exact pair of shorts she needs to enjoy the warmer months.