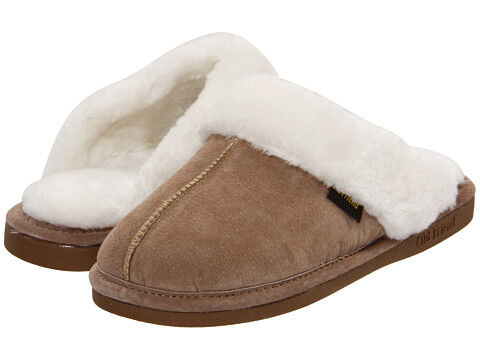 Slippers are designed for indoor use, although some may be worn as outdoor shoes. This footwear typically has a simple sole and is a slip on mule-style, that is with no back. Some slippers have a strap which goes over the wearer's foot or in between their toes, and others are lined with fleece. Slippers are soft and lightweight, offering a high degree of comfort to the wearer. They can be made of various warm materials: wool, suede, velour, and fleece. Leather slippers are more durable and can be worn outdoors as well. Terrycloth slippers are ideal for the bathroom or for swimming. Women's slippers come in a wide array of styles and colours. Some have soft soles, while others have hard soles.
Buying used women's slippers is an economically sound decision and a great way to reuse resources. Since slippers are generally confined to the inside of the wearer's home and receive minimal use, many can be found in a "like new" condition. When purchasing a pair of used women's slippers at retailers such as eBay, buyers should weigh up the advantages and disadvantages of slippers, consider the various types that are available, check them for damage, and learn how to care for them properly.
Advantages of Women's Slippers
As well as keeping the feet warm, slippers are ideal for wearing around the home to help to prevent stubbed toes from occurring in the middle of the night. Their padding can also protect the feet: the soles of the slippers can be used as a barrier, keeping the feet and floors clean and reducing bacterial growth. Their hygienic qualities make them ideal for both indoor and outdoor use around the house. Some people have multiple pairs: slippers that they put on in the house, and another pair to slip on when in the garden. In diabetics, slippers have been known to positively affect blood flow to the feet as they offer warmth and comfort.
Disadvantages of Women's Slippers
Unlike more traditional footwear, slippers are not always scaled to size. Some styles, especially novelty slippers, are often sized to fit a wide range of foot lengths. In addition, most slippers offer the wearer little to no arch support. This lack of support can lead to more severe health problems if left untreated for prolonged periods of time. Slippers may also contribute to toenail fungus growth if the wearer puts on the slippers immediately following her shower or bath: fungi breed in moist environments. Wearer's should always be sure to dry their feet completely before putting on the slippers.
Types of Women's Slippers
There are a number of types of slippers, so every woman should be able to find a pair to suit her needs. Each type differs in style, material, and purpose.
Type of Women's Slippers

Description

Fabric upper encloses the top of the foot and toes

Open heel

Easy to slip on and off

Designed to look like boots

Typically furry with a fleece or soft lining

Soft rubber sole

Associated with indoor and outdoor use

Shaped like animals, vehicles, cartoon characters, etc.

Soft and colourful

Cushioned with soft rubber or fabric sole

Designed to be worn like sandals

Made of fabric

Closely resemble shoes

Made of soft leather or pelt

Have a hard rubber or leather sole

May contain intricate beading or tassels

Associated with indoor and outdoor use

Resemble slip on slippers with an added heel guard

Secured heel

Made of pliable material: cotton, leather, or suede

Have a soft sole

Designer sheepskin footwear

Made in both slip on and boot form

Thick socks with rubber grip along the soles to provide traction
Some slippers are better suited for indoor use, while others may be worn outdoors as well. Buyers should consider the intended use before making a purchase as this will help determine the perfect slippers.
Checking the Used Women's Slippers for Damage
When buying used women's slippers, buyers should always check the footwear for any signs of wear and tear or other other damage that could affect the shoes' ability to be worn.
Wear and Tear for Women's Slippers
Buyers should examine the soles of the slippers for signs of uneven wear. If the tread is worn down on the inside or the outside of the slipper, the footwear is likely to be uncomfortable for the new wearer. Buyers should also examine the heels and toes of the slippers for signs of extreme wear.
Odour in Women's Slippers
Slipper odour is not uncommon, especially when walking around in them without socks on a humid day or putting the slippers on dripping wet after a shower or bath. Bacteria thrives in dark, damp places such as the insides of damp shoes. As the bacteria consumes the wearer's dead skin cells and body oils, they produce acids which give off a foul smell. Buyers should always ask about any slipper odour before making a purchase. While it is possible to rid the footwear of odour, buyers will need to ensure that they get rid of both the odour and the moisture that is causing the odour.
Hardware on Women's Slippers
Buyers should examine the slippers thoroughly to ensure that all buttons, snaps, and zips are in good working order. Hardware can generally be replaced for a small cost.
Proper Care for Used Women's Slippers
When caring for slippers, women should follow the care instructions, if any. If the slippers can be immersed in water, then hand wash them and then allow them to air dry. Laundering slippers in the washing machine may cause damage to the material or cover them with colours and lint from other fabrics. To rid the slippers of any unwanted odour, buyers should sprinkle baking soda into the footwear and allow them to sit overnight. The baking soda will soak up the moisture and odour. Buyers should remove the baking soda prior to wearing the slippers. Alternatively, buyers may choose to place a fabric softener dryer sheet inside the slipper. This will help to neutralise any slipper odour.
Where to Buy Used Women's Slippers
There are various car boot sales and charity shops where used slippers are sold. Alternatively, buyers can choose to buy pre-owned slippers online. eBay sells a wide range of used slippers of all types. Buyers looking to pay a competitive price or who want a specific type of slippers should shop on eBay.
Buying Used Women's Slippers on eBay
Buying used women's slippers online offers buyers a wide variety of choice in any price range to meet any budget. Buyers can search for used slippers by typing "used women's slippers" into the search on eBay's home page and a wide selection of slippers available will be displayed. Alternatively, buyers are free to browse the category listings. This route is likely to increase the number of search results rendered.
Searching by Location
When searching for used slippers, buyers may choose to limit their search to items being sold in particular locations. Some areas have colder climates than others. As such, these slippers are likely to have received more use than slippers from warmer climates.
Alternatively, buyers may choose to limit their search to items being sold close to home. To find local sellers, buyers can filter the listing pages by item location. This allows buyers to limit the distance from a specific postcode. By using the "Sort" feature, buyers can arrange listings by distance in order of nearest location.
Postage and Packaging
Postage and packaging can be expensive. Factoring in postal insurance to protect the slippers only adds to the cost. Therefore, it may be beneficial to arrange a local collection of the slippers to ensure safe delivery.
Getting to Know the Seller
Buyers should always communicate clearly with sellers to see if they allow local collection. This information may also be listed under the item description. While some sellers may not allow this delivery type, others are willing to work with buyers to ensure a positive transaction and help to eliminate postage, packaging, and insurance costs.
Conclusion
Buying used women's slippers is a great way to save money. Some slippers, especially those reserved for indoor use, are only gently worn, leaving them in near perfect condition and suitable for resale. In addition, recycling footwear is kind to the environment as it saves energy and landfill space. When shopping for used slippers, check each item's condition. The slippers' overall condition should be studied, with specific attention paid to factors such as the state of the material, signs of wear and tear, and lingering odours. It is best to buy used slippers from a seller with a return policy. This makes it easier to return the footwear if they are not what the buyer expected after they have been purchased. It is important to have realistic expectations about the item and to accept minor flaws, after all, the slippers have been used.
There are various types of slippers, so buyers need to consider the slippers' intended use. Novelty slippers are usually reserved for indoor use while moccasins are considered acceptable outdoor wear. Whichever type is chosen, learning how to care for the slippers properly ensures a maximum lifespan.