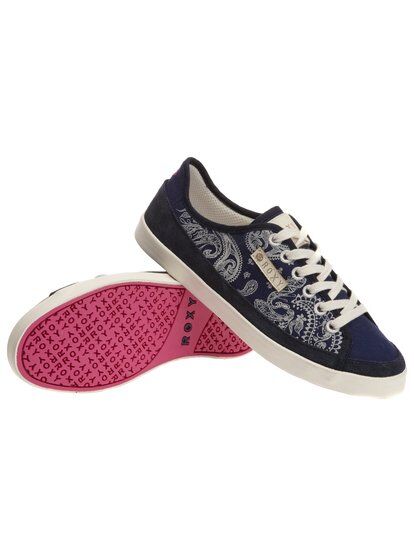 The term "trainers" refer to any of the many kinds of footwear, generally described as "athletic shoes". Some trainers have no support and are of little use for playing sports, such as plimsolls and other canvas, casual shoes. Others are highly supportive with great cushioning and are designed for stability and support, grip and comfort, which make them perfect for many sports, including going to the gym.
Women's trainers can be found in most general shoe and sports shops and online on various clothing and footwear websites, and used trainers account for a great deal of shoe listings on eBay. Trainers are not cheap and can be costly to replace, especially sports trainers. Used trainers can be a good way to save money when carefully chosen, but the word "carefully" here is almost an understatement. A buyer will want to be highly circumspect when choosing secondhand trainers and know what to look for to avoid disappointment. This guide help buyers looking for used women's trainers learn to recognise the signs of a good buy, the warning signs of a bad one, and the best way to shop for the item on eBay.
Why Buy Used Women's Trainers?
What is the benefit of buying used over new trainers? A lot of people will wonder why a buyer would purchase someone else's dirty, old shoes when they could have a new pair. What the same people may be forgetting, however, is that used shoes are not necessarily dirty, old, or worn out.
It will depend on the trainers in question, but a less-worn out secondhand pair may not be much different from a new pair. Despite the expected signs of wear, for example, scuff marks and softer inner lining, a rarely worn used pair may actually be preferable to a brand new pair for women who like a slightly "worn-in" feel. If the trainers have only been worn a few times, they may not even show obvious signs of wear. It is wise, nevertheless, to treat all newly acquired secondhand shoes with anti-fungal sprays.
What to Check For
Because trainers are soft shoes, they mould to some extent to the shape of the foot that wears them. They are not sturdy like leather uppers with rigid soles and lining, where the imprint of the previous owner's foot is minimal. For women buying used trainers, the previous owner's imprint is likely going to play a significant role, so in order to take the gamble out of buying secondhand trainers, buyers must be astute and develop an almost forensic approach to certain details in listed items.
Carefully Inspect Photos
Every item on eBay comes with photo images, and this is what gives the clearest indication of the shoes condition. With this in mind, it is a good idea to look for listings that have several photos showing the shoes from the side, front, back, top, and bottom i.e., the soles.
The buyer will naturally want to check that the shoes appear to be in good condition with minimal marks and signs of wear, but the sole is the critical area in need of particular attention. This is because the sole indicates not only the amount of wear, but the type of wear. A buyer will want to look for shoes with even wear on the soles, not just wear on one side only, or predominant wear on one heel and not the other. Such markings indicate an irregular gait of the previous owner, so the used pair may be uncomfortable for the new wearer, as it has moulded somewhat to the previous owner's feet. Buyers therefore need to always check primarily for even wear on the soles.
Sizing
Buying shoes online can present a significant handicap because, unlike some other clothing items, shoes need to fit perfectly to be comfortable. Although it is sometimes easy improvise with inner soles where extra packing is needed, shoes are one of the least forgiving clothing items when it comes to a correct fit.
If the customer owns or has access to a shoe sizer, this will help in ordering the right size. Most shoe ordering errors arise from a buyer's inadequate knowledge of their foot measurements. For shoe buyers with odd-sized feet or other irregularities and who struggle to find comfortable shoes even at the shop, online shoe shopping is not recommended. The below chart is a women's UK standard shoe size guide.
| UK Shoe Size | Centimetres |
| --- | --- |
| 2 | 20.8 |
| 2.5 | 21.3 |
| 3 | 21.6 |
| 3.5 | 22.2 |
| 4 | 22.5 |
| 4.5 | 23 |
| 5 | 23.5 |
| 5.5 | 23.8 |
| 6 | 24.1 |
| 6.5 | 24.6 |
| 7 | 25.1 |
| 7.5 | 25.4 |
| 8 | 25.8 |
| 8.5 | 26.3 |
| 9 | 26.5 |
| 9.5 | 27 |
| 10 | 27.6 |
Variations between shoe sizes are known to be considerable from brand to brand. Therefore, it is recommended that buyers' only choose trainers from familiar brands in which they know their size.
Variations
There are many kinds of trainers available, and below is an outline of the main types. The buyer needs to understand their own requirements before they can make the right choice in footwear.
Sports Trainers
The most athletic of all trainers is no doubt the sports trainer. These shoes are developed with high precision and often with sports-science technology. The various leading brands produce their own versions according to their signature style.
Fashion Trainers
The design emphasis in this type of trainer is in creating the right look. They do not have nor need the support that sports trainer have as they are a general purpose shoe. Some varieties of fashion trainers, however, are superficially much like their sporting cousins and will offer more than adequate foot stability and comfort.
Hi-top Trainer Boots
This type of trainer is ideal for those who require ankle support as most varieties of the hi-top boot hug the ankle when laced up. They are particularly versatile because the wearer can choose to fully or only partly lace up their boots, which have Velcro straps in some cases. This type of trainer was very popular in past decades as a gym boot, the "Converse All Star" being a classic example.
Skate Trainers
Skate trainers are designed specifically for skateboarding although they are often worn as a general purpose or fashion trainer. They are a highly padded and comfortable trainer although flat. The low-cut sides facilitate maximum flexibility, and the upper is reinforced with double or triple stitching to increase the shoe's lifespan. The sole is normally made from polyurethane with low tread, and the shoe is a lace-up type.
Plimsolls
The plimsoll is the most popular casual trainer, and it is always a hit in summer. It has a rubber sole and a canvas upper. They are a light, casual shoe, and although traditionally worn in the gym, they do not provide much support to the foot.
Plimsolls, often called sand shoes, are classic items that are timeless. There are plain and retro 1950s style versions of the shoe as well as colourful and funky versions. These shoes come in lace-ups or slip-ons, and the various designs on the canvas upper determine much of their appeal.
Many plimsolls are low-cut and offer little ankle stability. If the buyer has orthopaedic requirements; such as orthotics, plimsolls may not be a good choice for them because of the shallow heel depth.
How to Buy Used Women's Trainers on eBay
If you want to see the largest range of used trainers on the web, eBay is the perfect place to start looking. Please be aware, however, that the listing of used women's trainers will vary enormously in condition as well as style. To ensure a successful purchase, it is important to find a pair that matches your expectations as closely as possible.
First, you can start off with a general search, such as used women's trainers. Locate the type you want by conducting style-specific searches with the many search criteria options available. Narrow down your search until you find a few pairs that appeal to you. Remember, one of the most important points to consider in buying used trainers is in gleaning as much as possible about the shoes' history.
When you are comfortable with the kind of information the seller has provided about your selected style, research the potential seller to determine your level of confidence in purchasing from them. The seller's rating and feedback page offers valuable insights into the seller's reputation.
You should finalise your purchase only after all qualms are satisfied, and you are confident in your choice. By the time you are ready to make your purchase, you will need to know all details pertaining to your order, especially the seller's return policy. Although all sellers are bound by certain conditions, each seller has an autonomous right to determine their own policies regarding returns.
Conclusion
Used women's trainers can be a good option for women on a budget who are in search of quality footwear. They can provide real value for money and complete an outfit with minimal expense. Shopping for used women's trainers, however, requires a high degree of diligent care in the selection process. The buyer can expect to be satisfied with their purchase only when the previously discussed common-sense precautions are followed, in particular, choosing a pair with minimal and even amount of wear and the correct size in familiar brands.
eBay is one of the largest online marketplaces for used women's trainers. Virtually every imaginable type of trainer is listed, and most sellers offer extensive information on their listed item. Women should be sure to read item descriptions carefully and closely inspects any photo of the trainers. Any woman in need of used trainers can find a good pair to suit her needs and fit her budget on eBay.