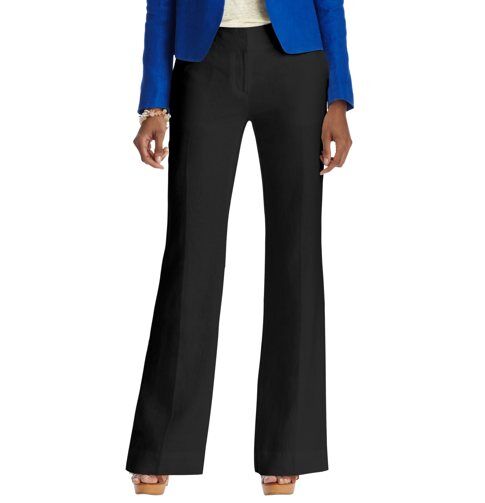 Trousers are a multipurpose garment, and every woman needs not one but several pairs of trousers to wear at home, in the office, on errands, and even in the gym. This popular item of clothing can be found in any realm of life and is among the true staples in a woman's closet. One of the best ways to add to a trouser collection and supplement a wardrobe with this essential staple is for women to shop for quality, used trousers. Used trousers often extend a more moderate price point to consumers and come in a wide range of styles, colours, and patterns, from the vintage to the contemporary. Used women's trousers can be found to some degree at local vendors and second-hand shops and, to a much larger extent, at online retailers. An online auction site and fashion aggregator such as eBay represents a great resource where one may locate a varied selection of used trousers. Of course, when shopping for used trousers, it can benefit a woman to have a clear idea of the type of trousers that looks good on her build, be the right fit for her size, and complement her way of life.
Matching Used Women's Trousers to Body Types
When it comes to trousers, there are certain silhouettes that are more flattering on specific body types. A woman should consider her body type and then make a trouser selection based on what flatters her best features.
Trousers for Tall Women
Tall women can typically get away with wearing almost any style of trousers. The main dilemma with tall women is, of course, finding an inseam length that extends all the way from the top of the thigh to below the ankle. Women who are tall should look for tall varieties of used trousers or trousers that are listed as being particularly long in the inseam. Trousers that are too short can leave a woman's legs looking stumpy and shorter than they actually are, taking away from one of a tall woman's best features. Taller women can also roll or fold trousers to accentuate the length of their legs and can look good in shorter cropped trousers.
Trousers for Women with Wide Bottoms or Hips
Women who have wider bottoms and hips are well advised to look into trousers that follow a wide leg silhouette or feature a flare at the bottom of the leg. A tapered leg can make a woman's hips, thighs, or bottom look even wider than they actually are. Dark colours such as black and dark grey can also complement this figure type. Women with this body type may also choose to buy a pair of trousers that is larger at the waist and accommodates the hips and bottom and then have the waist taken in by a tailor.
Trousers for Short Women
Women who are not very tall should avoid dynamic prints, as these draw attention to the leg and focus in on its shorter length. A pair of trousers with a vertical pleat in the front and a slim cut silhouette can lengthen the leg, as can a slim pant with a slight flare at the bottom. Large, heavy cuffs should be avoided as they can crop leg length as well.
Trousers for Women with Athletic Figures
Sometimes, women with very slim athletic figures want to add the illusion of more curves. This may be achieved with trousers by wearing fuller fabrics and materials, such as corduroys or tweeds. Another option is to look for trousers that feature detailing or accents where the curves would be on a silhouette.
Trousers with drawstring waists that billow out slightly from the waist are another way a slender woman can create curves and volume. Low rise pants in a loose cut with a close-fitting tucked-in top can also create a feminine look.
Trousers for Hourglass Figures
Women with classically curvy frames look good in cropped trousers, such as beach combers and culottes. In full-length trousers, hourglass figures are attractive in slim cut straight leg pants or in trousers with a small, boot-cut style flare at the bottom. Wide leg pants can detract from or overwhelm an hourglass figure.
Trousers for Women with Thicker Middles
A thicker middle needs a pair of trousers with a medium rise that does not cinch off a waist and create unwanted bulge. A wide leg trouser is another good style choice to consider, as its wider silhouette can counterbalance and narrow a wide waist. Low rise trousers in general that leave the tummy area exposed are to be avoided, as they offer no support to the waist or tummy area.
Trousers for Plus Size Women
The best option for plus size women are trousers that feature a wide hem, a wide leg, and a sharp front crease. The front crease works to lengthen the leg and draws the eye's attention to the centre of the leg, making it appear slimmer. Vertical pinstripes can accomplish the same effect, but women should make sure that pinstripe trousers fit well so that the pattern does not get stretched or skewed out of line, thereby ruining the slimming effect.
Finding the Right Size in Used Women's Trousers
One of the most important elements of the shopping process when looking for used women's trousers is finding the right size. Women can get a general idea of the correct size by taking basic measurements of the hips and waist and then cross-referencing them with the chart below. The waist can be measured with a tape at the natural waist, or at the drop waist if a woman wants to wear low-rise trousers, say, while the hips should be measured at the widest part.
| Single Size | UK 4 | UK 6 | UK 8 | UK 10 | UK 12 | UK 14 | UK 16 |
| --- | --- | --- | --- | --- | --- | --- | --- |
| | cm | cm | cm | cm | cm | cm | cm |
| Waist | 58 | 60.5 | 63 | 68 | 73 | 78 | 83 |
| Hips | 83.5 | 86 | 88.5 | 93.5 | 98.5 | 103.5 | 108.5 |
Women should also keep in mind that they may encounter used shorts that are sized under standards other than UK standards, such as US, European, and Australian standards. The following conversion chart can help women convert their UK size into another country's size.
| | | | | | | | |
| --- | --- | --- | --- | --- | --- | --- | --- |
| UK | 4 | 6 | 8 | 10 | 12 | 14 | 16 |
| EUR | 32 | 34 | 36 | 38 | 40 | 42 | 44 |
| US | 1 | 2 | 4 | 6 | 8 | 10 | 12 |
| AUS | 4 | 6 | 8 | 10 | 12 | 14 | 16 |
It is important to remember that sizing can vary widely from one manufacturer or brand to another. The exact sizing should be confirmed with the vendor of an item during the purchasing process.
Shopping for Used Women's Trousers
Women looking for used trousers can consider looking in local offline retail options such as second-hand clothing stores or vintage shops. These retailers may have a limited range of choices available, depending on the season. Many of these stores get picked clean of their better options as soon as they hit the rack. One may find that an online site such as eBay offers a much more comprehensive selection of used trousers at competitive prices.
When looking for used trousers, women may take the opportunity to buy second hand trousers from brands such as Hugo Boss and Calvin Klein, by doing so they are likely to make huge savings.
Buying Used Women's Trousers on eBay
You may begin your search for used women's trousers on eBay by running a basic search on the website. The basic search offers listings that give you an overall idea of what is available in the website. You can search with a general term such as "used women's trousers". If you already have a particular style of trousers in mind, you can use a more specific search term, such as "used women's black trousers". You can also use the related search suggestions that eBay offers to guide your search.
When shopping for used items on eBay, you can greatly enhance your experience by taking the time to get to know the sellers from whom you are considering buying a pair of used women's trousers. By reviewing a seller's past auctions and combing through the feedback the vendor has received from previous customers, you can feel confident in your choice of seller and the product you are about to purchase.
Conclusion
Shopping for used women's trousers can be a very straightforward and user-friendly process when approached correctly. Women in search of used trousers should begin with an understanding of the offerings available on the market and then take into consideration what type of silhouette can best flatter a specific body type. Once settled on a style, a woman must take the time understand trouser sizing before beginning her search for an ideal pair of used trousers.
While local retailers and shops may have some selection of used women's trousers, one may find a better retail option in an online auction site such as eBay. On this website, women can peruse several listings for almost any type of trousers and likely find the exact options they need. By running a careful search, exploring related search suggestions, and understanding the quality of a seller on eBay, a woman can successfully find the pair of used trousers that can serve her well.