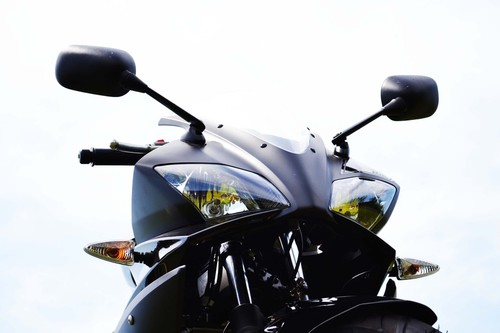 Yamaha began manufacturing motorcycles in 1955 at the same time as Honda and a little after Suzuki. Its first models were light, two-stroke machines, and the corporation's reputation was built on these until they began making four-stroke machines in the late 1960s. In the United States, since 1994, its cruiser models have been sold under the brand name Star Motorcycles, so any Star imported to the United Kingdom can be maintained using appropriate Yamaha parts.
As a major global brand, used Yamaha parts and equipment are plentiful, but with the wide range and diversity of components on sale, it is useful to work out where a specific motorbike model fits into its range and to obtain the appropriate manual. Once all of the information is gathered, it is time to look for mechanical parts, as well as body parts. Whether buying the used items in a local garage or from websites like eBay, consumers would be wise to educate themselves to help them reach the finish line.
Yamaha Motorbike Model Range
In order to find the right workshop manual for the machines that need replacement parts, it is useful to know the broad categories of Yamaha's bikes, especially for older models. There may not be a manual for the exact bikes at hand, but it can be possible to find something similar. Consumers should be mindful of the types of bikes and predetermine if they are sports bikes, road bikes, scooters, or utility vehicles.
Sports Bikes
There is inevitably a great deal of crossover and hybridisation between sports bikes and road bikes, just as there is with four-wheeled vehicles. Broadly speaking, Yamaha caters to three main types of sports bikes: motocross, dual-sport, sometimes called enduro, and the circuit racer.
Motocross bikes are designed exclusively for off-road use. Dual-sport bikes are similar but have features, such as headlights and indicators, which make them fit to ride legally on the road. Enduro racing resembles rallying in the mixture of on- and off-road conditions a rider is likely to encounter. Finally, circuit racers are built for speed in the optimal road conditions found at racing circuits.
Road Bikes
Racing is used by manufacturers as a kind of laboratory for the development of their mass production models, and Yamaha is no exception; its road bikes often inherit performance and safety features that have been optimised at the races.
There are three main categories: commuter bikes, which are usually small machines that are geared to conformity with legislative and insurance categories; sports hybrids, which can be essentially the same thing as dual-sports, or else a performance bike equipped with circuit-style fairings for aerodynamic effect; and cruisers or touring bikes. Cruisers are big, heavy, comfortable, and powerful machines, designed for long-distance travel.
Scooters
The difference between a commuter bike and a scooter can be hair-splittingly small, but it is easier to get on and off a scooter, and also easier to operate, thanks to semi-automatic gears. Their engines are most commonly under 125-cc, though Yamaha makes 250 and 500-cc models.
Utility and Recreational Vehicles
Yamaha makes a range of light, four-wheeled, all-terrain vehicles, or ATVs. These are either utility vehicles for applications such as farm management, or sports vehicles for pursuits such as ATV motocross.
Mechanical Parts
The main difference between a two-stroke and a four-stroke engine, from a maintenance point of view, is that a two-stroke engine is usually simpler and easier to work with, but its parts wear out more quickly. There are some parts, such as an oil reservoir, that only a two-stroke engine requires. That aside, in most respects, the two types of machines are fairly similar from a maintenance perspective.
Engine Parts
Consumers can purchase used complete engines for a variety of sizes and models, but finding exactly the right one is sometimes hit and miss. Sometimes consumers might only need cylinders and cylinder heads, while other times piston kits or piston rings are needed. Other parts include valves and valve stems, cam chains, camshafts, con rod kits, crankshafts, exhaust gaskets, carburettors, and clutches.
Exhaust System and Parts
Exhaust silencers are a type of part which third-party manufacturers make, so it is not always essential to obtain a proprietary Yamaha part. Some of these generic units are attractive because of their competitive price, while others are sold specifically as modifications and enhancements.
Chains and Sprockets
Final drive chains and sprockets receive a lot of wear and tear, especially in recreational use, and frequently need to be changed. It is usual to replace all the components at once, so it is generally easy to find a complete kit for current models.
Body Parts
While mechanical parts are used in many different styles of bikes, body parts are more directly involved in creating the individual model. Most types of parts are well signposted, but some specific serial numbers and keywords are needed in order to find exactly the right parts, especially for items that are part of the body or frame.
Brakes
Older bikes were fitted with drum brakes front and rear, but disc brakes have been a feature of performance bikes since the early 1970s, and many subsequent models have been fitted with a drum brake at the rear, and a disc brake on the front wheel. However, sports bikes are normally fitted with disc brakes front and rear, and Yamaha brake parts are dominated by components for these, such as brake pads, brake discs, brake master cylinders, and brake calipers.
Wheels and Tyres
The wheels and tyres of any motorbike is paramount to how well the bike grips the road. With tubes and tyres, the workshop manual should list the detailed specification of the parts needed for a specific bike. Failing that, the tyre wall normally carries the necessary information so long as it can be retrieved.
| Tyre Code | Typical Value |
| --- | --- |
| | M/C |
| | 120 |
| | 90 |
| | R |
| | 18 |
| | 65 |
Vehicle codes are not as rigorous for motorcycles as they are for cars and vans. There is no specific code, for instance, for a road-legal motocross tyre. If the tyre requires an inner tube, it should also have a code mark TT. If no tube is required, then the code mark is TL.
Handlebars, Cables, and Mirrors
Actual used replacement handlebars are hard to come by for the typical garage, but used handlebar grips, brake and clutch levers, foot pegs, and footrests are normally easy to find most anywhere. There are several types of cables available, including clutch cables, throttle cables, speedometer cables, choke cables, and front brake cables. As well as mirrors, which can be bought singly or in pairs, and there are extenders that can be used to improve a mirror's arc of sight.
Yamaha Lights and Indicators
All the major light fittings are available for any damaged lights and indicators. Typically headlights, rear lights, or replacement bulbs are needed more often for replacement. There are more peripheral items related to indicators, such as lenses, warning buzzers, and so on. An increasingly popular option is to use LED lights for indicators, since their longevity is notable.
Electrics
Aside from switches, consumers should familiarise themselves with other relevant products, including key-operated switches. The most common electrical items listed are spark plugs and plug caps, regulators and rectifiers, starter motors, starter relays, and ignition and CDI coils. Although batteries are normally generic items, the specialised designs of sports bikes can mean that a specific type is required.for sellers who have notable feedback and have a seller score that proves their business ethics.
Conclusion
Some maintenance issues are easy to address and can be managed with a minimal outlay on tools and equipment. When it comes to more intensive tasks, a well-equipped garage space and the appropriate workshop manual is all but essential for even the most experienced mechanics. For internationally popular pursuits like sports biking, eBay is one of the leading destinations for enthusiasts in search of new or used parts for repairing and upgrading their machinery. Sports bikes do not take long to accumulate wear and tear, no matter how rugged their design, and Yamaha machines are no exception. Road bikes and scooters certainly are not immune from the ravages of time either, although with careful use and maintenance they can give decades of service.
In addition to current styles, there are older bikes which sometimes need extra attention paid to the details of part listings, in order to source the correct items. For anyone planning a major repair or refurbishment project, remember to take advantage of eBay's shopping tools, including the watch list, where the necessary parts can be assembled and later bought in a single session.